What Digital Camera July 2012 issue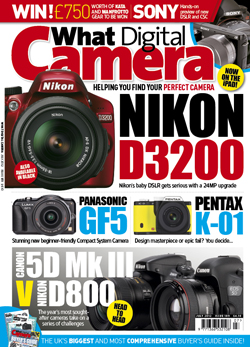 On sale: Fri, 8 Jun 2012
EQUIPMENT TESTS:

Nikon D3200
Nikon's latest entry-level DSLR tested and rated

Panasonic Lumix GF5
Is the Lumix GF5 a worthy update to our Compact System Camera of the Year, the GF3?

Pentax K-01
With styling taken care of by a celebrated designer, does the Pentax K-01 deliver the images and performance to match?

Sigma 19mm f/2.8 EX DN and Sigma 30mm f/2.8 EX DN Lenses
We test Sigma's first lenses for Micro Four Thirds and Sony NEX series Compact System Cameras

Tried & Tested Accessories
Velbon V4 Articulating Boom tripod arm and Vanguard GH-200 pistol grip ball head tested, plus reviews of Datacolor Spyder4 and the Ansmann Digicharger Vario Traveller Universal Charger

Sony HX200V
Sony's latest superzoom bridge camera is put through its paces

Compact cameras
Three of the latest compact cameras tested: Canon IXUS 510 HS, Olympus TG-820, and Fuji F770 EXR

Samsung WB850F
This 16MP WiFi-enabled compact is put under the microscope

FEATURES:

Sigma SD1 Merrill
With a slightly unusual sensor design, the Sigma SD1 is pitted against the Nikon D3X. How does pro photographer Dave Kai Piper think the SD1 stacks up?

Head to Head: Canon EOS 5D Mk III vs Nikon D800
The two latest full-frame DSLRs slug it out over a series of challenges to see which one comes out on top

REGULARS:

Live View
Sony A37, Sony NEX-F3 and Pentax K-30 all detailed, plus the Panasonic Lumix 12-35mm f/2.8 lens and Olympus TG-1 lifeproof camera

Letters
Your views and also what you can expect next month

Opening Shot
Some of the best images from this year's Sony World Photography Awards

Help File!
Kit-buying advice and your imaging problems answered

My Digital Camera
Two readers share some of their best images

Evening Class
Photoshop guru Martin Evening critiques four readers' photos

THE BUYING GUIDE
If you're looking to buy some new kit, check out the facts here

Competition
Your chance to win £750 worth of Manfrotto and Kata gear!