What Digital Camera April 2012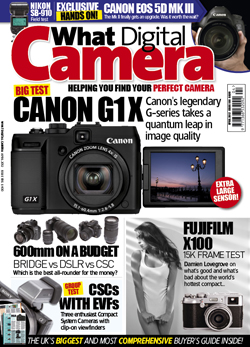 On sale: Fri, 16 Mar 2012
EQUIPMENT TESTS:

Canon PowerShot G1 X
The impressive Canon G1X could redefine compact cameras as we know them... we put it to the test

Telephoto Shoot-out
If you want to shoot close-up wildlife pics or tight action shots, what is the best option? The Fujifilm X-S1 bridge camera takes on the Canon 1100D DSLR and the Panasonic G2 Compact System Camera set-ups

EVF Showdown - GROUP TEST
We take three enthusiast Compact System Cameras, load them up with clip-on viewfinders and put them through their paces...

Free Software
We check out a host of free software applications that offer plenty of benefits for your photography. Our bargain-busting picks are Gimp 2.6, Picasa 3.9, RawTherapee, Photoshop Express, Photoplus Starter Edition, Fotoflexer, Seashore, Photospace and Pixlr

Accessories
We test the Manfrotto Unica V bag, Swann Freestyle HD Wearable Camera, Polaroid Grey Label Instant Mobile printer, and Permajet Oyster paper

Sony DT 16-50mm f/2.8 SSM
We review this Sony wideangle zoom that features a constant aperture

Samsung 85mm f/1.4 ED SSA
This premium portrait lens goes on our test bench

Ricoh CX6
An advanced compact with a striking screen

Olympus SP-620UZ
Compact featuring 21x optical Ultra zoom

Photoshop Touch
Edit and manipulate your pictures with this app

FEATURES:

Fujifilm X100: Field Test
A 15k-frame user report by top pro Damien Lovegrove

Nikon SB-910: Field test
Fashion photographer Dave Kai Piper puts this flashgun through its paces

REGULARS:

Live View
Including first looks of the EOS Mk III and the Sony HX200V

Letters
Your views and also what you can expect next month

Opening Shot
World Press Photo 2012 winners plus WDC's Flickr Autumn winner

Help File!
Kit-buying advice and your imaging problems answered

My Digital Camera
Two more readers show us their work and the kit they use

Evening Class
More of your photos are assessed by Photoshop guru Martin Evening

The Buying Guide
If you're looking to buy some new kit, check out the facts here, in our 20 pages of listings and advice

Competition
Your chance to win a Philips Picopix multimedia projector worth over £299!