What Digital Camera March 2012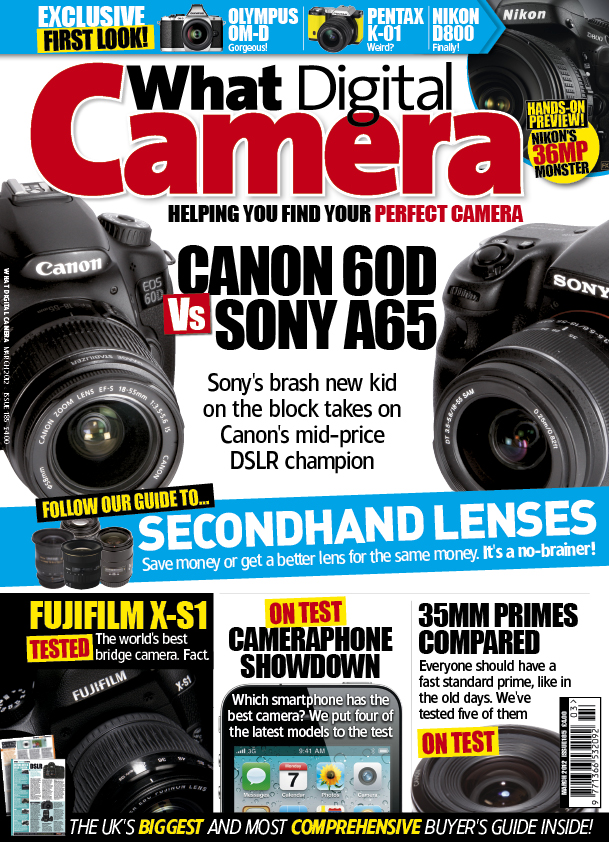 On sale: Fri, 17 Feb 2012
FEATURES:

Buying Secondhand Lenses:
Save money by finding a bargain! Find out everything you need to know about buying secondhand lenses and we show you the best used lenses to look out for

Good Service Awards - the winners revealed!
Which retailers provide the best service to customers? A good camera store, both online or high street, is not just about price. Knowledgeability and reliability are just as important. You, the readers, have voted in your hundreds to reward the retailers who go that extra mile to give high-quality service, and we reveal the winners here...

EQUIPMENT REVIEWS:

Canon EOS 60D vs. Sony Alpha 65
Sony's mid-price SLT takes on Canon's more-established DSLR. Find out which one comes out on top, in this head to head feature

Fujifilm X-S1
Find out if this is the best bridge camera to date in our full review

Cameraphone Showdown
Compacts beware! We put four smartphones to the test (Apple iPhone 4S, Samsung Galaxy S II, HTC Sensation XE and the Sony Ericsson XPeria Arc), to find out which mobile has the best camera

Prime Lenses: 30mm lens group test
Standard primes are back, and we test the latest models - the Canon EF 35mm f/2, Nikon AF-S DX 35mm f/1.8G SWM, Pentax SMC DA 35mm f/2.4 AL, Sigma 30mm f/1.4 EX DC HSM, and Sony DT 30mm F/2.8 Macro SAM. Which one is best for you?

Compact camera reviews
The Samsung WB750, Canon SX150 IS, Nikon S100 & Nikon S6150 reviewed

Nikon Coolpix AW100
Nikon's first tough camera put through its paces

Manfrotto Pro Soft Shell Jacket
If you're out on location, you will need one of these...

Eizo FlexScan SX2762W monitor
High-end monitor tested

Gitzo Traveller 1580 TQR5 tripod
Carbon-fibre travel tripod tested

Snapseed iPhone app
Edit and manipulate your iPhone pictures with this app

Books
Three of the latest photo books reviewed - 500 Cameras: 170 Years of Photographic Innovation, Understanding Photography Field Guide, and Close-up and Macro Photography

REGULARS:

Live View
Including the Nikon D800, Olympus OM-D and Pentax K-01 first looks

Letters
Your views and also what you can expect next month

Opening Shot
Just how good is a picture from a cameraphone? Find out here

Help File!
Kit-buying advice and your imaging problems answered

My Digital Camera
Two more readers show us their work and the kit they use

Evening Class
More of your photos are assessed by Photoshop guru Martin Evening

The Buying Guide
If you're looking to buy some new kit, check out the facts here

Competition
Your chance to win one of three Epson Stylus Photo PX730WD printers worth over £250 each!