February 2012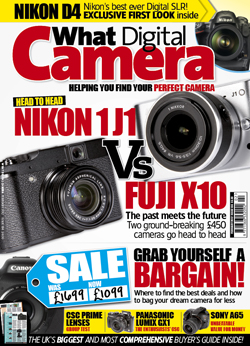 On sale: Fri, 20 Jan 2012
FEATURES

Buying a bargain
Bag your dream camera for less! There are some cracking deals to be had, if you're not concerned with having the latest and greatest piece of kit. Here is what you need to know...

EQUIPMENT TESTS

Panasonic Lumix GX1
This could be the Lumix we have all been waiting for. Panasonic's high-end Compact System Camera mixes premium design with a solid spec, and we give it a full review

Sony A65
Sharing much of the technology found in the Alpha 77, the Alpha 65 looks like it could be a real bargain. Does it do enough to stand out on its own? Find out in our full review

Fuji X10 vs. Nikon J1
The Fujifilm X10 and the Nikon J1 go head to head. Both of these top-spec cameras appeal to the quality buyer with £500 to spend. But which of them is better?

CSC Prime Lenses group test
We review five top-quality affordable wide-aperture prime lenses for CSCs, namely the Leica DG Summilux 25mm f/1.4 ASPH, the Nikon 1 Nikkor 10mm f/2.8 Pancake lens, the Olympus M.Zuiko Digital 45mm f/1.8 MSC, the Samsung 20mm f/2.8 NX iFunction Pancake lens, and the Sony 16mm f/2.8 Pancake lens

Compact camera reviews
The Nikon S1200pj, Nikon S4150, Samsung ST93 & Canon PowerShot A800 reviewed

Ricoh GR Digital IV
Fixed-focal-length advanced compact

Samsung NX 60mm lens
Samsung's 1:1 macro lens for the NX Compact System Camera

Apple Macbook Air
We test the super-portable and powerful MacBook Air

Optoma Pico PK320
Pocket-sized digital projector on test

Books
The Landscape Photography Field Guide, The Freelance Photographer's Market Handbook 2012 and Social Media Marketing for Digital Photographers

REGULARS

Live View
Latest news from CES including Nikon D4 and Fuji X-Pro1 First Looks

Opening Shot
Stunning images from Landscape Photographer of the Year 2011

Help File!
Kit-buying advice and your imaging problems answered

My Digital Camera - India Special
WDC readers went on a trip-of-a-lifetime to India. This special feature brings you some tips & inspirational photos from the two weeks

Evening Class
More of your photos are assessed by Photoshop guru Martin Evening

The Buying Guide
If you're looking to buy some new kit, check out the facts here

Competition
Your chance to win a copy of MAGIX PhotoStory on CD & DVD 10 Deluxe!