What Digital Camera October 2010 issue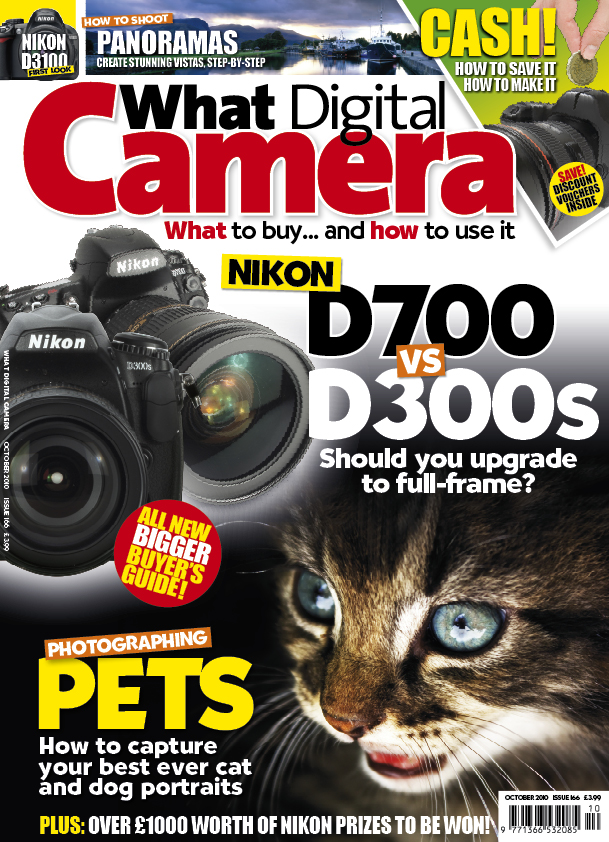 On sale: Fri, 3 Sep 2010
COVER FEATURE:

CASH: How to save it, How to make it
Photography can be an expensive hobby, but there are ways to tighten your belt and ways to turn that hobby into extra cash too. We show you the ways you can keep cash in your pocket when purchasing, and how to make money from your photography.
Not only that, but we have sourced some EXCLUSIVE MONEY-SAVING VOUCHERS, just for you. Simply cut out the coupons to save even more!!

EQUIPMENT TESTS:

First Look: Nikon D3100
Nikon's latest entry-level DSLR turns up the heat by adding Full HD movie capture and much more

Going Full-frame: Nikon D700 vs Nikon D300s
Should you upgrade to full-frame? Last we month we compared two Canon DSLRS, and this month we we pit two of Nikon's best DSLRs head to head to deliver the verdict

Sony A390
We find out whether this latest entry-level DSLR from Sony offers anything new to get excited about

Sony NEX-3
Affordable and powerful Micro System Camera

GE X5
We check out the new 15x zoom compact from GE

Pentax 1-10
Does the I-10 have performance to match its looks?

Samsung PL150
With a dual screen, the PL150 looks interesting

Geared Up!
Accessories tested include: Apple iMac 27in Intel i3, Sigma 8-16mm f/4.5-5.6 lens and much more...

Lens tests: Telephoto zooms
We compare the new versions of the 70-200mm f/2.8 optics from Canon and Nikon

TECHNIQUE FEATURES:

Photographing Pets
Animal magic: get the best from your pets when they are in front of the lens. We reveal the top tips on how to capture your best ever cat and dog portraits

How to Shoot Panoramas
Top pro Craig Roberts shows you how to give your photos a unique look by widening your horizons. Follow his step-by step guide on how to create stunning panoramic vistas

Poras Chaudhary interview
The winner of 2009 Travel Photographer of the Year's "Homeland" category talks to WDC

Evening Class
Martin Evening assesses more of your photos

PLUS...

READER OFFER: India Holiday
Join us for a fantastic photographic holiday

Competition
More than £1,000 worth of Nikon gear up for grabs!

Help Q&A
Camera-buying and technique Q&A plus Top 5s and Hot Or Not gear review

Rough Guide to... Remote Triggering
The options for taking pictures remotely

My Digital Camera
More readers showcase their stunning images

...and much more!