Adobe Photoshop Elements 11 review
Performance & Interface
In terms of its performance, Elements 11 ran fast and smoothly on our 2.53GHz Intel Core 2 Duo Macbook Pro. No infuriating delays were experienced other than when we started working with extremely high-resolution files. Adobe claims the performance and rendering processing has been optimised to make it run faster, and an area where we did notice a speed improvement was when we switched back and forth between the organizer and editing area.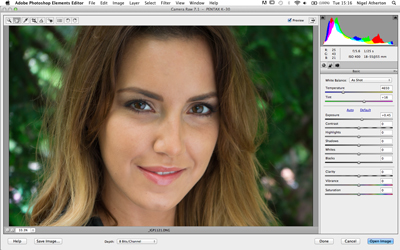 Adobe Photoshop Elements 11 comes with Adobe Camera RAW 7.1
Working with Raw files in Camera Raw 7.1 was also trouble-free, but we're expecting another Camera Raw update soon to make it compatible with recently launched cameras, such as the Fujifilm X-E1 (see page 24) and Sony NEX-6 (see page 42).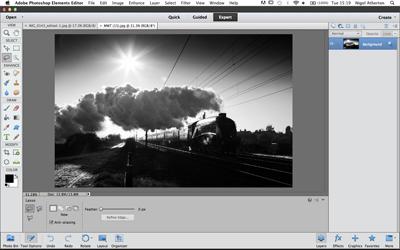 Elements 11 sports a much cleaner looking interface. Those who are thinking of upgrading will need to get familiar with the tool options appearing beneath an image, rather than above it.
As for the interface, we like the light grey surround and darker background, however the positioning of the tools and palettes will take some getting used to for previous Elements users. The Layers palette now appears at the top right of the interface, where previously it was at the bottom right. The organizer and layout icons are also repositioned at the bottom of the interface, but as we discovered there are two really useful icons for taking steps backwards and forwards if you make mistakes when you're editing. Hopefully this will be a feature we see in a future version of Photoshop.

The Undo and Redo icons save you having to load the History palette each time you'd like to take a step back, or forward.