Sony Alpha 7 (A7) Review
Review Date : Tue, 26 Nov 2013
Author : Phil Hall
Sony Alpha 7 (A7) Review - The Sony Alpha 7 is the world's first full-frame CSC and is heralded by some as a major game-changer. Find out if it lives up to the hype in the What Digital Camera Sony Alpha 7 Review
| | |
| --- | --- |
| Pros: | Excellent image quality; Level of customization; Size; Price; Handling |
| Cons: | Limited lens range; Focusing slow for continuous shooting; Burst shooting could be better |
Since the arrival of the first system camera back in 2008 in the shape of the Panasonic G1, photographers have been speculating on how long it would take to see a CSC utilise a full frame chip. That's because even though APS-C and Micro Four Thirds sensors have come a long way in the past 5 years, full frame still rules the roost as far as image quality is concerned.
Full frame sensors are generally considered to offer better low light performance, shallower depth of field, lenses deliver their 'true' focal length, better dynamic range and ultimately, more detail.
With the arrival of the Sony Alpha 7 and its stablemate the Alpha 7R, Sony is the first manufacturer to shoehorn an full frame sensor into a system camera. The most affordable full frame camera available, does the Alpha 7 signal the end of traditional DSLRs?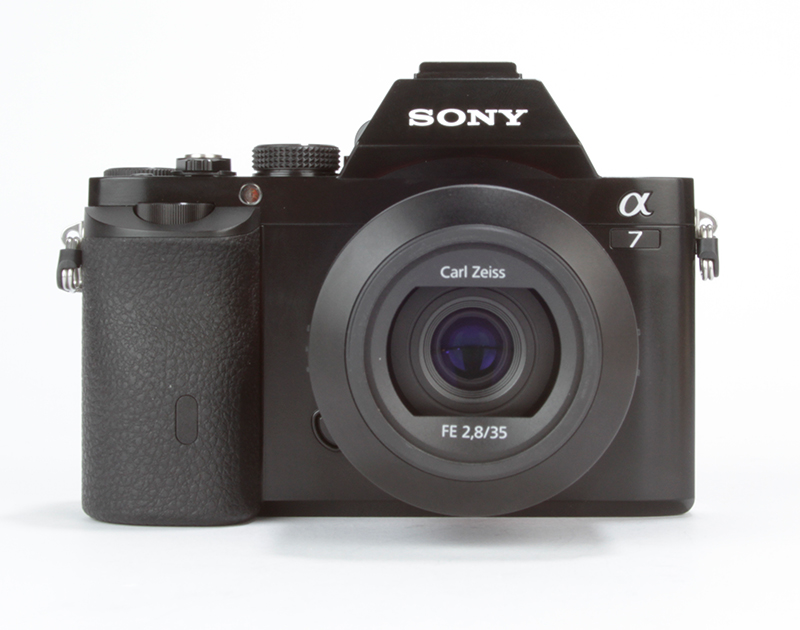 Sony Alpha 7 (A7) Review - Features
Unlike the 36.4MP Alpha 7R (which we'll test independently to the Alpha 7), the Sony Alpha 7 (A7) features a 24.3MP sensor, but unlike the A7R, the A7 sticks with a more conventional design that includes a optical low pass filter to reduce and control the effects of aliasing.
As we've seen with a number of cameras recently including the Canon EOS 70D and Olympus OM-D E-M1, the A7's sensor features on-chip phase-detection with 117 phase-detect points that combines with the A7's 25-point contrast-detect AF system. The result is the A7's hybrid Fast Intelligent AF system which is married to a new BIONZ X image processor that's 3x faster than the previous chip and promises to make AF tracking effortless.
The AF is only sensitive down to 0EV light levels, which is not quite as good as the -1EV of the D610 or the -3EV offered by the Canon EOS 6D, so it'll be interesting to see how it copes in poorly lit conditions.
The BIONZ X processor also helps the A7 achieve a burst rate of 5fps - good, though it's perhaps a little disappointing to see this drop to a pedestrian 2.5fps if you want AF and exposure active between shots.
The new processor also offers diffraction-reducing technology to help correct softness that can be caused as you stop the lens down beyond its sweet-spot, while Sony's also tinkered with the algorithm for the area-specific noise reduction, which varies the level of noise reduction applied across an image in an effort to retain more detail at higher sensitivities. Speaking of which, the A7 offers a native ISO of 100-25,600 that can be expanded to an ISO equivalent of 50-25,600.
With the large sensor sitting do close to the lens mount, dust is a worry, but the A7 features both ultrasonic vibration systems and a charge protection coating to combat this.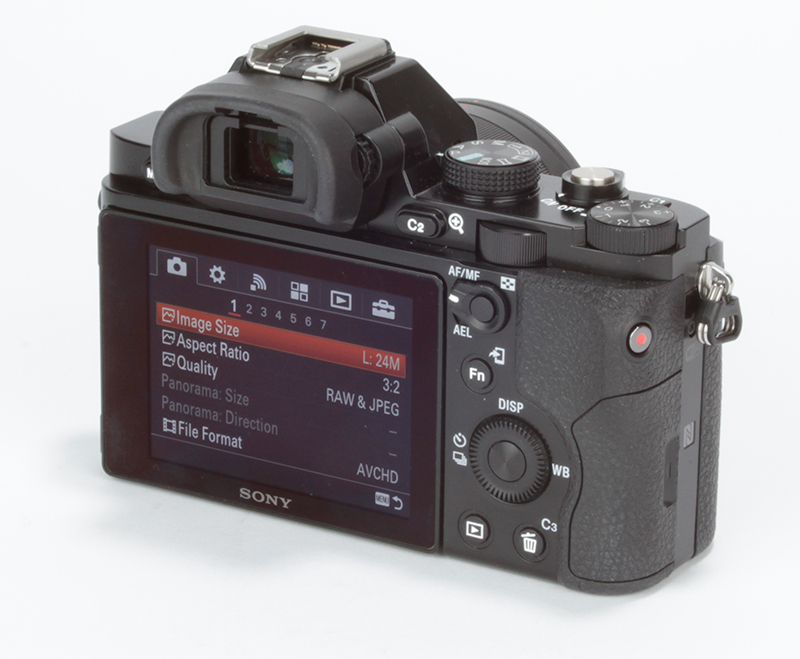 Electronic viewfinder
The electronic viewfinder (EVF) has been borrowed from the flagship A99 and offers a XGA OLED Tru-Finder with a 2.4m-dot resolution and 0.71x magnification, though the optics have been re-worked to provide improved clarity corner-to-corner.
Also at the rear is an articulated 3in LCD display with a 921k-dot resolution that can be angled outwards for waist-level shooting or pulled downwards should you want to compose shots with the camera raised aloft. Its worth noting though that because it isn't hinged at the side, its only really suited to landscape-format shooting the majority of the time.
There's no built-in flash or an mini external speedlight bundled with the A7, so you'll need an optional dedicated 'gun. As we've seen with a raft of Sony models since the arrival of the A99 last year, the A7 uses what Sony terms a Multi-Interface Shoe, so those with older flash kit that features the Minolta/Sony hotshoe contact will need an adapter. The flash sync-speed is very good though, with the A7 capable of syncing at shutter speeds up to 1/250sec.
It's no surprise to see the A7 supporting Wi-fi and NFC connectivity, allowing you to share images with your smart phone or tablet, making them easy to share on the move if you desire, while the dedicated app for both Android and iOS will also allow you to control the camera remotely should you wish.
The A7 is also well specified for movie shooting, offering full HD 1080p footage at either 60 or 25p in the AVCHD holder format. Perhaps more importantly though, it offers full live manual control and 3.5mm jacks inputs for both a microphone and headphones, allowing you to monitor audio during recording, while there's the option to record clean video output via the A7's HDMI port.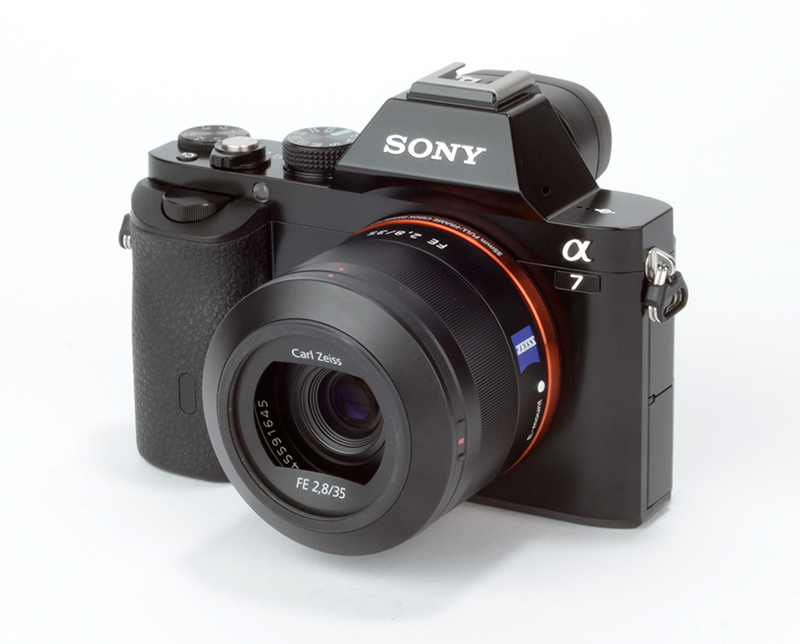 New and Existing lenses
The A7 uses the same lens mount as previous Sony NEX system cameras, but will these optics designed to function with the smaller APS-C sensor, Sony is bring out five new lenses as well, designated FE.
The A7 will be bundled with the 28-70mm f/3.5-5.6 OSS (Optical SteadyShot), while there's a trio of Zeiss lenses to choose from: 35mm f/2.8, 55mm f/1.8 and 24-70mm f/4 OSS. This will be followed by a Sony G-series 70-200mm f/4 OSS and by the end of 2014 Sony hope to have at least 10 dedicated lenses in the line-up.
If you're upgrading from a NEX-series CSC and intend to use you current lenses, you can, but to avoid heavy vignetting in the corners of the frame, you'll want to select the APS-C crop mode to On. Thanks to the 24.3MP resolution on tap though, you'll still end up with images a little over 10MP once cropped.
What if you've got a load of A-mount lenses? There are two new A- to E-mount lens adapters in the shape of the LA-EA3 (contrast-detect AF with lenses that feature built-in focus motors) and LA-EA4 (featuring Sony's Translucent Mirror Technology to offer AF with all lenses).