Fujifilm X-A1 Review
Design
Fujifilm X-A1 Review – Design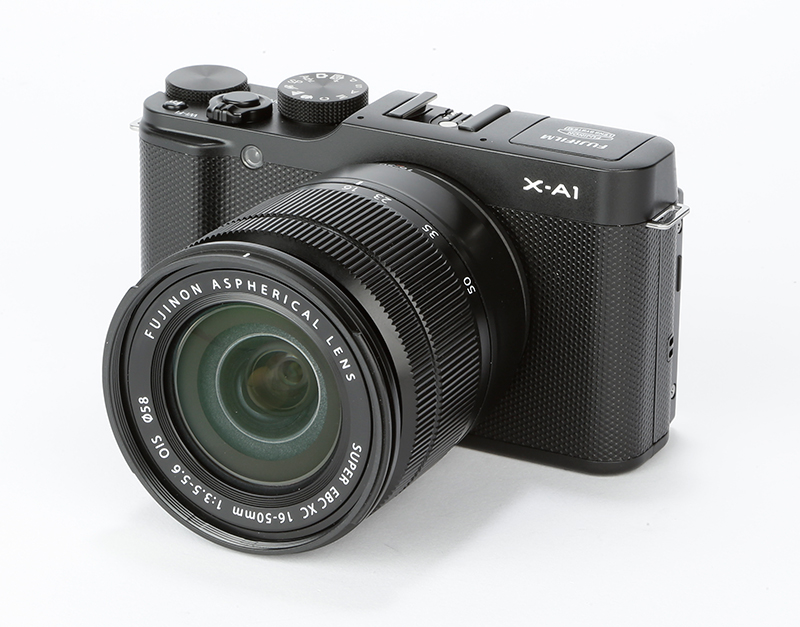 As mentioned earlier, the X-A1 is designed to resemble a classic rangefinder camera - much like the X-Pro1 - with a stepped top plate and plenty of chunky control dials, but that style is largely superficial. The body is made entirely of plastic, and what would be leather texture on a Leica is modern grip-patterned vinyl here. None of that should put you off though.
The Fujifilm X-A1 is a handsome and well-made camera, and feels light but sturdy in the hand. The small but functional front hand grip and rear thumb rest provide comfortable and secure handling, and the controls are solidly mounted and clearly labelled.
Most of the controls are positioned for easy one-handed operation, and for the most part operate with a nice positive feel.
There is one minor handling issue though. Manual exposure control is via two input dials; a large round dial mounted on the top plate and a smaller recessed wheel mounted just above the thumb rest. In shutter and aperture priority modes the exposure settings are adjusted by the thumb wheel, while the top plate dial adjusts exposure compensation.
Due to its position and slightly loose feel this dial is quite easy to jog accidentally, resulting in a few over or under-exposed shots, which can be annoying until you learn to avoid it.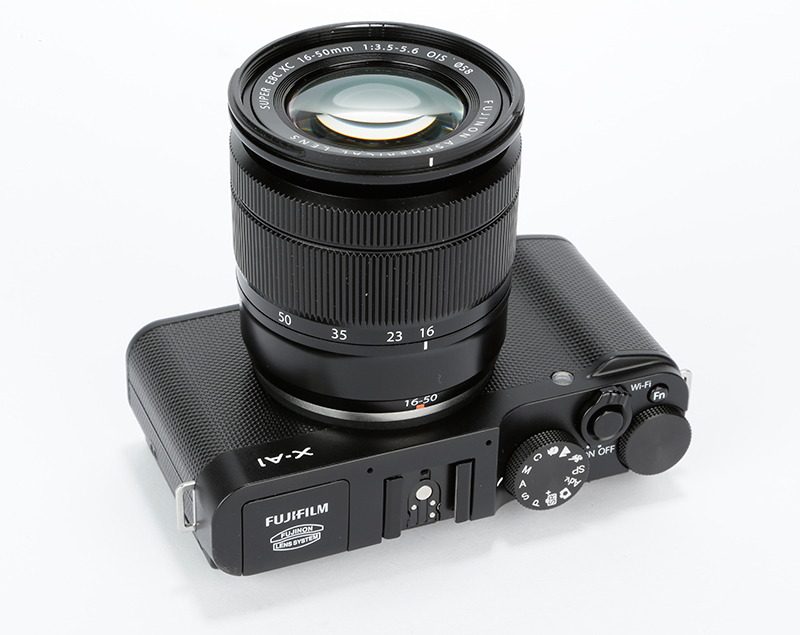 Top Plate

Fortunately the other controls found around the X-A1 are better thought-out. There's a customisable function button toward the front of the top plate (press and hold to change its function), as well as a button labelled "Q" on the back, which activates a handy graphical menu for making quick adjustments to often-used settings.
Other design touches include a pop-up flash which is mounted on a flexible linkage, so you can manually tilt it back for bounce-flash effects, as well as a hot-shoe to mount an external flash.
The tripod bush is metal as one might expect, but it is mounted off-centre, which will annoy some macro photographers. The hatch covering the USB and HDMI sockets is a slightly flimsy plastic flap, but at least the battery and card hatch has a strong metal hinge and a reliable latch.