Pentax K-500 Review
Design
Pentax K-500 Review - Design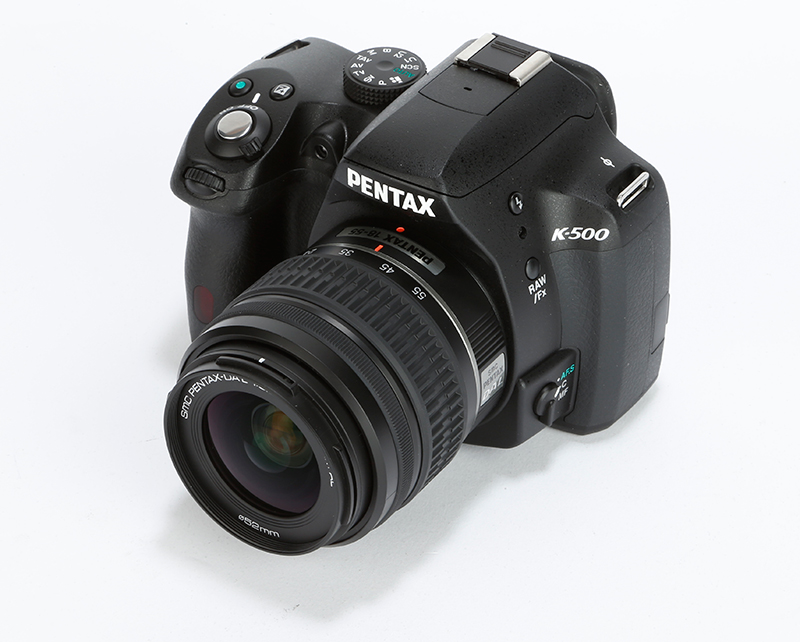 While the Pentax K-30 featured quite a sharp, angular design, the K-500 has shunned away from what might have been thought of as quite a challenging design. Instead, the K-500 opts for a much more traditional look, and while it might not stand out from the crowd as much, its still a pretty decent looking camera, with generous curves and smooth edges.
If you're looking for the similarly impressive levels of weather sealing as we saw on the K-30, you'll need to take a look at the K-50, but overall the K-500 feels like a very well put together camera for the price. There's a stainless steel chassis over which a reinforced polycarbonate shell can be found with a light splatter effect finish.
The rubberised grip has a high-end feel too, being much more satisfying to the touch than equivalent rivals, while the chunky handgrip is one of the most comfortable around. Your hand wraps comfortably around the grip, with your little finger not left to dangle in thin air, while theres decent space for your thumb to rest – it's a little bit of a shame that Pentax decided to omit a grip for the thumb rest.
Exterior controls are kept relatively sparse, with a 4-way control pad offering quick access to ISO, Flash, Drive and White Balance, as well as being used to select your desired AF point, while the K-500 also benefits from two command dials - another feature that's often only seen on higher priced models.