Nikon D5300 Review
Design
Nikon D5300 Review - Design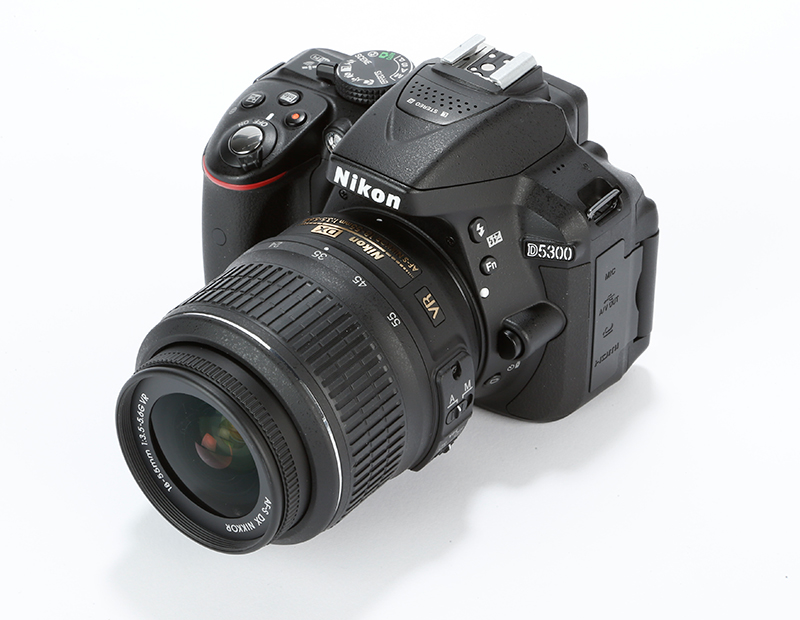 The quality of the Nikon D5300's overall finish is, as you might expect a blend of the D3200 and D7100. Notoriously, Nikon's D5000-series has always been of similar size to the entry-level models, but thanks to inconspicuous tweaks to the D5300's design it now feels fractionally larger in the average sized hand.
The Nikon D5300's designers have also opted for a less curvaceous body (most noticeable above the model number) making it appear more squat than the D5200 when viewed from above.
The larger thumb rest at the rear contributes to a more comfortable feel in the hand and by shifting the playback button and d-pad controls down, albeit by a few millimetres, they now feel more accessible and better positioned. Other improvements see the info button that's used to change a whole host of settings on the fly, shifted down so it's parallel with the AutoExposure-Lock button.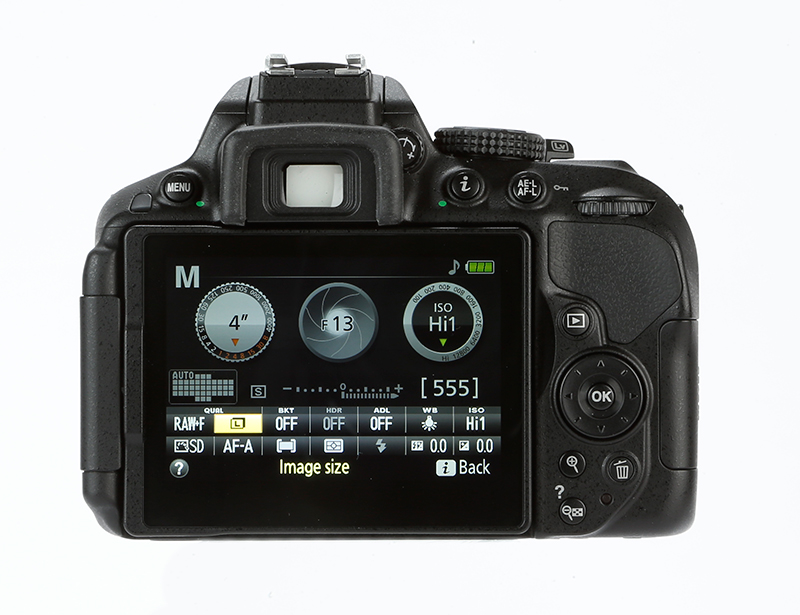 Larger screen
One of the consequences of the larger screen are small buttons below the d-pad for zooming in playback mode. On the subject of the screen, it's now made easier to pull out thanks to a section of the body being calved out beside the playback button. The screen fulfils the majority of space at the rear and though it's a thinner unit than we've seen previously on the D5000-series it protrudes a few millimetres from the body. Thankfully this doesn't have an adverse affect on handling.
Weighing 195g lighter than the D7100 and 20g less than the D5200, the D5300 is only 15g heavier with a battery and memory card installed than the D3200. Everything else about the D5300's design is very well thought through and superbly executed.
The Live View switch is now labelled to make its purpose a little clearer when viewing the camera from the rear and while the mode dial offers a reassuring click in use, it offers no locking mechanism like on the D7100 to prevent it accidently being knocked, though we never found this to be an issue.
Possibly the biggest exclusion on the D5200 is that of a secondary command dial to adjust aperture independently - a feature only found on more advanced DSLRs in Nikon's DSLR lineup. In its absence the exposure compensation button has to be used in combination with the rear scroll dial to adjust aperture in manual mode.
What with more and more smaller system cameras offering the benefit of twin control dials, we'd like to see Nikon rival the competition and introduce twin control dials to its entry-level range.