Sony A3000 Review
Review Date : Fri, 27 Sep 2013
Author : Cliff Smith
The Sony A3000 has a foot in both the DSLR and CSC camp, with DSLR-esque design yet the inner workings of a CSC. We take a closer look at the camera to try and judge its success in the What Digital Camera Sony Alpha A3000 review
| | |
| --- | --- |
| Pros: | NEX-style controls; Light weight |
| Cons: | Build quality; Slow focusing; Generic styling; Lack of features |
The Sony A3000 is an entry-level camera using the same technology and lens mount as the NEX cameras, but in a body more like a traditional SLR.
The combination looks to offer previously cautious buyers an entry into the NEX system but in a more familiar package. The question is, is it anything other than an NEX-3N in a body kit, and is it any good?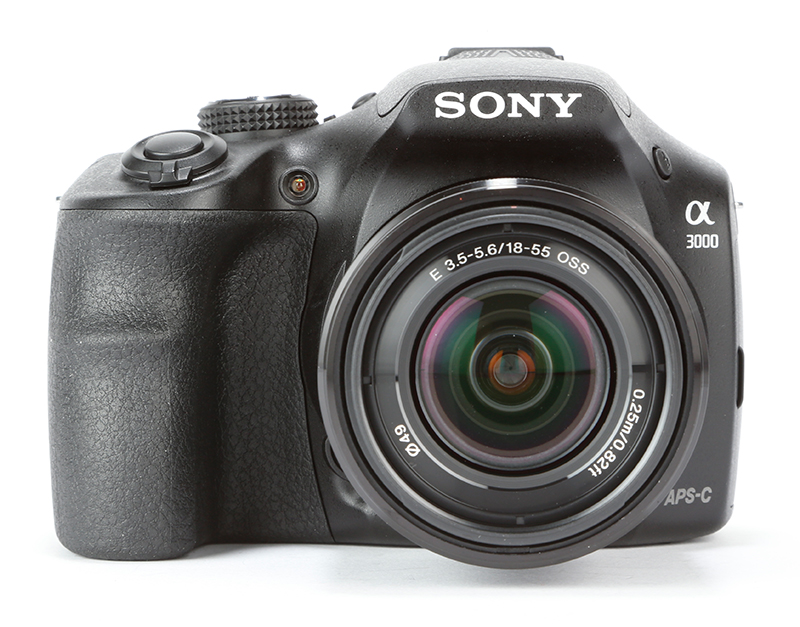 Sony A3000 Review - Features
The Sony A3000 is something of an anomaly. Although it looks like a digital SLR, it has the same lens mount and control interface as Sony's NEX-series compact system cameras. Priced at just £349 complete with an 18-55mm kit lens the A3000 is considerably cheaper than the previous entry-level model of the NEX range, the NEX-3N.
The SLR styling means that A3000 differs from Sony's other E-mount cameras in several respects. Obviously it is considerably bigger and heavier, but it also has an electronic viewfinder and a built-in flash, features which are only available as add-on accessories for the NEX cameras.
The other major feature that the A3000 has that none of the other E-mount cameras have is its powerful 20.1MP Exmor CMOS sensor, borrowed from the Sony SLT-A58. Apart from the top-of-the range NEX-7, the other NEX cameras all share a 16.5MP sensor. However it's a fairly safe bet that the next round of NEX cameras will all feature this new sensor, so the A3000's advantage is only temporary.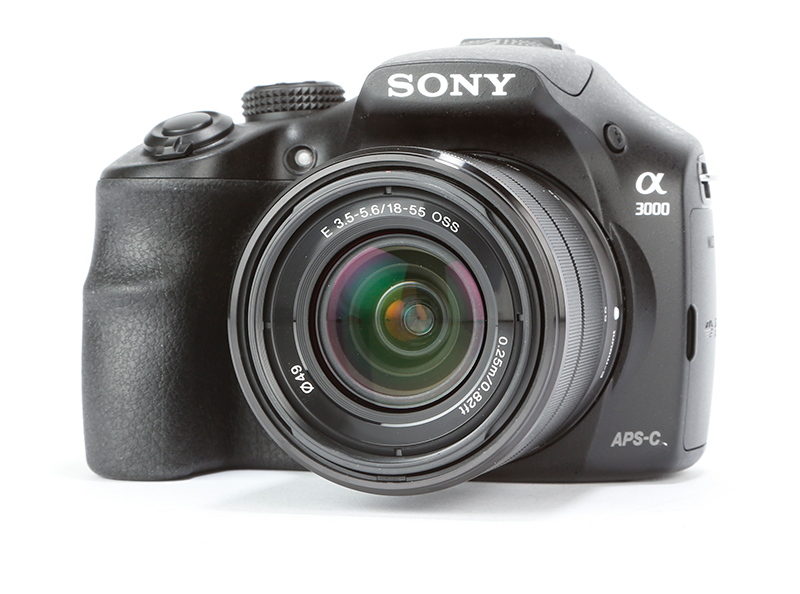 DSLR styling

It's lucky that the A3000 does have those few things to brag about, because it doesn't have much else. Even compared to other low-cost entry-level models the A3000 is distinctly light on features. A quick glance at the main exposure mode dial on the top plate (another nod towards DSLR styling) will reveal that the A3000 offers only the most basic shooting options; intelligent auto, program auto, aperture and shutter priority and full manual exposure, as well as scene modes and a sweep panorama option.
Compare it to the crowded mode dials of the Canon EOS 1100D, Nikon D3200 or Pentax K-500, all of which cost the same as the A3000 or less, and it does look a bit anaemic.
The electronic viewfinder is one of Sony's XtraFine field-sequential displays, and is very sharp, although it does have the psychedelic colour fringing typical of that type of display when zooming or panning. It's just as well that the viewfinder is good, because the monitor is a bit lacklustre.
It only has a resolution of 230,000 dots and has a very poor viewing angle compared to most other current cameras. Unlike Sony's SLT cameras the A3000 has no internal image stabilisation, relying instead on E-mount lenses with built-in optical stabilisation.
One interesting feature is the hot-shoe. It may look at first glance like a traditional flash shoe, but this is Sony's Multi Interface Shoe, which can also be used to attach an accessory microphone. Unlike older Sony DSLRs this hot-shoe will work with non-dedicated third-party flashguns.