Pentax Q7 Review
Review Date : Mon, 2 Sep 2013
Author : Cliff Smith
The Pentax Q7 is one of the smallest CSCs on the market. The question is – are sacrifices made in performance to make it so small? Read the full What Digital Camera Pentax Q7 review to find out...
| | |
| --- | --- |
| Pros: | Portability; Handling; Features; Build quality |
| Cons: | Limited system; Pricey for what could be argued is somewhat of a novelty camera |
The Pentax Q7 is the latest model in the manufacturer's Q-system – a tiny interchangeable-lens format based around the sorts of sensors usually found in compact cameras.
The original Pentax Q, launched in June 2011, and the Q10 that followed it in September 2012, both had small 1/2.3in sensors of 12.4-megapixel resolution. While both cameras were lauded for their performance, handling and features, many people criticised their image quality, particularly high-ISO noise problems directly resulting from that small sensor.
Pentax must have taken that criticism on board, because the news Q7 features a larger 1/1.7in sensor with a resolution of 12.76 megapixels.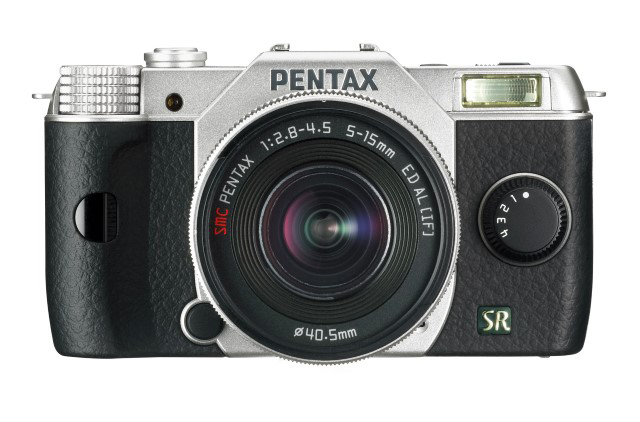 Pentax Q7 Review – Features

The Pentax Q7 shares the same body and most of the same features as last year's Q10, but it does bring a few extra cards to the table. The most significant upgrade is of course the new sensor. The Q7 is equipped with a 1/1.7in back-side illuminated CMOS sensor, offering roughly 50% greater surface area (28.5 vs. 43.3 sq.mm) than the 1/2.3in sensors found in the previous two models.
1/1.7in sensors have been used in high-end compact cameras such as the Canon G-series and Panasonic LX series for many years. Since the new sensor has the same 12.76-megapixel (12.4 effective) resolution as its predecessors, it follows that the all-important photocell size is larger, which should mean greater colour depth, improved dynamic range, better low-light performance and less high-ISO noise.
Thanks to a 10% performance upgrade to the Q Engine image processor the Pentax Q7 does has a higher maximum ISO setting than the Q10, going as high as 12,800 ISO.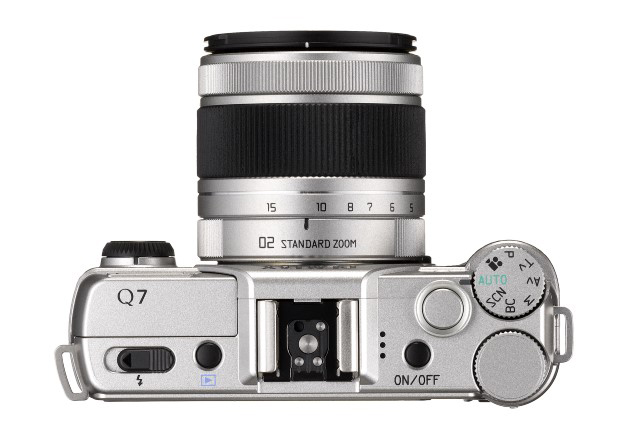 Blur Control

One of the few new photographic features that the Q7 can boast is the Blur Control option, or as Pentax calls it on the website, Bokeh Control. This controls the blurred highlight points in the out-of-focus areas of images, particularly those shot with telephoto lenses or very wide apertures. What Blur Control on the Q7 does is to artificially blur the foreground and background of the scene, attempting to simulate that narrow depth-of-field look.
It is only partially effective; it looks good on some subjects, but poor on others. It's an interesting effect though, and worth experimenting with.
Most of the Q7's other main features are carried over from the Q10. It has the same sensor-shift image stabilisation system, a staple of high-end Pentax cameras for many years. Using the kit zoom lens at its maximum 15mm (70mm equiv.) setting it reliably produced shake-free hand-held shots at a shutter speed of 1/30th of a second.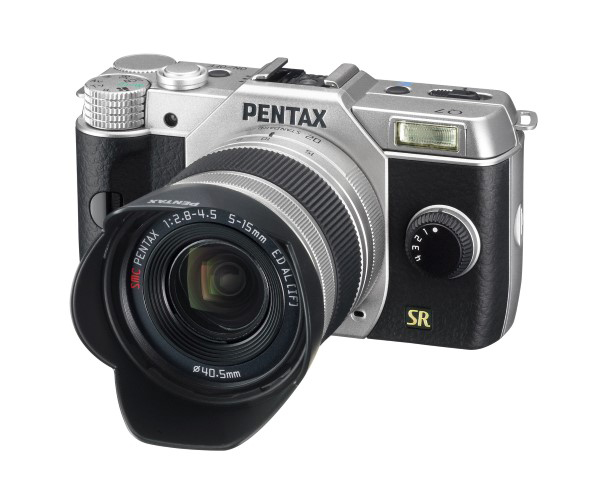 Quick Dial

The Pentax Q7 has a full range of manual exposure options, with shutter speeds of 30 seconds to 1/8,000th of a second available thanks to a combination of an electronic shutter in the camera and mechanical shutters in some of the available lenses.
As well as this it has a wide range of automatic scene modes, plus a number of in-camera Smart Effects processing options to replicate the effects of filters and image processing techniques. Some can be applied during image capture, some have to be applied in playback mode.
Another key feature carried over from both the Q and the Q10 is the handy Quick Dial on the front panel. This is a control that lets you quickly switch between camera settings. In the menu you can select between Smart Effects, aspect ratio, focus method, focus peaking (outlines high-contrast areas suitable for focusing) and the ND filter. It would be nice to see some more options for this very useful feature; maybe a future firmware upgrade might expand its usefulness?