Panasonic Lumix GX7 Review
Image Quality
Panasonic Lumix GX7 Review - Image Quality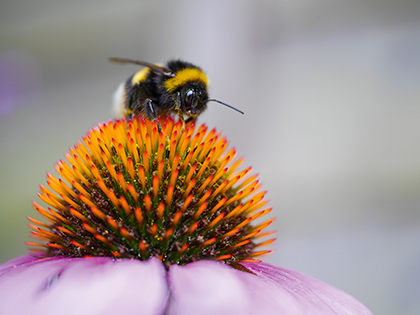 Colour and White Balance
The quality of colour output from the Panasonic GX7 was good, though perhaps a little under saturated for some tastes in the camera's Standard colour setting, though Vivid and Scenery provide more punch if needed. Colour was consistently maintained until after ISO 6400, where colours became a little muted compared to lower sensitivities.
The GX7's AWB coped well under a range of lighting conditions, but under tungsten or fluorescent it was perhaps a little to successful, with slightly warmer results being desired.
Exposure
Just as we've seen with the G6, the GX7 uses the new 1728-zone multi-pattern sensing system that we found copes admirably under a host of lighting conditions, though on occasion is does have a slight tendency to underexpose the scene by 0.3-0.7 of a stop. The dual control dials on the GX7 does mean that this can easily and quickly be corrected without the need to lower the camera from your eye.
The GX7 also features a i-Range mode, with Low, Standard and High settings as well as either Auto or Off. Shooting in the High mode and there's slightly improved dynamic range in both the shadows and highlights, though its not as pronounced as some rivals.
Resolution
The GX7 offers a decent resolution of 16MP and our lab tests showed that its capable of resolving detail down to just over 24 lines per mm (lpmm) at a base ISO of 200, dropping down to 20lpmm at ISO 6400, comparing well to APS-C rivals and matching the Olympus E-P5.
Image Noise
Looking at our JPEG files and the GX7 displays smooth, noise-free results until ISO 1600, where close inspection reveals in-camera image noise control has resulted in very fine detail suffering slightly, though image noise is barely evident. At ISO 6400 and image noise is still well controlled.
Chroma (colour) noise is almost non-existent, while Luminance (grain-like in texture) noise is noticeable, its not to the detriment of the image. That said, in and effort to quell image noise fine detail has been lost, with some areas becoming mushy in appearance. At this sensitivity, results are on par with the Olympus E-P5, but can't compete with the smoother and more detailed results of the Fujifilm X-E1.
Looking at the Raw files and at ISO 3200, chroma noise is more apparent. That said, it's complimented but relatively fine luminance noise to deliver an overall pleasing result with great levels of detail compared to the equivalent JPEG file. At ISO 6400 it has a more noticeable effect on the image, but with some post-capture image adjustment, can be kept in check.
Raw V JPEG
Comparing JPEG and Raw files side-by-side and the JPEG files display great levels of contrast and saturation, while in-camera sharpening has also been applied. As we've mentioned, Raw files display more chroma noise at higher sensitivities, but retaining more detail.