Panasonic Lumix GX7 Review
Review Date : Fri, 16 Aug 2013
Author : Phil Hall
The Panasonic Lumix GX7 is the latest advanced CSC from Panasonic, and is a model they consider their best ever. Does this claim hold up? Read the full Panasonic Lumix GX7 review to find out...
| | |
| --- | --- |
| Pros: | Built-in tiltable EVF; Comfy handgrip and quality finish; Body mounted controls; Fast AF; Good value considering the spec |
| Cons: | Image quality not best in class; No connection for external microphone or video |
The Panasonic Lumix GX7 is very much a case of the manufacturer going back to the drawing board with regards to its advanced CSC offering.
Panasonic's Lumix GF1 was one of the first CSCs designed to appeal to enthusiasts and professional photographers looking for a compact alternative to their DSLR kit. Since then a number of rivals have entered the fray, and while the GF1's natural successor, the GX1, was a well-received follow-up, it was quickly eclipsed by rivals like the Sony NEX-7 and Fujifilm X-E1.
And now you have the GX7, with the jump in numbering referencing the fact that Panasonic feel this is more than just a subtle upgrade to the GX1. In fact, Panasonic reckon this is their best camera yet, so lets find out if it is.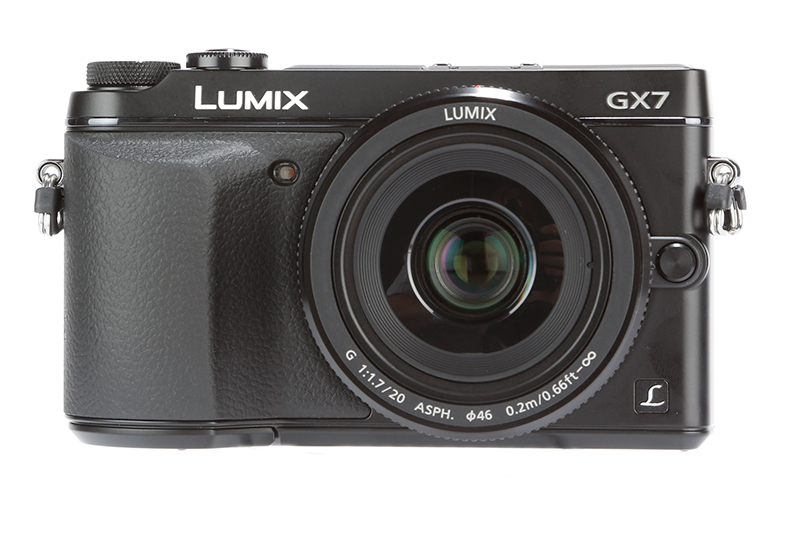 Panasonic Lumix GX7 Review - Features
While the Panasonic Lumix GX7 may share a similar 16MP resolution to the likes of the GX1 and pretty much every other recently announced Panasonic CSC, the chip at the heart of the GX7 is completely new. Panasonic's engineers have worked hard to reduce the circuitry on the sensor, enabling Panasonic to feature larger photodiodes in the same surface area, while the sensor's micro-lenses have also been optimized.
Combined with the Lumix GX7's new Venus Engine image processor, this should see better light-gathering capabilities over previous models, delivering improved image noise performance as well as a broader dynamic range. This is reflected some way in the camera's ISO range, running from 200-25,600 (expandable to a base ISO of 125 if required).
But the Panasonic hasn't just been concentrating on improving the senor, with the Lumix GX7 featuring a raft of updates and developments over the GX1, most notable of which is the inclusion of a built-in electronic viewfinder.
While the GX1 offered an optional EVF that attached via the hotshoe and accessory port, this for some could feel a little bit of a compromise, so a built-in solution will be a welcome addition for a lot of potential new users. Not only that, but it offers a tilt functionality, raising up 90 degrees that will benefit photographers in some shooting situations.
The 0.7x (35mm equivalent) magnification compares favourably to rivals, while the 2.7m-dot equivalent resolution is also strong. As we've seen on previous Panasonic EVFs though, it's based around field sequential technology as opposed the more commonly used OLED and high-res LCD displays in rival models. This sees at any given time just one colour is displayed (red, green, or blue), with colours alternating to provide full colour at every pixel location and as such, the GX7 is able to boost approximately 100% Adobe RGB gamut coverage.
There's also an eye sensor allowing the EVF to be automatically activated when the camera is raised to the eye, with the sensitivity of which being able to be toggled between high and low in the menu.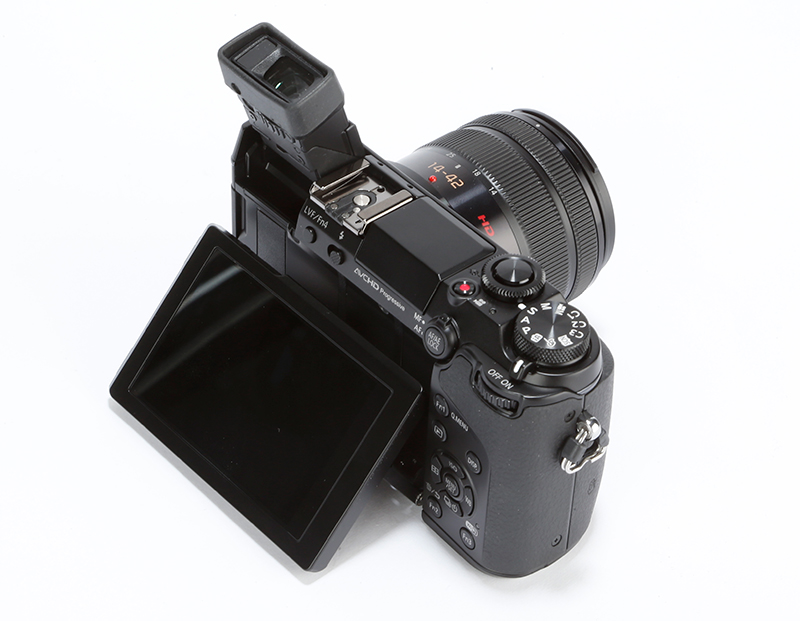 LCD screen
Partnering the Panasonic GX7's tilt-angle EVF is a tilt-angle 3in touch-sensitive display with a 1.03m-dot resolution, with the display being able to be flipped outwards 90 degrees, while a down-facing tilt of 45 degrees is also possible.
The GX7 features Panasonic's Light Speed AF technology, with a sensor data read out time of 240fps that should see focus speeds around 0.06secs. That's not all, as those shooting in low light will welcome the GX7's Low Light AF, with the GX7 capable of focusing in lighting conditions as dark as -4EV (roughly equivalent to starlight), while there's also Pin-point AF that as the name suggests, allows you to pin-point an area of focus.
For the first time on a G-series camera, the GX7 offers users of legacy glass (such as Leica M-mount lenses via a mount adapter) or Olympus and Sigma Micro Four Thirds-fit lenses a sensor shift image stabilisation system. This is activated when a non-IS lens is mounted on the GX7 and to ensure the correct level of correction is applied, shooters can dial in the lens's focal length from 8-1000mm.
With the GX7 keen to appeal to enthusiast and pros, it's nice to see a top shutter speed of 1/8000sec, while the maximum flash sync is impressive at 1/320sec. There's also the ability to flick between the mechanical and electronic shutter, with the later delivering near silent capture for discreet shooting.
In this mode (accessed via the Custom section of the GX7's menu) flash, AF illuminator and all camera sounds are disabled, while the ISO range is restricted to between 200-3200. The GX7 can shoot at up to 5fps provide you're in single AF with its mechanical shutter, while its also possible to shoot 12 frames at a rate for 60fps using the electronic shutter should you wish.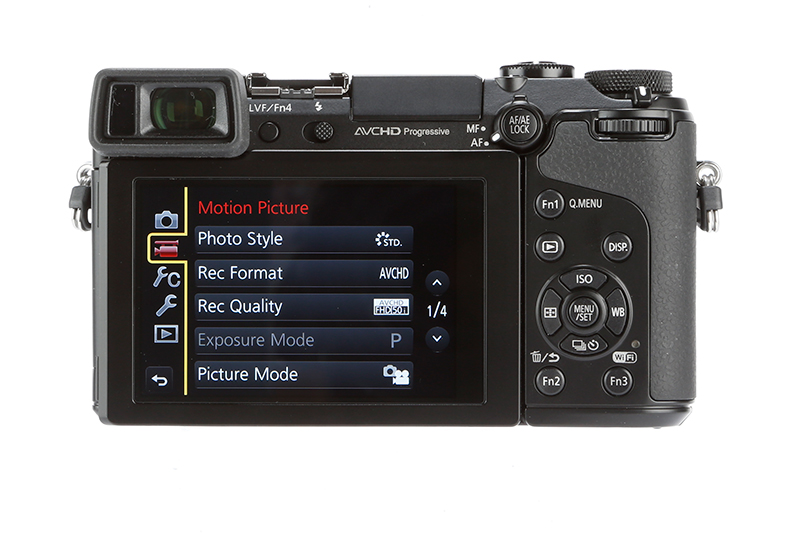 NFC and Wi-fi connectivity
As we've seen with a host of recent Panasonic launches including the Lumix G6 and LF1, the GX7 features both Wi-fi and NFC (a connection is established by to compatible devices by simply tapping them together) connectivity. In conjunction with the free Panasonic Image App for either iOS or Android, it's possible to transfer and share images out in the field, while the GX7 can be controlled and triggered using your smartphone or tablet.
With Panasonic building an enviable reputation when it comes to video capabilities, the GX7 shouldn't let the side down. Offering Full HD 1920 x 1080 50p video in either AVCHD Progressive or MP4 formats, as well as 50i, 25p and movie-like 24p in AVCHD and 25p in MP4. This is all with stereo sound, though its a little disappointing to so no additional connections for a stereo microphone.
Finally there's a growing number of Creative Control filters that now includes two new monochrome modes - Rough and Silky, and along with other effects such as Time Lapse Shot, Stop Motion Animation and Clear Retouch (enabling you to clone-out objects within a scene), the GX7 offers a total of 22 filter effects.