Samsung NX300 review
Design
Samsung NX300 review - Design
Although the Samsung NX300 adopts the basic shape and body styling from the NX210, it's fractionally chunkier and more aesthetically pleasing to look at in its two-tone black and silver finish. The faux leather plastic at the front contributes to a high-end appearance, however it doesn't feel like a premium product in the hand and lacks the premium finish of other compact system cameras at similar price points.
That said, the handgrip is of a good size and the smooth curved grip makes it feel comfortable and well balanced in the hand. We also like the way you don't have to uncomfortably bridge your finger to trigger the shutter - the index finger rests flat over the shutter button, leaving the thumb to operate the mode dial and buttons at the rear.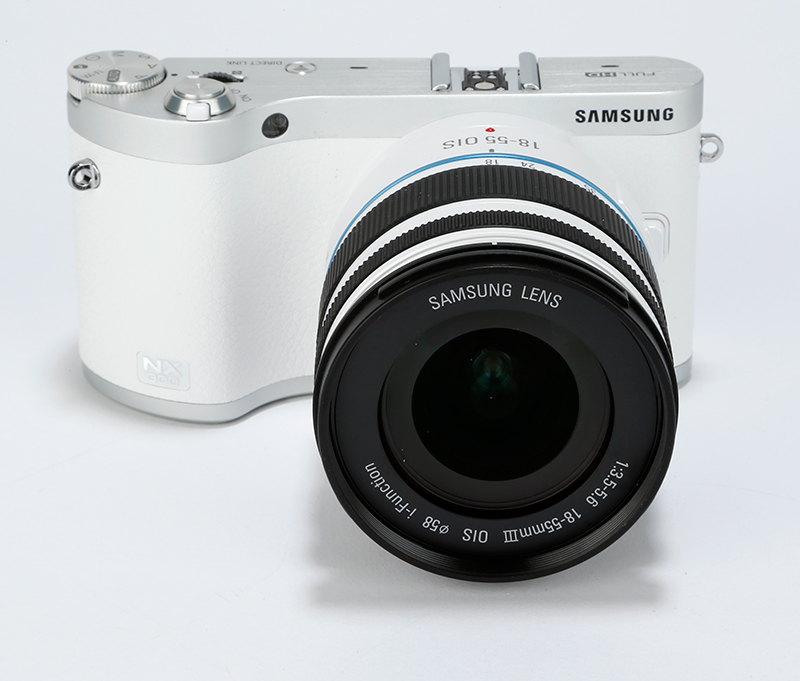 The arrangement of the buttons on the Samsung NX300 hasn't changed greatly, but we would prefer to see metal buttons rather than plastic ones – a strategy other manufactures are using to improve the feel of their products in the hand. Playback and delete buttons are found below the dpad, whereas the menu, function button and exposure compensation are all controlled from above.
The small scroll dial on the top plate can be used to change shutter speed and aperture settings on the fly and beside this is a Direct Link button that enables a chosen wireless function. For a majority of our setting changes we used the cameras i-Function facility, though how much use this sees is dependent on user and whether they like the idea of using the focus ring to operate camera settings.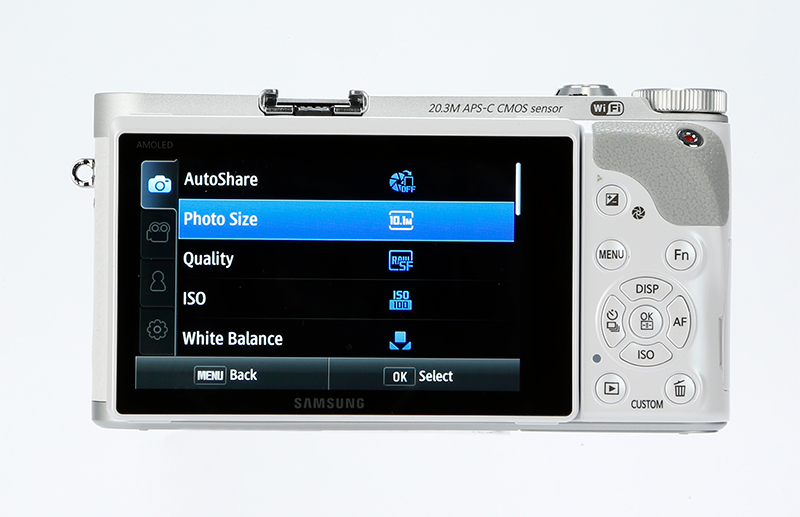 Touch screen

The Samsung NX300 can be operated using the touch screen or the buttons. To ensure it's easy to navigate, the menu system features bright white text on a black background and there's very little you can't setup on the camera using the screen. All the icons are displayed at a good size and the main menu is split into four basic categories. The screen sits proud from the back of the camera but can be flipped out smoothly and pushed back effortlessly.

With no built-in flash, the only way of illuminating a subject with artificial light is to plug in an external flash via the NX300's hotshoe. The NX300 is bundled with Samsung's SEF8A flash (guide number of 8 at ISO 100), but if a more powerful flash is required the NX300 is compatible with Samsung's range of flashguns, including the ED-SEF 220A (£110) and ED-SEF42A (£170).