Pentax K-5 II review
Performance
Pentax K-5 II review - Performance
The 18-55mm WR kit lens moves rapidly when focusing, which is not only conducive to fast AF times but also means the lens spends less time hunting through its range when faced with more problematic subjects. Slightly offputting is the loud whirring of its motor as it focuses; the 18-135mm lens, which is also available as part of a kit with the Pentax K-5 II is a more discreet performer.
As one of the Pentax K-5 II's improvements is said to be its focusing system. It's welcome to find that in low light the camera indeed continues to focus, even finding it against very low-contrast subjects. The success rate here is obviously helped by enabling the AF assist light too, but even with this disabled the camera managed to find focus against barely-lit subjects (lit, for example, by nothing more than candlelight) in a couple of seconds or so. As may be expected, choosing the Auto Area AF also generally helps to find focus quicker than if a single point is selected, although this will depend on where on the subject the point lies.
A comparison with the previous Pentax K-5 shows both AF systems to hesitate slightly in low light (particularly without the AF assist lamp), but generally for the Pentax K-5 II to acquire focus in marginally better time, with less hunting.
In short, its overall focusing performance is impressive and clearly improved, and a benefit for those photographers regularly working in low-light conditions.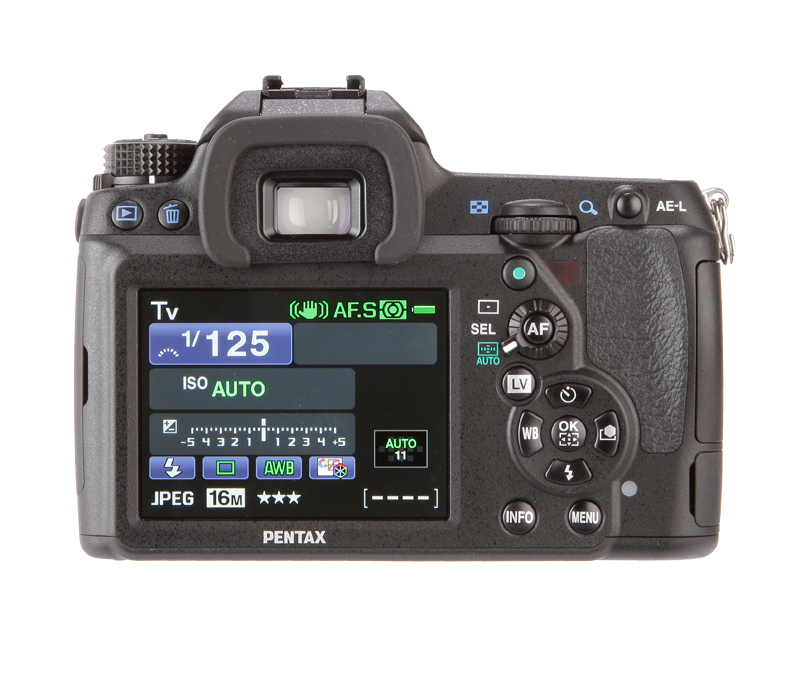 The other main change from the Pentax K-5 is the LCD screen. Comparing the two models again validates Pentax's claims with regards to the newer model; although both screens show reflections, those from the Pentax K-5 II display are less obvious, and because of this the screen does show slightly better contrast. Again, the difference isn't particularly significant, but it is still noticeable.
The camera's sensor-based image stabilisation system is also clearly effective. Pentax states it provides a three EV stop advantage (the effectiveness of such systems does depend in large part on technique, and also lessens as subject distance decreases), although during the test it was possible to capture acceptably sharp images beyond this point
The camera's video quality is better than expected. On both its full HD (25fps) and standard HD (30fps) settings, footage is fluid and richly detailed, with only finer details causing some aliasing artefacts, (which is true of many cameras). The metering system responds swiftly but smoothly to changes in the scene, and sound is recorded clearly, although control over audio settings - beyond the on and off controls offered - would be appreciated.
The sensor-based image stabilisation system may also be used in movies, and when employed it has a noticeable effect on the stability of footage. When panning, however, it's best to disable this, because when a pan is finished the system does have a tendency of readjusting itself, producing an effect where the frame jumps a little to one side.
One of the more impressive things about the camera is the range of post-capture options available, particularly as many of these are still nowhere to be found on some of the Pentax K-5 II's peers. The ability to delete Raw and JPEG versions of an image independently from one another is perhaps the most useful, and being able to preview captured images in different colour and white balance options is also beneficial. These are simple, helpful features, but it's remarkable how few cameras actually offer them.