Sony A99 review
Design
Sony A99 review - Design
Together with a feature set strongly influenced by its SLT brethren, Sony has also opted for a design which stays consistent with that set out by the A77. The body itself makes use of a combination of magnesium alloy and engineering plastic, and it's sealed against dust and moisture. It feels no less hardy than the bodies of its peers, although at 733g without a lens its light weight is very much appreciated after a day's shooting. Furthermore, the well-rubbered grip and back plate, together with the depressions in the grip for index and middle fingers, combine to provide superb handling.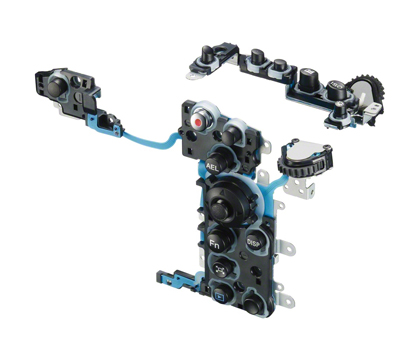 Thanks to the electronic viewfinder and the lack of a built-in flash, the top-plate lacks the more defined hump common to models such as Canon's EOS 5D Mark III and Nikon's D800; here, there's just a smoother mound which flows more naturally down to the sides, with a tactile, rubbered mode dial standing proudly from one side, and a large LCD and collection of controls on the other.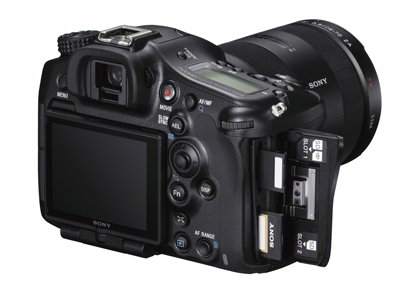 The mode dial is centred by a button which needs to be pressed in order for the dial to rotate, which prevents it from being inadvertently knocked out of position. As with the shutter release button on the other side, this button has a positive spring to it upon its depression. Among the controls on the other side, meanwhile, only the Finder/LCD button is positioned out of comfortable reach of the finger when the camera is held, although given the eye sensor under the viewfinder's eyepiece which senses when each display is required this control isn't particularly key.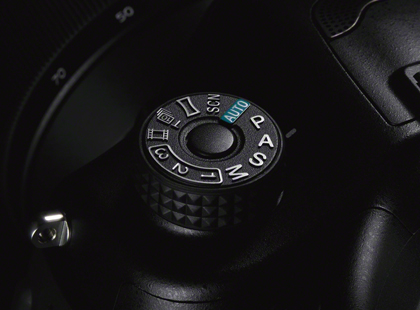 While the lack of customisable "Fn" buttons around the body may hint at inflexibility in terms of user set-up, digging around the menu system reveals the opposite to be true; five buttons in total, such as those for ISO and the AEL lock control, can have a range of alternative functions assigned to them, while others can also have their roles changed as desired, albeit to a lesser degree. The Silent Multi Controller which is designed for use while recording video, can also be used when shooting stills to adjust a range of options such as white balance, focus and ISO.