Sony NEX-5R review
Review Date : Fri, 19 Oct 2012
Author : Mike Topham
Sitting just above the Sony NEX-5N, the Sony NEX-5R has been designed to offer more interactive features than its forerunner. We gave it a thorough work out to find out how useful these new features will prove to be.
| | |
| --- | --- |
| Pros: | Flip out screen, self-timer function, top plate scroll dial, top plate function button, image quality |
| Cons: | Small touch screen buttons, unintuitive menu system, lack of mode dial, lack of built-in flash |
Take one look at Sony's NEX-5R and it could easily be mistaken for the Sony NEX-5N. Other than a few minor body changes, the third incarnation in Sony's NEX-5 range looks almost identical to what has rolled off the production line before. The Sony NEX-5R is a completely new model in Sony's ever expanding Compact System Camera lineup and with it come a few interesting new features that bring it bang up to date with the times. Without wasting any time lets find out how the Sony NEX-5R has been modified, developed and enhanced.


Sony NEX-5R review - Features
When Sony announced the Sony NEX-5 back in 2010 it employed a 14.2MP CMOS sensor and since then Sony has developed a 16.1MP sensor for the Sony NEX-5N. If the trend of a new sensor appearing in each new Sony NEX-5 model was to continue you'd half expect the Sony NEX-5R to feature an all-new chip, but it doesn't. The Sony NEX-5R provides the same 16.1MP resolution and similar APS-C sized sensor to that found within the Sony NEX-5N. Claimed to be newly developed sensor, it shares resemblances to the Sony NEX-5N's 16.1MP chip in the way it measures 23.5x15.6mm and provides an identical 100-25,600 ISO range.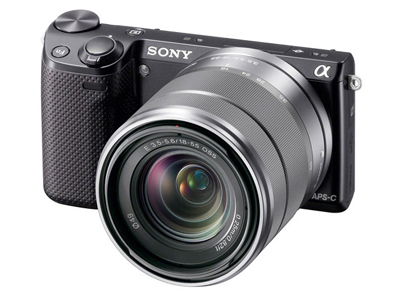 Teamed with the 16.1MP sensor is Sony's BIONZ processor. This combination promises flawless, low-noise images at high ISO's and contributes to the Sony NEX-5R's 10fps shooting capability in Speed Priority mode. Sensor and processor aside, the Sony NEX-5R is one of Sony's first interchangeable lens cameras to combine phase detection and contrast detection methods together. We'll touch on how this focusing functionality works a little later in this review.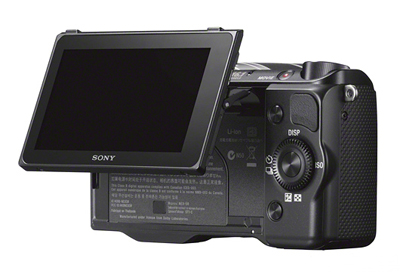 The 3in, 921k-dot tilt-angle screen is the touch-type just like that found at the rear of the Sony NEX-5N. It now supports a touch shutter option allowing you to take an image by simply tapping the screen with your finger. Just like most touch screen displays that provide this function, there's also the option to turn this feature off in the menu if you want to minimise the risk of accidentally firing the shutter. 

Earlier we mentioned the Sony NEX-5R includes new features to bring it bang up to date with the times. One of these is integrated Wi-Fi connectivity that makes it possible to transfer stills and videos directly from the Sony NEX-5R to any smart phone or tablet that's downloaded Sony's PlayMemories mobile app. Available from the iTunes store, more information about the free Play Memories app can be found by clicking here.
Alternatively, the Sony NEX-5R gives you the option to transfer images directly to a networked PC to save the hassle of having to take out the memory card and use a card reader or use USB connecting cables. Furthermore, if you'd like to install new functions to the Sony NEX-5R you can do so from the Play Memories Camera app. Apps such as picture effect+, smart remote control and direct upload can be installed via Wi-Fi or a USB cable and more apps are expected to be made available soon, including one that'll allow you shoot time-lapse images using th Sonye NEX-5R.