Canon PowerShot SX50 HS Review
Review Date : Tue, 13 Aug 2013
Author : Doug Harman
The Canon SX50 HS boasts impressive features on paper, but read on to find out how it fares in the full What Digital Camera review
| | |
| --- | --- |
| Pros: | Focal range; Handling; Image quality; RAW and RAW +JPEG capture; Accessory hot shoe |
| Cons: | Focus performance; Low power built-in flash; High ISO noise; Lack of Raw in manual modes |
The Canon PowerShot SX50 HS is the manufacturer's latest superzoom bridge camera, and it boasts an impressive focal range.
Recent times have seen camera manufacturers chase "numbers on the box", particularly around pixel counts, which has been almost relentless. Today there's a new chase however, the chase for longer and longer lenses within compact cameras and Canon has now pushed that boundary further than ever with the SX50 HS.
This model sports a 50x optical zoom lens offering an amazing 24mm wide focal length at one end and a monstrous 1200mm at the tele end of its zoom.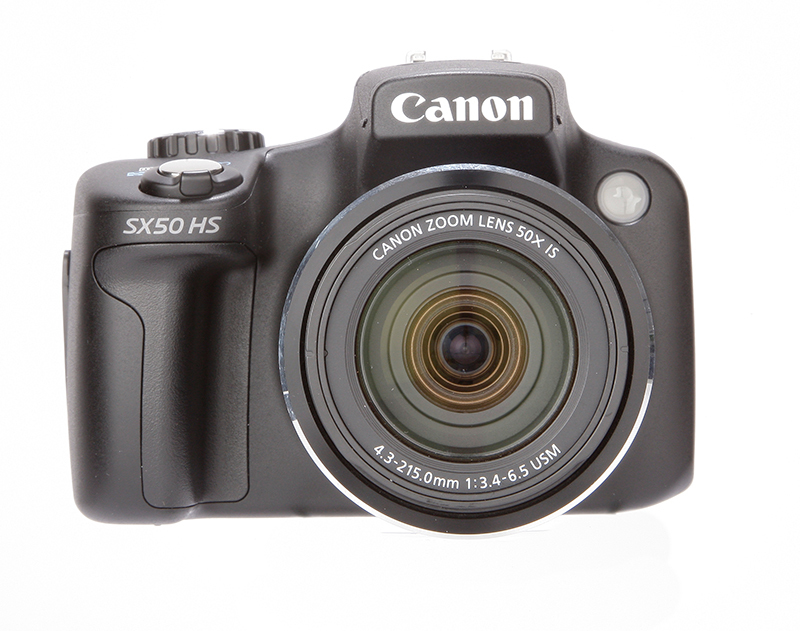 Canon PowerShot SX50 HS Review - Features and Handling
The Canon PowerShot SX50HS's lens astonishing feat of optical engineering, but it comes with a few health warnings. For a start its maximum apertures of f/3.4 to f/6.5 are rather limiting in terms of light gathering power and depth of field control, while you'll need to carry a tripod or have surgeon steady hands to keep things shake free at lower ISO and at full zoom.

The SX50 HS actually preserves many features from its SX40 predecessor and this includes its 12.1 Megapixel CMOS sensor, DIGIC 5 processor, a rotating LCD display (though the SX50's is very slightly larger) and full manual controls. The hot shoe remains too, as does the very useful Zoom Framing Assist feature which allows you to control the framing at bigger zoom ratios where there's a tendency for the framing to wander due to you (cameras shake) or the anti shake system making things stray across the frame.

There are some really cool new features too and my favourite among them is RAW shooting including combined simultaneous RAW and JPEG capture a faster AF set up, though this has its foibles, and improved continuous shooting speeds of up to 13fps. Another plus is there are now extra scene modes within the camera's Smart Auto mode.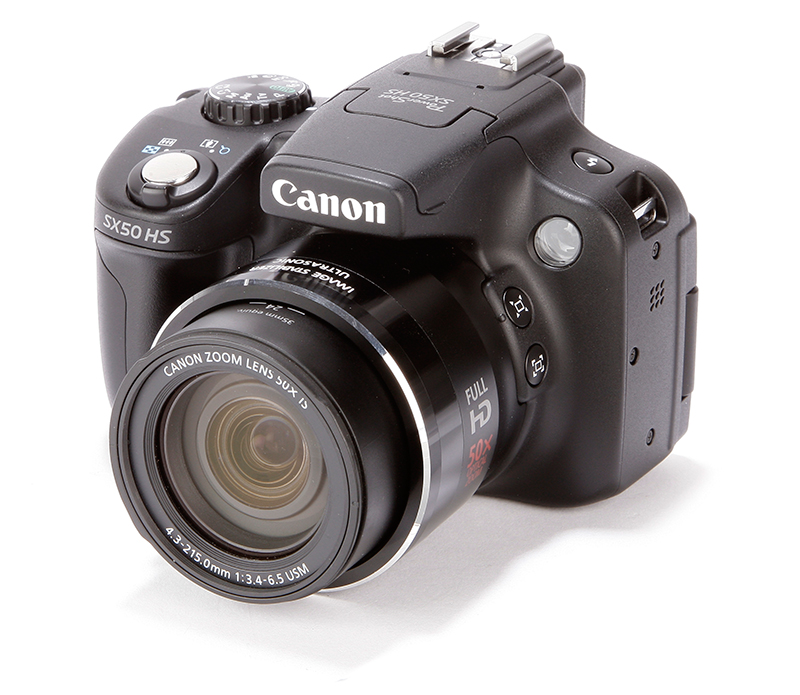 Camera size and handling
In terms of design, even with that 24mm to 1200mm lens, the SX50 HS is actually still a mid-sized super zoom snapper. The build quality is okay in that it has a plastic body and lens barrel over a metal skeleton.

The camera's relatively small then and sits nicely in the hand, but I found use one handed - of course that's assuming you want to risk such a relaxed approach with that long zoom - meant the controls under your right thumb are too easy to depress by accident.
I also found the aforementioned maximum aperture range makes the camera one of the slowest lensed models in its class, something that is the comprise necessary to get such a long focal range crammed into one optical train.

Like the SX40, here the 50x zoom lens utilises Canon's excellent USM (ultrasonic motor) for very quiet focusing - great when shooting HD movies - but apart from that gigantic zoom, the front of the camera has just one other feature of note, its AF-assist lamp. This is squeezed into the upper-right corner of the camera (from the front). The lamp doubles up as the redeye reduction lamp and as the self-timer's count down indicator.

As with other similar long zoom cameras such as this, the image Canon SX50 HS's stabilisation system needs to be good and it is here, thankfully. The SX50 utilises Canon's lens-shift IS, and includes Canon's Intelligent IS feature to choose between the panning, hybrid, or tripod modes for the situation at hand.

There's a natty dynamic IS mode that can reduce extreme camera shake when recording movies as well as a powered IS mode for shooting at the full telephoto 1200mm zoom. Other kit includes the camera's tiny manually control flip-up flash unit, which offers a modicum of extra light but is woefully underpowered and so the addition of the hot shoe makes the use of a "proper" flashgun something that then adds a great dollop of extra flexibility and versatility to the camera and makes up for the built-in flashes limitations.


LCD screen
The SX50 HS's rear has the slightly larger 2.8-inch 461K-dot LCD fully tilt, turn and swivel-able display, (the SX40 had a 2.7-inch 230k-dot screen); up to 270 degrees, allowing you to snap shots over heads of those in front of you or use a tripod (particularly when low to the ground) without straining your neck, a la waist level finders on camera of yore.

The LCD is best described as acceptable; it was just about usable outdoors in bright sunlight, if a little flat and lacking sharpness. But what really disappointed was the electronic viewfinder (EVF).
I much prefer a camera to have some form of "proper" viewfinder and if it has to be an EVF, that's better than nothing. But this is not what I was expecting. It's blurred and not sharp across the (very tiny) frame, the dioptre adjustment is good to have but was really hard to use as the dial is too slippery and it's adjustment was way to course to get it set just right.

The SX50 HS's top plate houses the excellent-to-have hot shoe, a flash mode button and the main mode dial. If you use an external flash Canon's guns will sync with the SX50's metering system, you'll be able to adjust the flash settings using the camera's interface, and the AF-assist, redeye reduction, and high speed flash sync features will be at your command as well. If you don't have a dedicated Canon flash you'll have to adjust everything manually.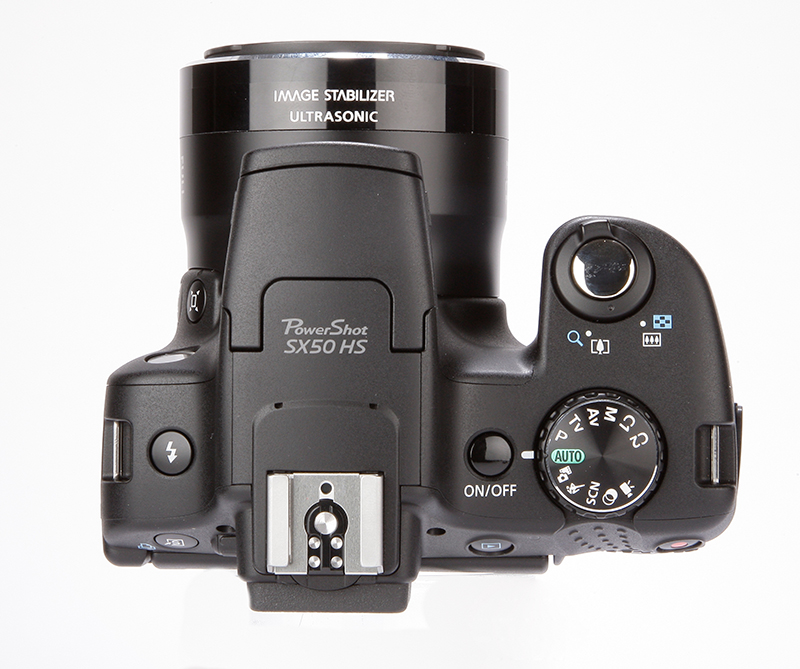 Button layout
On the SX50 HS's mode dial, you can get at all the meat of the camera's settings that includes the manual controls, the automatic settings and the scene and filter modes as well. A large on/off button is crouched alongside the mode dial; forward of this is the shutter button and its surrounding lens zoom lever.

Move to the back plate and as well as the large display, you'll find the playback button, a dedicated movie recording button, which is just a little to recessed for my large thumb, and so was problematic to use quickly and under that you'll find the focus point selection button.
On the right side of the camera, sheltering from dust and dirt under a snug, flush fitting rubber cover, are the SX50's three I/O ports. These cater to wired remote control, which is another new feature over the SX40, the USB + A/V output, and mini-HDMI port and finally you'll find the port for the (optional) mains power cable.

The camera's four-way jog button houses the camera's direct buttons for ISO, exposure compensation, self-timer functions and the focus modes. It's central 'FUNC/SET" button is used to access the usual Canon on-screen menu system or choose and scroll chosen options, pictures or settings.

A thin rotating dial surrounds this but it is recessed just enough to get it out of the way, but too much to make it really easy to use. Another button, not mentioned yet but one which is my favourite, is the "S" button sat to the left side of the EVF on the back, it's the shortcut button.

Essentially, it is a user assigned button, so you can load it with functions (or rather a function) you use a lot but not catered to elsewhere on the camera, including the excellent i-Contrast.

Metering, aspect ratio, AF type, white balance (WB) and drive modes are all other functions that can be assigned here; what you use depends on your style of shooting or the type of photo you're about to take.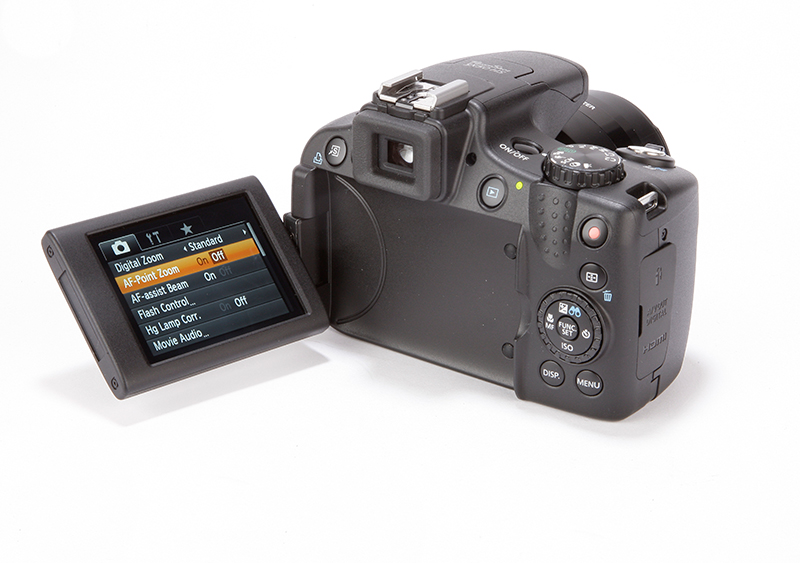 Manual controls

The SX50 HS's manual controls are all adjusted using the abovementioned rotating dial that sites around the four-way jog controls. Spin it in aperture priority and the apertures adjust through their modest range of f/3.4 to f/8; switch to shutter priority and you can spin it through the 15 second to 1/200th-second settings; in full manual control it defaults to shutter speed adjustment, to change apertures (and back again) you press the exposure compensation button on the top of the four way jogger.

This is all simple to do and straightforward enough, but should you want to stick to the automated features then you have Program AE (it's like auto but without the camera choosing a scene mode for you), Auto mode is as described previously, the camera does the "thinking" in terms of subject mode but it's very slow and gets it wrong on occasions too.

The SX50 HS's movie settings include Full HD 1080P capture but at 24fps. Many similar cameras today boast the "smoother" 60fps rate and it's true to say, pan too fast on the SX50 and the results are a little jumpy.

The camera's Ultrasonic focusing system means you can have continuous AF during movie capture without any audio interference on the stereo audio. And zooming that massive lens during shooting is also noiseless, both things I've not been able to write for cameras of this ilk before, so well done Canon on both of those.