Sony Alpha 5100 First Look Review
Review Date : Mon, 18 Aug 2014
Author : Jon Stapley
Sony has announced the world's smallest CSC toting an APS-C size sensor, the Alpha 5100. We take a closer look to see how it handles
The new Sony Alpha 5100 boasts the same 24.3MP sensor as was found in the Alpha 6000 CSC, as well as Sony's powerful Bionz X processor.
Continuing Sony's longstanding reputation for packing big features into small bodies that began with the original NEX-3 and NEX-5 models. The Sony Alpha 5100 weighs a slender 283g with card and battery.
It also brings to the table Sony's Fast Hybrid AF system, which combines contrast and phase detection AF for lightning-fast focus acquisition. The Alpha 5100 is capable of achieving an AF speed of just 0.07 seconds
Selecting the AF point is now much easier thanks to a new arrival - a 3-inch, 921,000-dot LCD touchscreen that we previously saw in the NEX-5T (which this model replaces). If so inclined, you can use the touchscreen to simultaneously select focal points and fire the shutter.
The screen can also be rotated through 180 degrees - useful for the odd selfie. There is, however, no viewfinder on the Alpha 5100.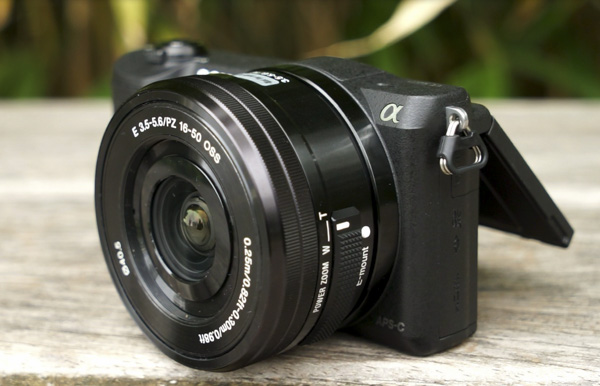 The Alpha 5100 is equipped with an ISO range of 100-25,600 and its shutter speeds run from 1/4000sec to 30sec. An electronic first curtain minimises release lag and eliminates image blur caused by shutter-induced vibrations.
Videographers can use the Alpha 5100 to record 1920 x 1080p video at up to 60fps, and the camera offers support for the XAVC S format with bitrates up to 50Mbps.
It's also equipped with Wi-Fi connectivity and NFC, compatible with Sony's PlayMemories app, which can be used to download additional functions such as time-lapse or the new Lens Compensation, which applies distortion mapping and shading correction for lenses used with an adapter.
First Impressions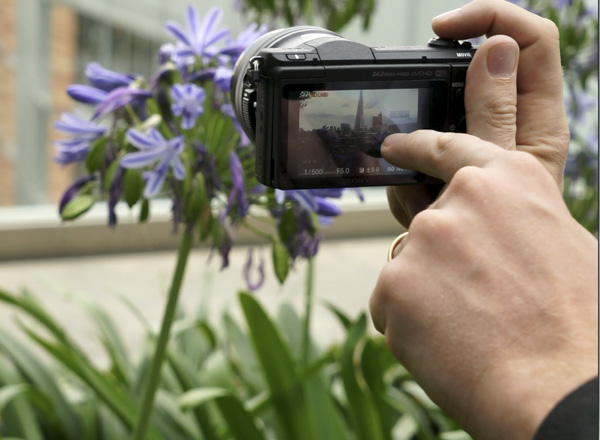 The fact that the Alpha 5100 imports its sensor and phase-detect AF system from the Alpha 6000 makes it a very interesting prospect indeed, and prevents it from being just another E-mount compact.
We love the idea of the Alpha 6000's image quality in as small a package as this, and the inclusion of its lightning-fast Hybrid AF only sweetens the deal.
It's early doors, but there are a few complaints so far. While the touchscreen is a very welcome addition, the fact that you can't use it to navigate image playback is a little bewildering.
Also, considering the Alpha 5100 has so few physical controls, it feels as though it would have made sense to make it so more functions could be altered via the screen - it would be great to be able to use it to change settings mid-shoot, for instance. The fact that the Alpha 5100 is so small means there simply isn't space for very many buttons, meaning changing settings often
The Sony Alpha 5100 will be available from mid-September 2014, priced around £550 (16-50mm lens kit), £760 (16-50mm + 55-210mm lens kit) or £420 (body-only).