Leica T Review
Review Date : Thu, 29 May 2014
Author : Paul Nuttall
Leica T Review - The Leica T is the premium manufacturer's first ever compact system camera, signalling a move away from previous Leica models. Does the T manage to please both Leica fans and the wider CSC market? Find our in our full review.
| | |
| --- | --- |
| Pros: | Impressive featureset; Good image quality; Good touchscreen performance |
| Cons: | Pricey lenses; Lacking 'rangefinder' features may disappoint some |
Leica has a long heritage of producing premium products built to stand the test of time out of the very best materials on the market.
Leica M system digital rangefinder cameras, for example, remain one of the most desirable set-ups going to both tech heads and style gurus alike.
Yet when you factor in the potential cost involved with the purchase of just a couple of lenses, you're looking at a wallet-busting bill of nearly £10,000 to buy in to the series.
As you therefore might expect, there has long been pressure on Leica to announce a more affordable system camera which maintains the Leica construction and premium design ethos but does so at a more affordable price.
This is where the new Leica T (Type 701) steps in. The model is the manufacturer's first CSC and is much more affordable then the Leica M - priced at £1,350 body only at time of review.
Although it does feature a host of Leica hallmarks, it is a drastic departure in terms of design. So will it win new fans over to the Leica brand, and is it a step too far for Leica aficionados?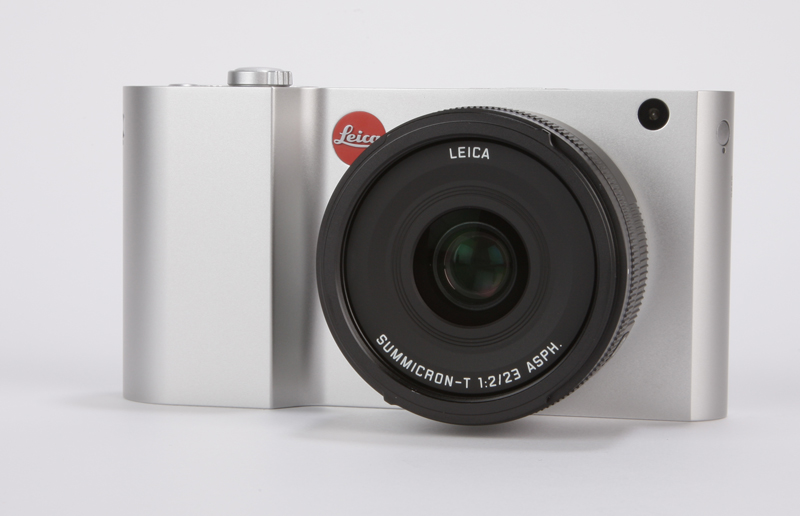 Leica T Review - Features
Perhaps the most eye-catching feature in terms of the camera's specification is found on the rear of the camera. The Leica T sports a screen measuring in at 3.7in and featuring a 1.3-million dot resolution, and as you might expect for a screen that size features touchscreen functionality.
As you have probably come to expect now with high-end CSCs, the Leica T sports Wi-fi connectivity for both the wireless transfer of images and for remote control from either a smartphone or tablet.
Perhaps a touch surprisingly the Wi-fi functionality is only compatible with Apple iOS devices, rather than Android and iOS as is the case with most other models.
In another nod towards the 'smart' nature of the Leica T, the model sports an impressive amount of internal memory.
As well as offering storage options through a conventional SD cards, the Leica T also offers an impressive 16GB of internal memory - an amount more than enough for most casual users in between uploading images to their laptop or desktop.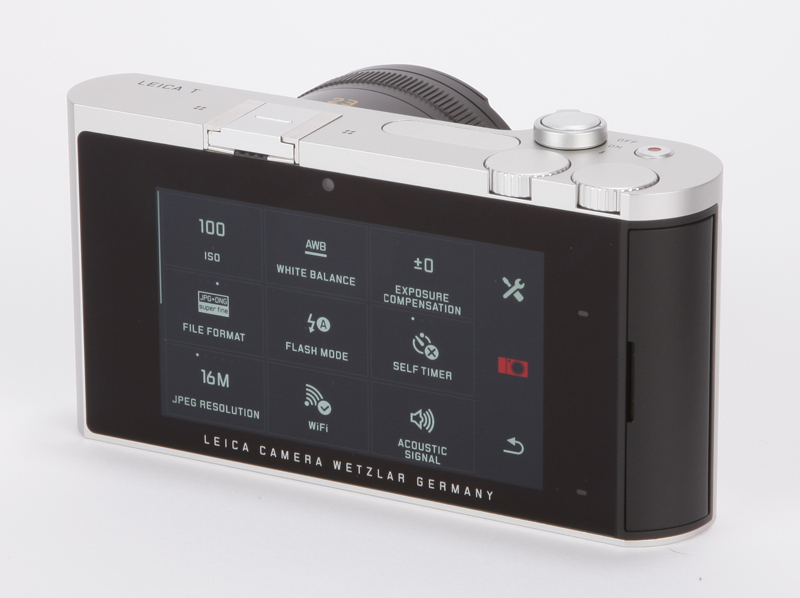 Core functionality

In terms of the conventional side of the specification, the Leica T sports a 16.3MP APS-C CMOS sensor that features a native ISO range of 100 - 12,500.
The model shoots both Raw and JPEG files, as you might expect, although one interesting note is that the Leica T stores Raw files in the universal DNG format, thus allowing for simple compatibility with the majority of image editing software.
On the note of image editing software, purchasers will no doubt welcome the fact that the Leica T ships with the latest version of Lightroom as standard.
As well as breaking away from Leica tradition in terms of now featuring a large touchscreen and internal storage, the Leica T features a range of scene modes to complement the more traditional PASM shooting modes.