Sony A6000 Review
Review Date : Mon, 28 Apr 2014
Author : Jon Devo
Sony A6000 Review - The Sony a6000 is the manufacturer's latest CSC, boasting class-leading AF performance and an impressive APS-C sensor, continuing the development of Sony CSCs from NEX to Alpha models
| | |
| --- | --- |
| Pros: | Good high ISO performance; Great specification; AF speed |
| Cons: | LCD screen could be better specified; EVF a touch behind competition |
Sony recently made the decision to move away from its NEX range of cameras and naming convention, instead labelling its CSC cameras 'Alpha' models in keeping with its SLT cameras higher up the range.
The Sony a6000 arrives to replace the Sony NEX-6, a model so successful that it had held a place in Sony's CSC line-up for a good four years. As a result the latest model has some fairly big boots to fill.
In an acknowledgement to the previous model's success, the a6000 retains the same design aesthetic of its predecessor, although it's a different story with the model's inner workings.
The model features some of the very latest imaging technology, including the new Bionz-X processor, an APS-C 24.3MP Exmor CMOS sensor and lightning-quick Hybrid AF system.
The result is a CSC that look to stand out from the crowd, certainly on paper at least. But how does it perform when put under closer inspection?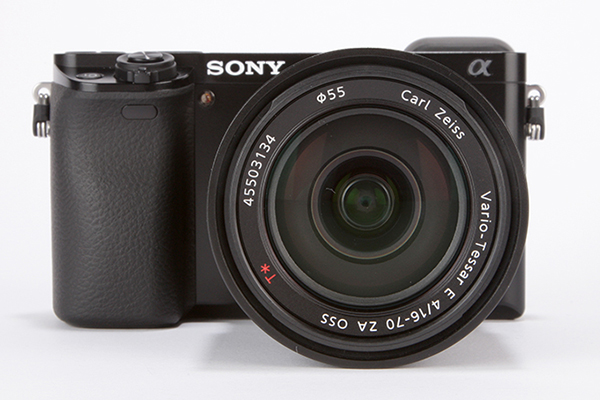 Sony A6000 Review - Features
In terms of the a6000's sensor, the camera makes a big jump in resolution up from the 16.1MP sensor found in the Sony NEX-6.
The model now sports a class-leading 24.3MP APS-C CMOS sensor, complete with angled micro-lenses to aid the camera's light gathering abilities and therefore boost performance at higher ISO settings.
Speaking of which, the Sony a6000 covers an ISO range of 100 to 25,600, while it also supports full HD video capture at 1920 x 1080 resolution, and at both 60p and 24p.
In terms of the rest of the camera's performance figures, the A6000 offers some pretty impressive numbers.
For example, the model is capable of shooting up to 11fps continuously for a burst depth of 21 frames when shooting Raw and JPEG, and if you're happy to shoot just JPEG then the burst depth extends to around 49 frames before the buffer fills.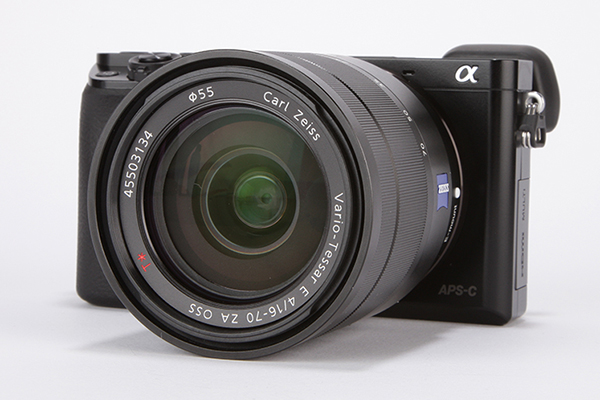 Burst speed
This impressive burst rate and depth is provided by the camera's new Bionz-X processor, a chip which Sony claims is some three times faster than the Bionz processor previously featured in NEX cameras.
This new processor also provides some impressive operational speeds, with a barely perceptible start-up speed and shot to shot delay.
The processor also delivers some incredible AF speeds, with Sony claiming a focus acquisition time of just 0.06 seconds - a delay in real terms which is very difficult to even pick up, and one which Sony claims at time of launch is the shortest of any camera in its class.
The focusing system is not only quick, but also promises to be accurate thanks to the presence of both 25 contrast-detect AF points along with 179 phase-detect points covering the majority of the frame.
These two type of points form the camera's hybrid AF system, an arrangement increasingly found on CSCs and, when you consider just how quick it is, it's easy to understand why.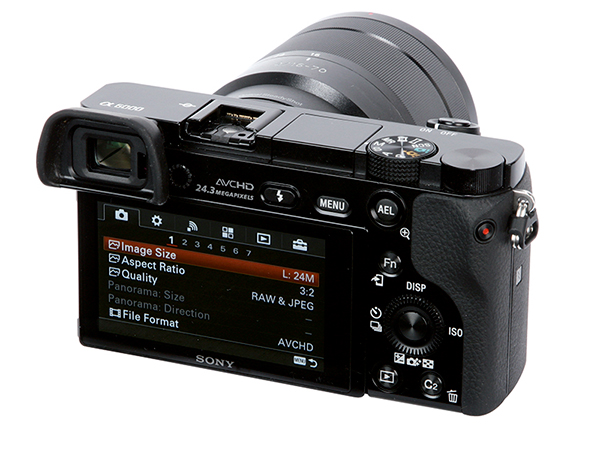 EVF
Although a host of the a6000's functionality is certainly an upgrade on its NEX-6 predecessor, the model's EVF is one area that could be described as a step backwards.
While the NEX-6 featured a 0.5in, 2.3-million dot XGA OLED, the a6000 now features a 0.39in, 1.44-million dot unit that, as the numbers suggest, is both smaller and of a lower resolution.
The LCD screen, on the other hand, is a match for that on the NEX-6. It measures in at 3in and features a resolution of 921,600 dots, and although that's hardly class leading - with the screen also lacking touch functionality - it's certainly capable enough.
Completing the impressive specification are a pair of connectivity options in the shape of both Wi-fi and NFC. These allow for the wireless transfer of images along with remote control of the camera.
Furthermore, users can expand the functionality of their a6000 by downloading any of a range of applications from Sony's PlayMemories app library.