Panasonic Lumix DMC-GH4 Review
First Look
The new Panasonic Lumix DMC-GH4 is the successor to the GH3, and comes sporting a brand new sensor. While its 16.05MP resolution is identical to that of its excellent predecessor, Panasonic informs us that the new sensor has new semi-conductor protection technology in other areas designed to reduce image noise and improve dynamic range. Also helping improve performance is a new quad-core image processing system in Panasonic's Venus Engine, which provides an increase in max ISO to 25,600 and burst shooting of up to 12fps, or 7.5fps with continuous focusing.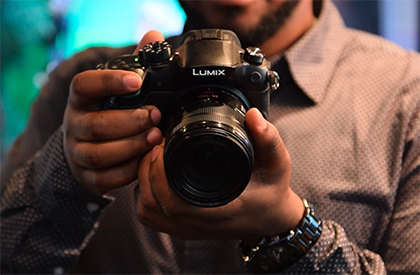 Of course, the big news everyone will be talking about with the GH4 is video, specifically its ability to shoot 4K video at a resolution of 4096x2160 pixels and a maximum frame rate of 96fps. The level of quality the GH4 can achieve is phenomenal - the video it captures can have a bit rate of up to 200Mbps, far exceeding the 73Mbps bit rate captured by the GH3. It's good enough that it could be used by 4K television broadcasters.
The GH4 can be augmented with an optional Interface Unit, which is designed for professional videographers. The unit provides two XLR microphone sockets, four SDI terminals, a Micro HDMI output, a colour bar signal and an audio reference signal.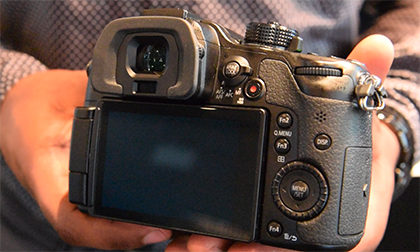 It also adds an external time control that allows for multiple cameras to synchronise time codes for simultaneous recording. In order to keep up with the demands of 4K recording, the GH4 uses the new UHS I class III SD card format, and indeed is the first camera to do so.
Autofocus on the GH4 has received one of the more intriguing upgrades. A new system on the GH4 named DFD (Depth From Defocusing) uses a database of all existing Panasonic lenses to estimate how out of focus a lens is and compensate accordingly, fine tuning the focus with contrast detection.
Panasonic claims this will all be able to happen within 0.07 seconds - edging out Fuji's 0.08sec AF acquirement on its X-series cameras. The GH4 also now has 49 AF points, compared to the GH3's 23.
Pricing and availability information for the Panasonic Lumix DMC-GH4 are yet to be announced.
First Impressions
The GH4 may not be a radical departure from the GH3 in many ways, but it's got a lot to like. The increased shooting rate is very welcome, as is the much-improved AF. I especially liked the build of the camera - the magnesium alloy body very similar to the GH3, but Panasonic has got the grip just right. It fits beautifully in the hand and feels just about perfect. The weather and dust resistance is a nice touch as well.
For videographers, the GH4 is currently peerless. The speed of 4K capture is hugely impressive, but the four thirds sensor means the camera remains relatively light and suitable for travel, as do its lenses. It's a fantastic all-in-one package for photography and video recording.
I can definitely see it being useful for photojournalists and reportage photographers who might want to switch between still images and video at a moment's notice, and be comfortable with how well they can capture both.
We were using a pre-production version of the GH4 for a hands-on, and didn't get a chance to properly assess how far the image quality has been improved by the new sensor technology, which is really going to be the deciding factor as to whether it's worth upgrading from the GH3.
The images we saw did look impressive, however we'll have to wait until we get hold of a final version of the camera before we can say for sure.
Some may be surprised that there's been no increase in resolution from the GH3, and 16MP does perhaps feel a little on the low side. In my opinion, however, the sensor improvements should more than compensate.