Samsung NX2000 Review
Design
Samsung NX2000 Review – Design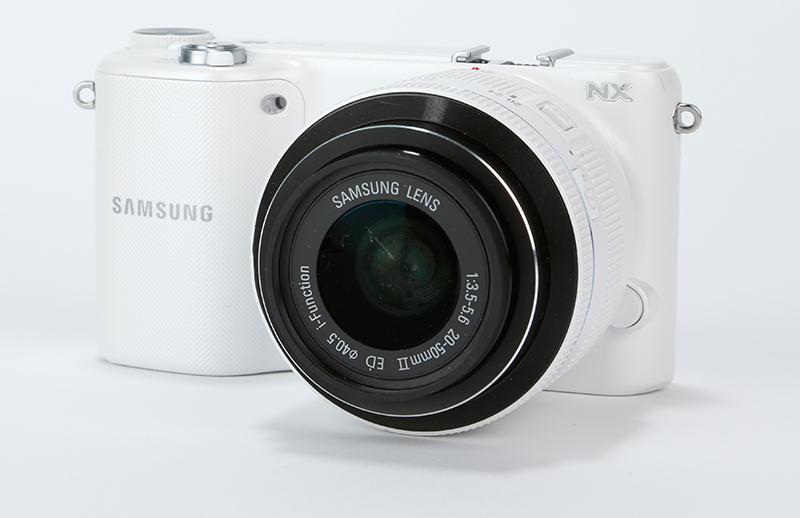 The overall shape of the Samsung NX2000 is very similar to the NX200 that preceded it, a flat-topped, round-ended design that is derived from the company's NV compact camera range of 2007-2008. It's a simple but distinctive shape, with a nice big textured handgrip on the front and a decent-sized thumb-grip on the back and what few controls it has are easily accessible.
The NX2000's body is made of plastic, but feels strong and well-made. The connector and battery hatches feel sturdy and solidly mounted, as do the controls. The tripod bush is made of metal and is positioned in the best location, directly under the centre line of the lens.
The NX2000 is fairly light for its size, although it is a few grams heavier and a few millimetres larger than the NX1100 or NX210. It's available in black or a very eye-catching and futuristic-looking brilliant white. We took the white version out on test and it drew many admiring comments. The only downside to the white version is that not all of Samsung's NX lenses and accessories are available in white to match it.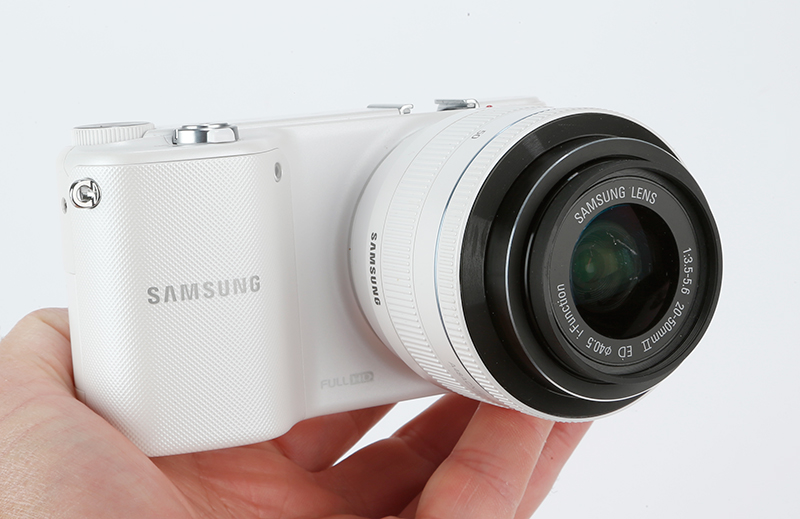 Flash missing

The NX2000 has no built-in flash, but it does have a flash hot-shoe, and a very neat little clip-on flash is available as an optional extra, which is powered by the camera's battery through the hot-shoe connection.
Our only real reservation with the NX2000's design is one that we've noticed before with other similar models in this series. If you're using it with larger lenses such as Samsung's 18-200mm super-zoom or 50-200mm telephoto zoom then there isn't a lot of room between the handgrip and the side of the lens barrel. The light weight and slim size of the camera body does also make it a bit unwieldy with these larger lenses.
The interface design is fairly straightforward, although it would definitely be a good idea to read the manual first. The adjustment wheel on the top panel seems to have been added as an afterthought, and does a number of different things depending on which mode you're in, which can be very confusing. Fortunately the well-designed touch-screen controls and the i-Function system more than make up for this one weakness.