Samsung NX2000 Review
Review Date : Tue, 20 Aug 2013
Author : Cliff Smith
The Samsung NX2000 features a huge touch-screen monitor, 20.3MP sensor and Wi-fi connectivity. While it could well herald the future of photography, read on to find out how it gets on the the What Digital Camera Samsung NX2000 review...
| | |
| --- | --- |
| Pros: | Style; Big monitor; Noise control |
| Cons: | No flash; Hesitant focusing; Inconsistent metering |
The Samsung NX2000 is the latest camera in the NX range. It's a small-form CSC that features a 20.3MP APS-C sensor and, measuring in at 3.7in, the largest screen found on any digital camera outside of Samsung's Galaxy range.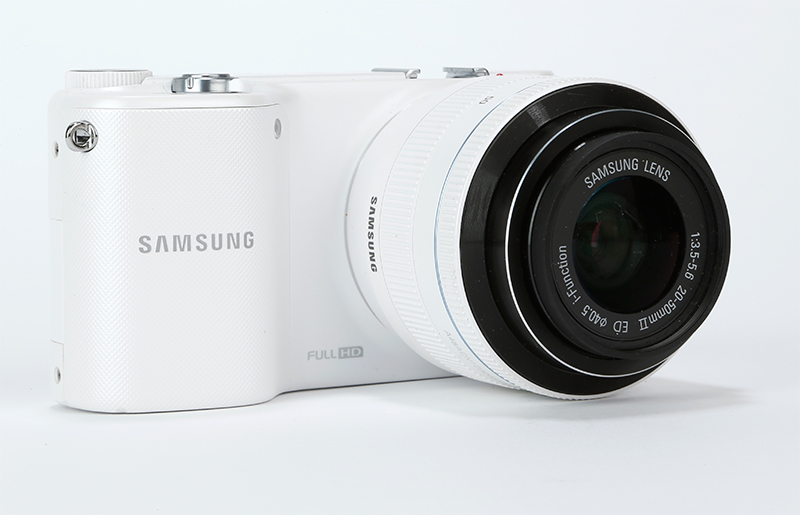 Samsung NX2000 Review – Features
The biggest and most obvious new feature on the Samsung NX2000, and the camera's main selling point, is that enormous 3.7in touch-screen monitor. Samsung is the world's biggest supplier of LCD panels, building screens for many other manufacturers' products, including the Apple iPad and iPhone, as well as for its own highly successful range of Galaxy smartphones and tablets, so you'd expect the screen to be good.
The NX2000's monitor is outstanding by any criteria; not only is it the largest monitor on any current digital camera, it is also one of the sharpest, with 1,152,000 dot resolution in WVGA (800 x 480 pixel) format. It's a capacitive screen, like those found on smartphones, and supports multi-touch functions including pinch-to-zoom.
It's not quite as slickly responsive as the screen of a Galaxy S4 phone, but anyone who's used to operating a smartphone will feel right at home with the NX2000. This is certainly deliberate; Samsung has been at the vanguard of the seemingly inevitable convergence of smartphone and digital camera technology, most notably with its innovative Android-powered Galaxy cameras.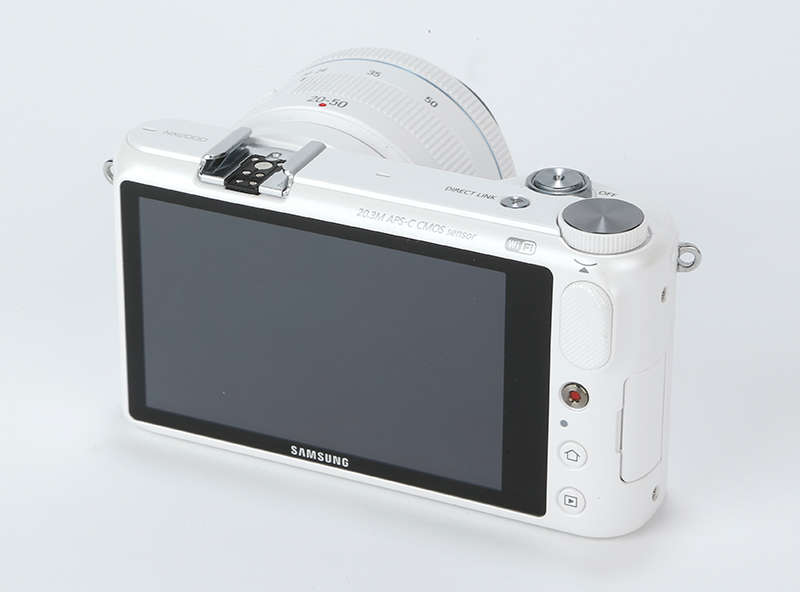 Sensor

The NX2000's sensor is the same 20.3-megapixel APS-C CMOS unit that was introduced with the NX200 in 2012, and is used in most of Samsung's other current CSCs, including the NX20 and NX300. It's a well-proven sensor that is certainly capable of producing excellent results. It's coupled with Samsung's proprietary DRIMe IV image processor, promising high performance with improved colour reproduction and noise reduction.
The NX2000 offers a number of different shooing modes. Its main mode, and one promoted as a selling feature, is the Smart mode, although this is really nothing more than a slightly more complicated Scene Mode feature, providing a range of automatic settings to cope with unusual situations such as sunsets, landscapes, macro shots, action, portraits, fireworks etc.
It does offer a couple of unusual options, such as Light Trace, a long-exposure mode for night photography, and Creative Shot, which auto-detects the scene and adds an appropriate filter. For more conventional creativity the NX2000 also has an "Expert" mode, with the standard program auto, aperture and shutter priority and full manual exposure. Shutter speeds from 30 seconds to 1/4000 of a second are available.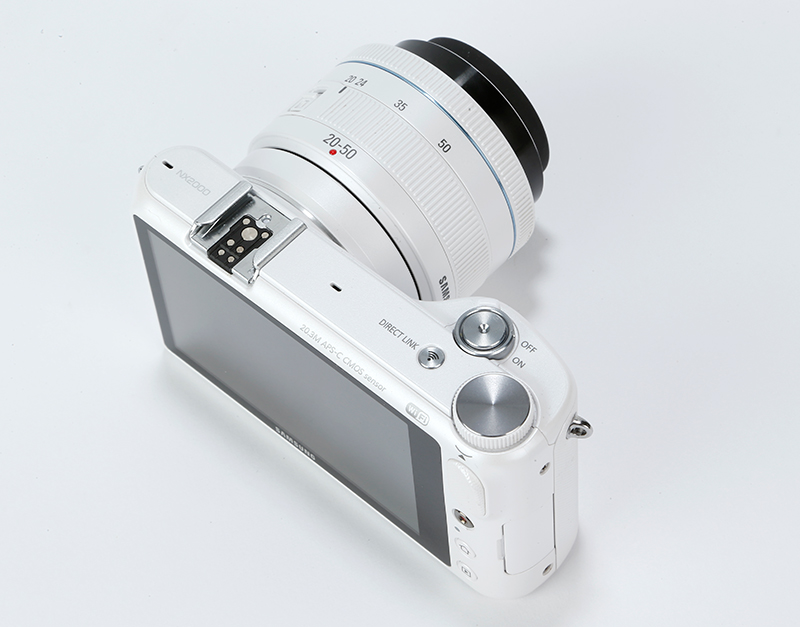 Wireless connectivity
The Samsung NX2000 shares some other prominent features with smartphones. It is equipped with both Wi-Fi and Samsung MobileLink NFC (Near Field Communication) connectivity, which provides a number of interesting options. Wi-Fi is nothing new of course; there have been Wi-Fi-equipped cameras since at least 2005. Connect your NX2000 to your home Wi-Fi network and you can instantly download images to a connected PC, or upload them to a cloud storage service such as Dropbox or Microsoft Skydrive, very useful if you're running out of space on your memory card.
More unusual is the MobileLink system. Other manufacturers, most notably Panasonic, offer some degree of smartphone and camera integration, but Samsung's system is the best implemented and easiest to use, and also offers more features. With a suite of three Android-only smartphone or tablet apps, free to download from Google Play, you can remotely control your camera, share pictures with your phone, wirelessly stream video and even have notifications of firmware updates pushed directly to your camera.
Once you've set up your connection you can link devices quickly and easily by pressing the Direct Link button on the top panel. It's a very well integrated system and much easier to set up than most of its rivals.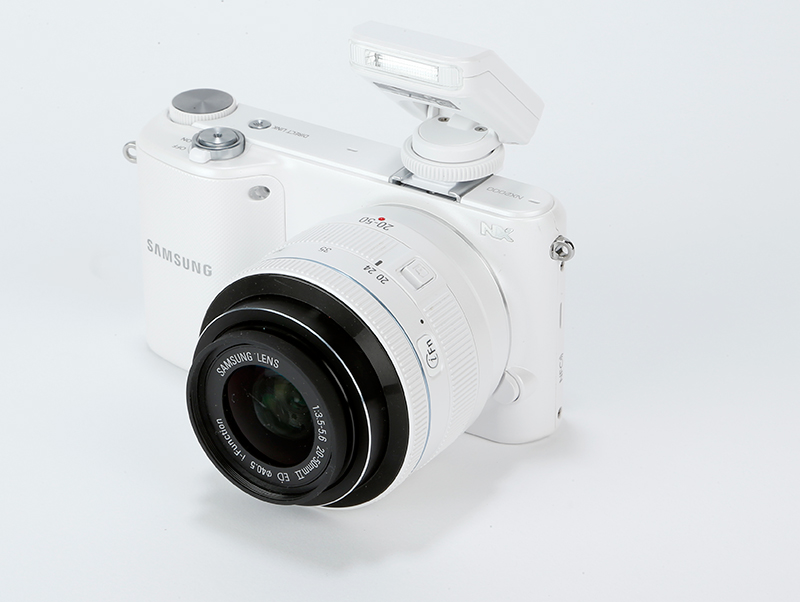 Touch-screen and i-Function
To make room for that huge screen the Samsung NX2000 has done away with almost all physical external controls on the camera body. The rear panel holds only the dedicated video button, a playback button, and a Home button - another example of camera and phone convergence. On the top panel is the Direct Link button, the shutter button with the on-off switch as a rotary bezel, and a single adjustment wheel, the implementation of which is horribly counter-intuitive in most shooting modes.
With the NX2000 featuring such a large screen the touch buttons are thankfully large enough for even the biggest fingers, and other camera settings can be adjusted via an on-screen swipe or via the i-Function feature. This is an extra control found on most recent Samsung NX lenses. There is a button on the side of the lens barrel that activates an adjustment ring around the lens, which can be used to adjust shutter speed, aperture, exposure compensation, ISO setting, white balance or digital zoom, depending on which exposure mode is selected.
It's a system obviously designed to appeal to photographers who are used to traditional film SLRs and rangefinder cameras, which is somewhat ironic since those people are extremely unlikely to opt for a camera like the NX2000. The i-Function system is useful enough once you get used to it, but since it involves pressing a button on the side of the lens and then turning a ring on the front, while looking at the screen on the back of the camera, it is a little clumsy at first.