Nikon 1 J3 Review
Design
Nikon 1 J3 Review – Design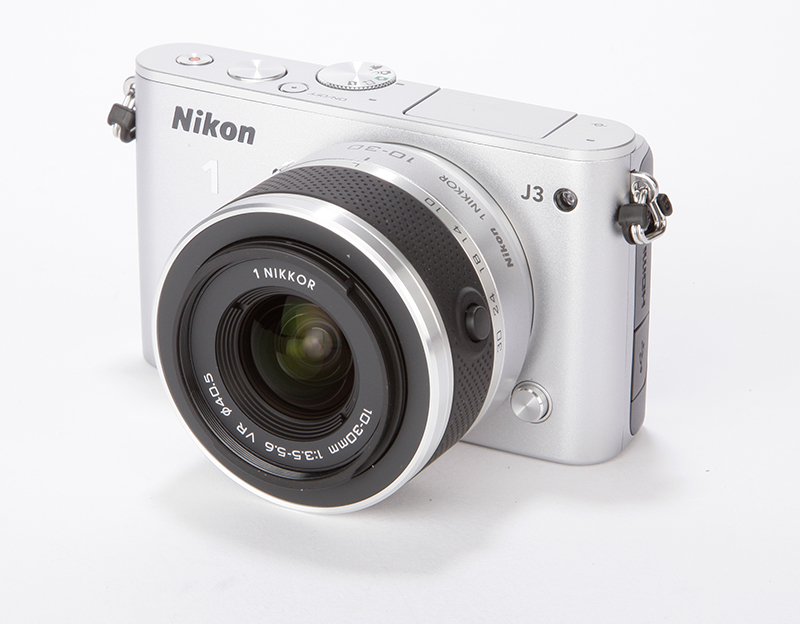 The whole point of the new CX sensor format is to allow the Nikon 1 cameras and lenses to be extremely compact, and the Nikon 1 J3 is indeed a very small camera, measuring just 101.0 x 60.5 x 28.8mm. However when you put it alongside other recent small-form CSCs, such as the Panasonic Lumix GF6 or Samsung NX2000 which we've reviewed recently, it's actually not that much smaller, just 10mm narrower and 4mm shorter than the GF6.
In fact the Nikon's standard 10-30mm kit lens is actually larger when extended for shooting than the 14-42mm kit lens supplied with the Panasonic.
The small advantage that the Nikon J3 does have in body size is really not much of an advantage at all. It still isn't going to fit in your pocket, so you're going to be carrying it around on its colour-co-ordinated neck strap just like all its larger rivals.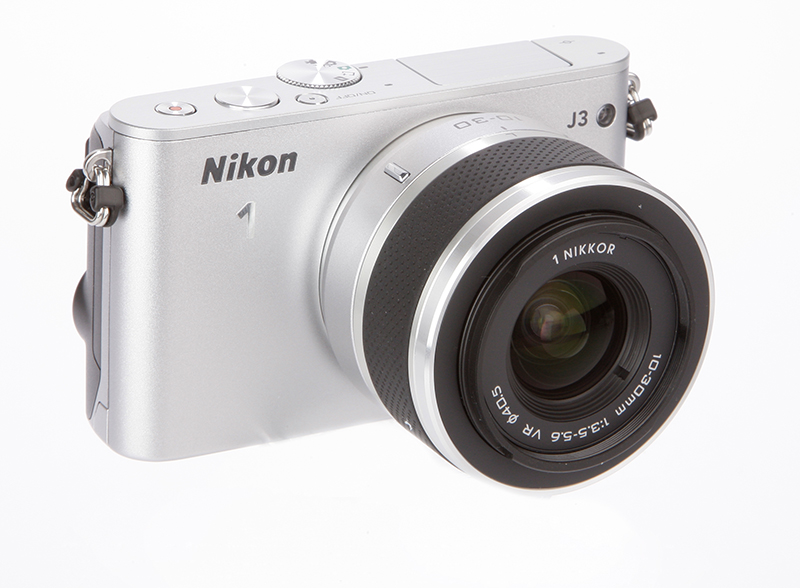 Lack of handgrip

There are a couple of other problems with the Nikon 1 J3's design. Most other small-form CSCs have at least a vestigial handgrip, but the J3 does not. Instead it has a very slippery metallic finish and a small and smoothly rounded body.
It does have a tiny thumb grip on the back, but even so, if your hands get a little sweaty you'll find that the J3 is about as easy to grip as a bar of soap. Make sure you keep the strap around your neck; you're going to need it.
Another issue that we encountered during testing is that the battery hatch frequently comes open with the minimum of provocation. The hatch is quite flimsy with a weak plastic hinge, and we think there's a real risk that it could be snapped off.
Nevertheless, there's no denying that the J3 is a very pretty little camera. The round-ended body shape is a clean, elegant design that will certainly draw some admiring glances, and with its all-metal shell the build quality (apart from that battery hatch) is certainly up to Nikon's usual high standard.
Like most of the other Nikon 1 cameras the J3 is available in a range of attractive colours, including silver, black, beige, white and red.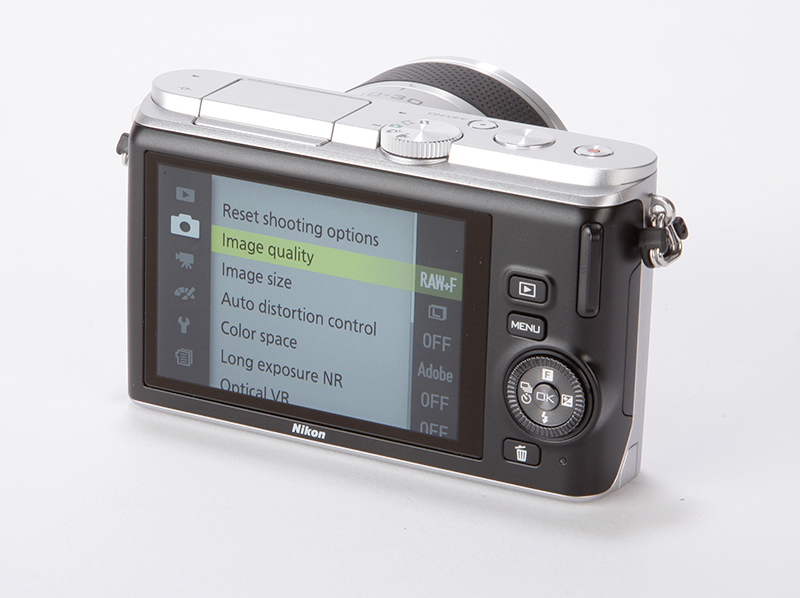 Poor D-Pad design
A special mention must be made of the Nikon 1 J3's dreadfully designed D-pad. This is the camera's most important control, and is used for pretty much everything, including menu navigation, exposure adjustment, opening the Function menu and directly selecting several other options.
It has a rotary bezel which is used to adjust values in the manual exposure modes. Rotary bezel D-pads can sometimes be very good, but unfortunately the rotating part of this one is very small and partly recessed, making it unnecessarily fiddly to operate, and it is also very stiff to turn.
The result is that when you try to adjust shutter speed or aperture, you will have to press down as you turn the wheel, and inevitably end up accidentally activating and adjusting the exposure compensation or changing the flash mode. It's incredibly frustrating to use and quite inexplicable when you consider the exemplary control systems found on Nikon's superb DSLRs and other advanced cameras.
This single fault would be enough to put many people off using the Nikon 1 J3.