Sony NEX-6 Review
Review Date : Mon, 7 Jan 2013
Author : Matt Golowczynski
The Sony NEX-6 features an excellent viewfinder, articulated LCD and wireless technology. What's not to like? What Digital Camera takes a closer look in the Sony NEX-6 review
| | |
| --- | --- |
| Pros: | Operational speed; Fast write times; Large, bright viewfinder; Tiltable LCD; Large grip |
| Cons: | Recessed buttons; Inconsistent AWB under artificial light; Lack of space between lens and grip |
The Sony NEX-6 is a CSC that boasts an impressive feature-set, combining the manufacturer's product experience in both its Cyber-shot compact range and selection of DSLRs and SLT cameras.
Second only to the flagship Sony NEX-7 in the range, its feature set draws heavily from its stablemate. With the benefit of a high-resolution electronic viewfinder, an articulated LCD, a new compact kit lens and even Wi-fi functionality, on paper it appears to strike an agreeable compromise between portability and dexterity. But is this actually the case?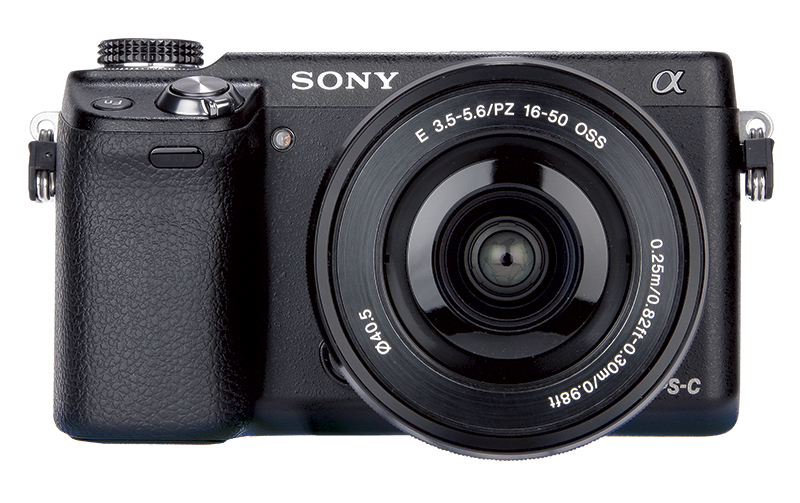 Sony NEX-6 Review – Features
As with all other current NEX cameras save for the Sony NEX-7, the Sony NEX-6 features a 16.1MP APS-C sensor; this works across a broad sensitivity range of ISO 100-25,600. The sensor is not stabilised to help prevent image blur, although the new E PZ 16-50mm f/3.5-5.6 OSS which comes as a kit option with the camera does incorporate Sony's Optical Steadyshot system for this reason.
This PZ moniker denotes the lens can have its focal range adjusted with the Power Zoom control on its barrel, which simply requires a nudge to move the lens, although those wanting to zoom in a more conventional manner can do so with the lens ring.
Full HD video is recorded at 50p, while Raw images are output in the same .ARW format as on Sony's Alpha range of SLT cameras. Although images and videos can be output via the usual USB and HDMI means, the camera's wireless functionality renders cables unnecessary when connecting to internet-enabled devices such as smartphones and tablets.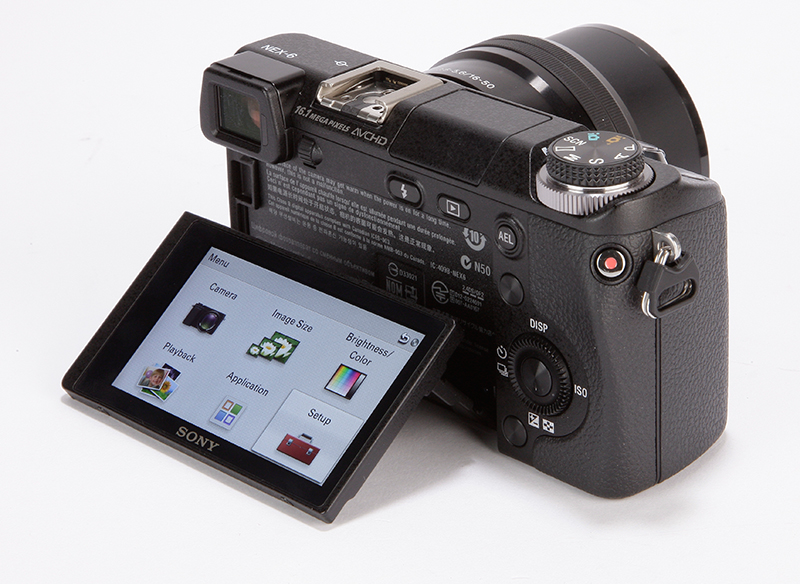 LCD screen
The Sony NEX 6's 3in LCD screen lacks the Sony NEX-5R's touchscreen functionality, and it cannot be adjusted around the same 180° angle, although it can be tilted to face upwards and still sports the 921k-dot resolution we expect on cameras of the level. That this is twinned with an electronic viewfinder is good in itself, but the fact that it's a 2.4million-dot OLED panel underlines the quite literal attention to detail.
Other features of interest include a 10fps continuous burst mode, a hotshoe for the mounting of external flashguns and other devices – and of course, the Sweep Panorama capture mode which has inspired a range of similar functions in other manufacturers' cameras.