Sony RX100 II Review
Performance
Sony RX100 II Review – Performance


The RX100 II's menu is split into seven groups and the white on black text will be a familiar-looking interface for any Sony Alpha DSLR/SLT users. From an operational perspective, we found it odd how the scroll dial has to be spun anti-clockwise to increase the ISO after accessing it via the function button. Usually, the scroll dial is rotated clockwise to increase the shutter speed or close down the aperture and the result of having it the other way around for the ISO is that it's easy to lower the sensitivity when you want to increase it and vice versa.
While the Sony RX100 II's contrast-detect AF system might not be as sophisticated as the hybrid systems you'll find on CSCs and DSLRs, it's impressive by compact camera standards. For quick snaps, the multi-area AF mode works well, but if you'd prefer to select the point of focus yourself, Flexible spot lets you position the AF up to the edge of the frame and very near the top.
Without a touchscreen though, you're reliant on tapping, or holding the directional buttons to reposition the AF-point - something that's been made much easier with the introduction of Touch AF technology on touchscreen cameras. 


The fastest autofocus is achieved in Single AF mode (AF-S) and it adopts the same AF acquisition speed (0.13secs) as the RX100 - dropping to 0.23secs in low light. Focus tracking works well when you'd like the camera to automatically follow a specified subject in the frame, but it's best suited for slow-medium paced subjects rather than fast action which it struggles with.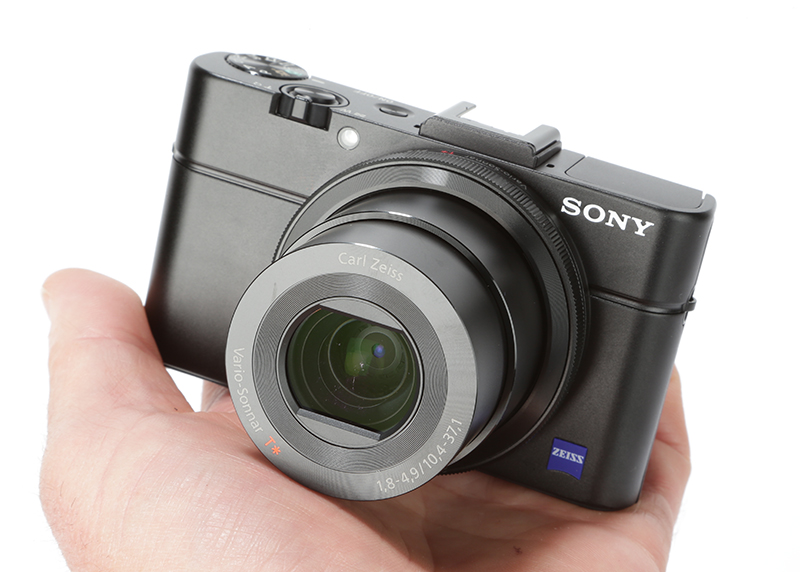 Speed and EVF

Switching the RX100 II to Speed priority mode and loading it with a Lexar Class 10 Premium Series SDHC card allowed 7 JPEG+Raw images to be captured simultaneously. Switching the file format to Raw only enabled 10 shots to be taken, and when we set the camera to JPEG (Fine) it rattled out the same number of frames before the buffer required a breather.
The option to attach an electronic viewfinder to the Multi Interface Shoe is very well received. The Sony EV1MK (£329) displays a crisp, high-contrast view just like the screen, albeit smaller and at closer distance to your eye. The unit slides effortlessly onto the hot shoe and provides a quick transition between the LCD feed and EVF feed thanks to the responsive eye sensor.
The extortionate price is the only aspect of the electronic viewfinder that's likely to put people off, especially when you consider it's more than half the price of the camera and would bring the total cost with the camera above the £1000 mark - a price that's well above and beyond what a majority of people are willing to pay for a compact camera.