Samsung Galaxy NX Review
Operating System
Of course the 4G connectivity is only half of the story, and not even the most important half, because like the Galaxy Camera the Galaxy NX runs on Android, the same operating system that powers its Galaxy phones and tablets. This offers several key benefits.
1. It means that pretty much everyone under the age of 40 already knows how to use it, at least in the auto mode.

2. Users will be able to install and use the same creative apps that they love on their phones, such as Instagram.

3. They'll also be able to add additional functionality to the camera as new apps are introduced, rather than the feature list being set in stone, and superceded by a newer model before the buyer has barely walked out of the shop.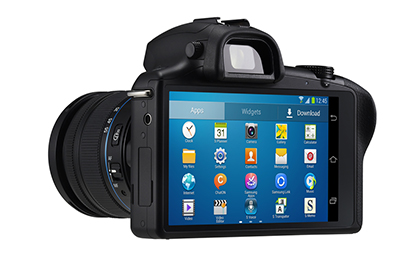 It's not all good news, of course. There are drawbacks to Android. The time it takes Android to boot up from scratch means sudden fleeting moments may be missed. Touch screens are not as quick or intuitive to use for key settings as physical dials and buttons. Also, the Galaxy Camera is so power hungry that the battery lasts about as long as an ice cream in a sauna. Hopefully the latter issue will have been addressed in the NX.