Samsung Galaxy NX Review
Review Date : Fri, 16 Aug 2013
Author : Michael Topham
The Samsung Galaxy NX is the first interchangeable lens camera to run the Android operating system. Is it a fad or the start of a new beginning for the future of camera connectivity? Find out in our full Samsung Galaxy NX review...
| | |
| --- | --- |
| Pros: | 3G/4G compatible; Capable of shooting high speed sequences; Solid and robust build quality; Battery stamina for an Android camera; Exceptional touchscreen |
| Cons: | On/Off button placement; Scroll dial adjustment control; Lens range is still developing; EVF resolution isn't as impressive as the screen |
The Samsung Galaxy NX is the first interchangeable lens camera to run on the Android operating system. It follows on from the Samsung Galaxy Camera released last year, and offers Wi-fi functionality alongside 3G data connectivity and full Andoird integration akin to either a Smartphone or Tablet.
Though this level of connectivity of this kind might not appeal to everyone, it's what Samsung see the younger generation of photographers are calling out for and it asks the question; is the Samsung Galaxy NX the answer to the way we'll all want to shoot, edit and share our images in the future? Find out in the What Digital Camera Samsung Galaxy NX full review.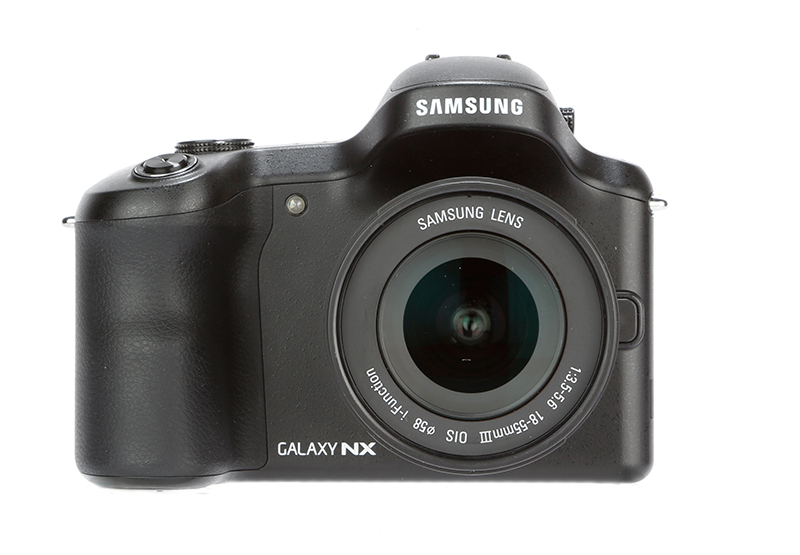 Samsung Galaxy NX Review – Features


Before we get too carried away by the Samsung Galaxy NX's connectivity, we should focus our attention on its camera features to find out how it compares to other NX-series models.
Rather than developing or using a new sensor, Samsung has used the tried and tested 20.3MP CMOS APS-C sized chip that's seen use before within the NX1000, NX20 and more recent NX300. Physically larger in size (23.5x15.7mm) than the sensors found within Panasonic, Olympus and Nikon CSCs, the Galaxy NX's sensor delivers a extensive ISO range of 100-25,600 that doesn't have to be expanded to reach its maximum sensitivity like some of its rivals.

To offer a fast and spritely performance, Samsung has partnered the sensor with its DRIMe IV image signal processor, which allows the camera to shoot at a maximum shutter speed of 1/6000sec. Though this isn't quite as fast as the 1/8000sec shutter speed as offered on the Samsung NX20 and most DSLRs, it's the same as the NX300 from which the Galaxy NX adopts many of its internal features from.
Just like its smaller CSC cousin, it's also capable of shooting a continuous burst at 8.6fps - putting it ahead of DSLR rivals such as the Canon 700D and Nikon D5200, which shoot at a more conservative 5fps.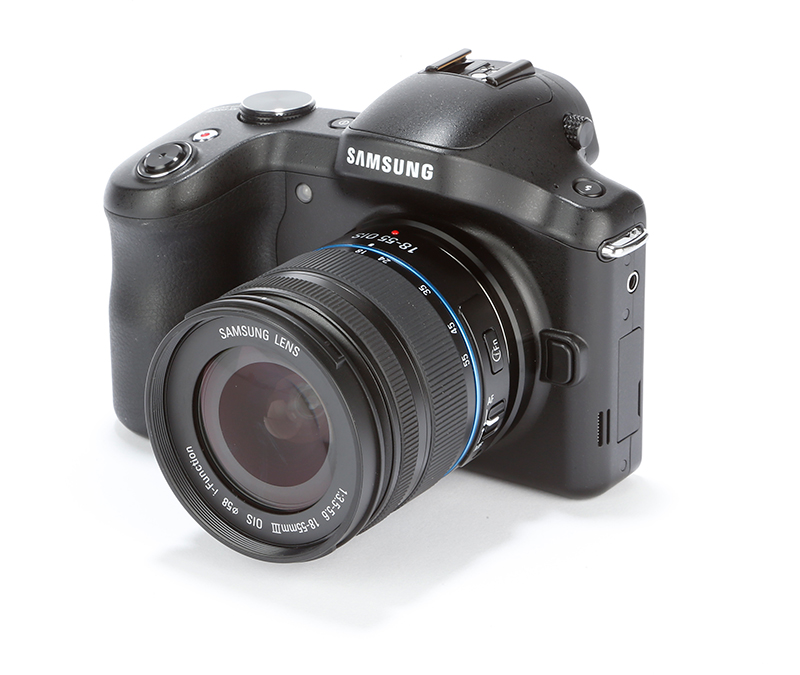 AF system
At the front, the Samsung Galaxy NX retains Samsung's NX lens mount which allows it to be paired with any one of thirteen NX lenses currently in the range. For autofocus, the camera follows the NX300's footsteps by incorporating the same hybrid AF system, with phase detection first being used to identify the focus before contrast detect takes over to fine-tune focusing.
Just as you'd expect, single, continuous, and manual focusing modes are all provided and there's the choice of four AF area modes to choose from including selection AF, multi AF, face detection and self-portrait AF.


The feature that sets the Galaxy NX apart from any other camera, with exception to the Samsung Galaxy Camera, is the screen at the rear. Unlike the typical 3in and 3.2in displays we're familiar with, the 4.8in HD TFT LCD is a monster by comparison and really sets it apart from its competition. Used to drive the camera (more on this in design and performance), as well at provide a Live View feed for review and display purposes, the screen features an HD resolution (1280x720) and is the capacitive touch-type to ensure it's as sensitive and responsive as the screens we're used to using on smartphones and tablets.


The alternative to using the screen for composition and playback purposes is to use the electronic viewfinder (EVF) – a feature lacking on the NX300. This has a 1.44 million-dot resolution and an eye sensor alongside to detect when it's lifted to the eye to automatically switch the feed between the screen and EVF and vice versa to prevent the user forever having the hit a display or EVF/LCD button.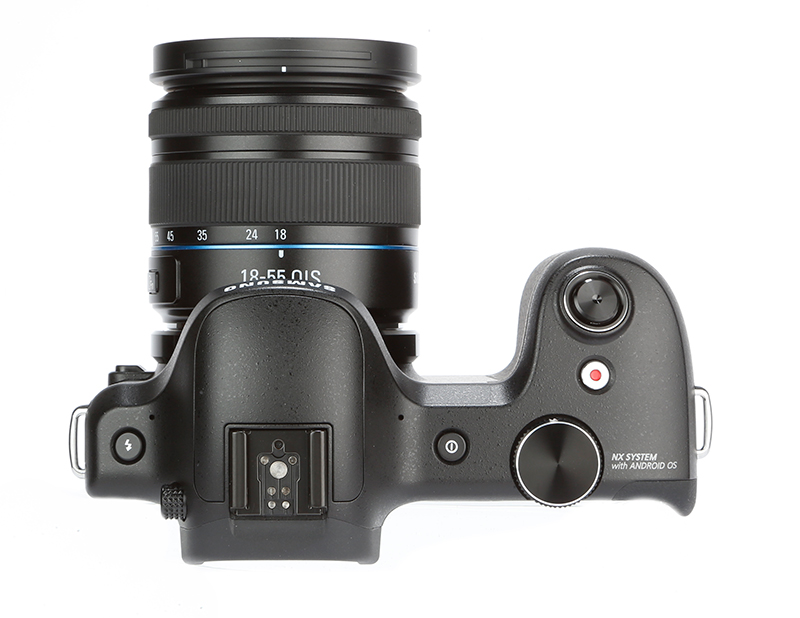 i-Function technology
No Samsung CSC would be complete without supporting i-Function technology - a unique feature whereby the user can tap an iFn button on the 18-55mm II f/3.5-5.6 OIS kit lens before using the focus ring to take full control of key imaging variables to speed up the time it takes to setup the camera as you want it. As well as this, users will find 32 different settings to choose from within the Galaxy NX's smart mode.

Aside from features Samsung's emphasis with the NX is all about the connectivity, which goes one step further than the integrated dual-band Wi-fi functionality we've witnessed before on Samsung CSCs. With integrated 3G/4G technology and cellular network connectivity, it's possible to connect the camera where there's no opportunity of selecting a Wi-fi hotspot.
The Samsung Galaxy NX is provided a 3G/4G micro SIM is inserted into the one of two micro SD slots of course. Added to this, purchasers are given 50GB storage space for free for up to two years on Dropbox, which you can, upload images directly to once the app is installed. 


Not forgetting about those who'd like to shoot HD video as well as stills, the Galaxy NX shoots at various resolutions that include 1920x1080, 1280x720, 640x480 and 320x240. An exposed 3.5mm socket is located on the side of body too, however this is for plugging in headphones for audio and doesn't support the attachment of an external microphone.