Pentax Q10 Review
Review Date : Fri, 5 Apr 2013
Author : Matt Golowczynski
The Pentax Q10 features DSLR controls and arrives with a range of fun and functional lenses. It stands out from its CSC peers, but is that necessarily a good thing? Find out in our full Pentax Q10 review
| | |
| --- | --- |
| Pros: | Light weight; Plenty of physical controls; Decent flash performance |
| Cons: | Some fiddly controls; Image quality; AF could be faster |
The Pentax Q10's is somewhat unique for a Compact System Camera, in that it uses a sensor similar in size to that found in the majority of compact cameras. This presents advantages with regards to the weight and size of the camera and compatible lenses, but potentially also image-quality issues such as noise and blooming.
The Pentax Q10's sensor is designed around a backlit architecture to ensure it can gather light as effectively as possible, and offers a respectable 12.4MP. It's also fitted with Pentax's Shake Reduction technology, to help maintain sharpness at slower shutter speeds, and can capture images between ISO 100-6400 to suit all manner of lighting conditions. And, as with the majority of other CSCs, the camera is capable of recording videos to the full HD standard, at a maximum frame rate of 30fps.
The Pentax Q10 uses Pentax's proprietary Q mount – as used in the Pentax Q – which currently accepts the six optics desgined for the system (as well as K-mount lenses via an external adaptor) with the sensor size applying a 5.5x conversion factor to all lenses. So, the 5-15mm f/2.8-4.5 kit lens supplied with the camera behaves more like a 27.5-83mm optic.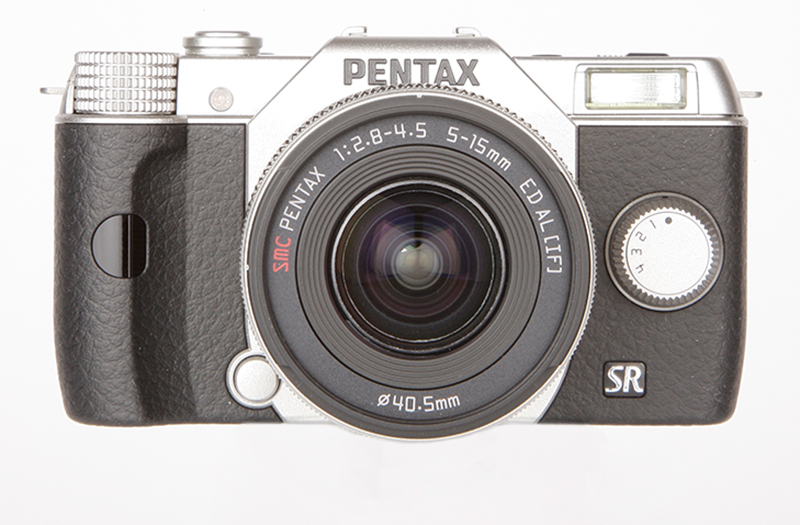 No viewfinder

There's no viewfinder in the Pentax Q10 itself, although Pentax has furnished the model with a hot shoe should you wish to use the O-VF1 optical finder which is available separately. This hot shoe also accepts flash units for greater illumination, although a small flash has been squeezed into the top plate for more general captures.
The Pentax Q10 can also be programmed to fire at 5fps, and can have its highest standard shutter speed of 1/2000sec extended to 1/8000sec when the Electronic Shutter is enabled. Other features of note include a collection of Smart Effects Modes such as Vintage Color and Water Color, as well as an HDR option and even an intervalomter.
For more everyday shooting, the camera can have its Distortion Correction option enabled to mitigate the effects of curvilinear distortion, as well as Highlight and Shadow Correction to help balance images captured in atypical conditions. The camera can also be customised extensively to the user's tastes and requirements, from assigning options to the Quick Dial on its front plate and Green Button to saving which settings are retained when the camera is powered off and on again.