Canon EOS 700D / Rebel T5i review
Review Date : Thu, 9 May 2013
Author : Phil Hall
The Canon EOS 700D – or Canon Rebel T5i as it's known in some territories – is Canon's latest DSLR. Find out how it fares in the What Digital Camera Canon EOS 700D full review
| | |
| --- | --- |
| Pros: | Responsive and well-implemented touchscreen; Light body; Fast AF system; Effective Auto Lighting Optimizer; Noise control; good video capture |
| Cons: | Can feel a little plasticky in places; Not suited to action photography with limited AF points for tracking and a small buffer |
The Canon EOS 700D - or Canon Rebel T5i as it's known in some territories - is the latest model in the manufacturer's popular triple-digit series.


The range launched back in 2003 with the Canon EOS 300D - the world's first truly affordable DSLR - and with each evolution building on its predecessor's performance and feature-set. It's little wonder then that Canon's triple-digit DSLR range has been so successful, attracting both new and experienced users alike.
And now we have the Canon EOS 700D, replacing the popular 650D, and while there appears that little has changed should Canon's latest triple-digit DSLR still be at the top of your list?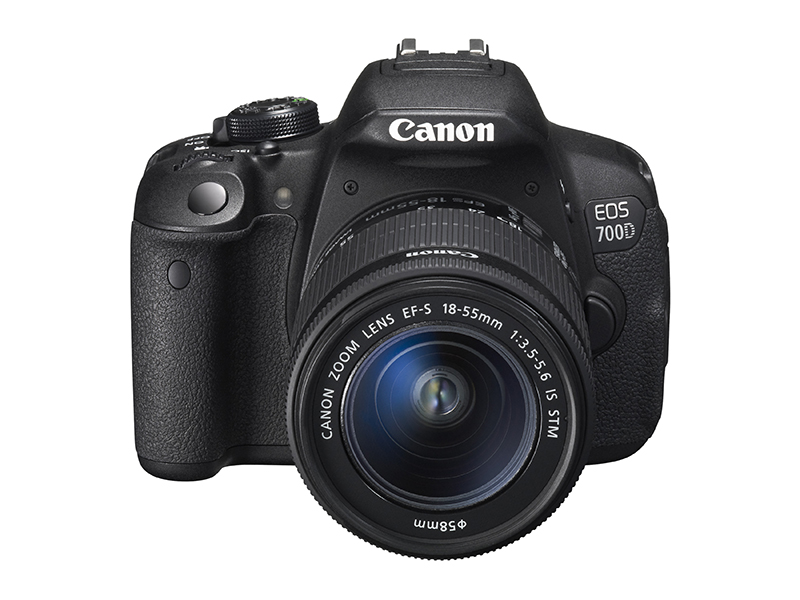 Canon EOS 700D review - Features
The Canon EOS 700D maintains the same 18MP resolution we've seen in a number of EOS bodies in recent years, as opposed to rivals such as the Nikon D5200 and Sony Alpha 65 which have opted for 20MP+ sensors. This latest generation chip features a Hybrid AF system that we first saw on the EOS 650D, with the central pixels used for phase detection AF, so when combined with the Canon EOS 700D's contrast detect AF system, is designed to improve focusing performance in both Live View and video modes.
While the 700D may loose out in the resolution stakes compared to the competition, the similar sensor size allows the 700D's pixels to be that bit larger, which in theory will see it control image noise better and deliver a wider dynamic range.
It's no surprise then to see that Canon EOS 700D features a broad native ISO range of 100-12,800 as standard, with the ability to shoot at an ISO equivalent of 25,600. And while the 700D doesn't feature the latest DIGIC 5+ image processor found in the latest top-of-the-range EOS models, in continues with the DIGIC 5 processor used in the 650D.
As far as AF goes, the 700D plays it pretty safe, with a 9-point diamond formation AF system recycled from the 650D. The good news is that they're all cross-type variants, making them sensitive to both horizontal and vertical subjects. This should reduce hunting and improve AF speed, but interestingly the Nikon D5200 sports an impressive 39-point AF system with 9 of those point cross-type.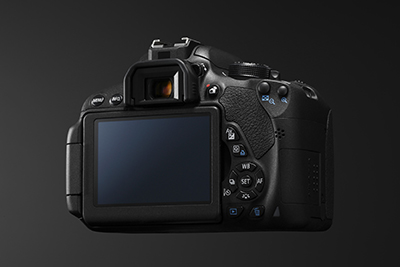 Viewfinder performance

The Canon EOS 700D's optical viewfinder offers 95% coverage, while the 3:2 aspect ratio rear 3in display sports a resolution of 1040k-dots. With Clear View II designation, there's no air gap between the screen and protective front panel for improved viewing angles of up to 160°. As well as this, the screen is also hinged on the side of the body, allowing the display to fold out to 175° and turning through an angle of 270°. Not only that, but the 700D is only current DSLR to sport touchscreen functionality, with a capacitative type interface.
For those looking to shoot video as well, the Canon EOS 700D can record Full HD 1080p video at 30, 25 or 24fps, while a 60 or 50fps option is available at standard HD 720p should you wish, depending on your region. The 700D features a pair of microphones on the top-plate to record stereo sound, while there's also a wind-cut filter accessed via the menu system.
The Canon EOS 700D is now bundled with a new 18-55mm f/3.5-5.6 IS STM lens, replacing the USM version on the 650D. The new lens features an impressive 0.25m closest focusing distance, 4-stop optical Image Stabilizer and a stepper motor for smooth focus transitions while capturing video footage and improved AF during Live View. Finally, it also a non-rotating front element, making it more suited for filters, which would otherwise rotate when focus is changed.
Creative filters

One of the most notable changes over the 650D is the ability to now preview the camera's Creative Filters at the point of shooting, rather than applying them afterwards, bringing the Canon EOS 700D into line with the majority of other cameras that sport similar filter effects. As well as this, there's the option to also save an unaltered image alongside an adjusted shot should you want to.
The 700D features a pretty decent flash sync speed of 1/200sec, while the built-in flash can also be used to trigger and control compatible flashguns positioned remotely for creative lighting techniques.
It's a little surprising to see the 700D doesn't feature built-in Wi-fi connectivity, especially with a host of Canon compacts and the full frame EOS 6D all featuring this.