Panasonic Lumix FZ200 review
Review Date : Thu, 13 Dec 2012
Author : Paul Nuttall
While a large optical zoom used to be enough to mark out a bridge camera, the proliferation of such technology now means that manufacturers are having to do more to make their model's stand out.

Up steps the Panasonic Lumix FZ200 – not only does it feature a 24x optical zoom, but is the world's first of its type to feature a constant aperture of f/2.8 through the focal range. Have any sacrifices been made for such optical performance, or does the Panasonic Lumix FZ200 truly succeed in breaking new ground?
| | |
| --- | --- |
| Pros: | Contact maximum aperture of f/2.8 is a real welcome feature, excellent build quality, good handling, solid image quality |
| Cons: | Lack of an eye sensor on the viewfinder, viewfinder itself could do with being larger, LCD screen not the highest resolution |
The bridge camera market is one of the most competitive in photography, with manufacturers trying to outdo each other in order to differentiate themselves and grab a slice of the pie. One of the main features of this innovation is in lens technology, and often the focus is for a larger focal length. Although the Panasonic Lumix FZ200 still features enough of a focal length to place it well and truly in the superzoom bridge category, Panasonic has focused on placing a different world first on the specification list, namely a constant maximum aperture of f/2.8 through the zoom.
Panasonic Lumix FZ200 review - Features
There's
no denying that the Panasonic Lumix FZ200 is something of an optical
heavyweight. The 24x optical zoom offers a focal range of 25-600mm in
35mm equivalent terms, although as mentioned the main sell is with the
camera's maximum aperture - this remains at f/2.8 throughout the 24x
optical zoom, a world's first for a compact camera. When you consider
the cost and bulk that an equivalent lens for a DSLR would cost you, you
begin to get an idea of quite what an achievement this is.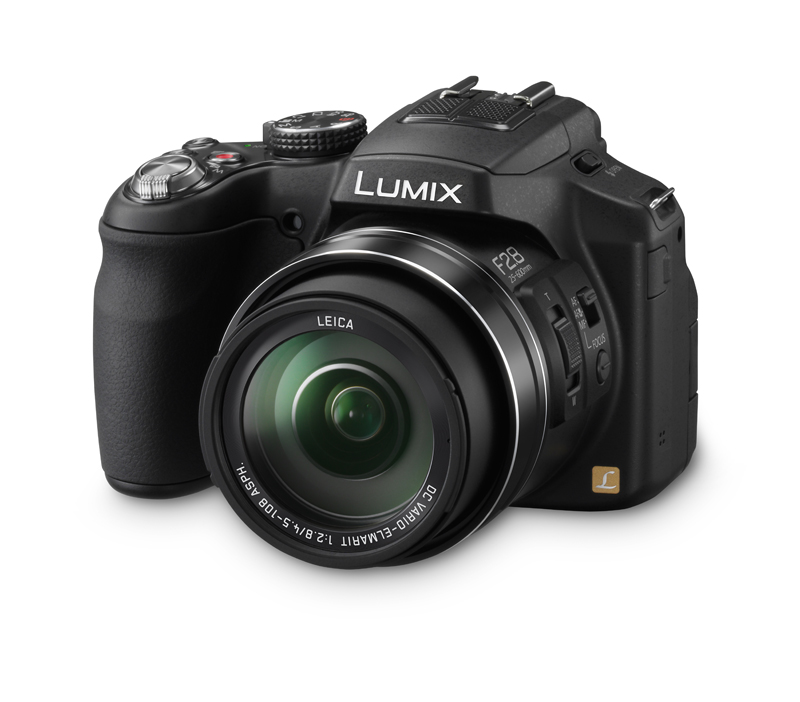 The
lens technology doesn't end with the impressive constant maximum
aperture. The Leica optics feature a Nano Surface coating for improved
sharpness, while sharpness at the longer focal lengths is also promised
thanks to the presence of Panasonic's proprietary Power O.I.S. image
stabilisation system.
Having such an impressive optical set-up is
well and good, but as we know it's only one part of the image capture
process. The other part is well catered for in the shape of the
Panasonic Lumix FZ200's sensor. The model features a 1/2.3in High
Sensitivity MOS sensor with an effective resolution of 12.1MP, capable
of not only capturing Raw files but also HD video at a resolution of
1920 x 1080 at both 50p and 50i.
The sensor is paired with
Panasonic's Venus Engine technology and as a result has some impressive
claims to with regards to performance, including superior noise
performance at high ISO settings thanks to 'Intelligent Noise Reduction'
and a 'Multi-process Noise Reduction' system. The Venus Engine also
supports a headline continuous shooting speed of 12fps, although this
only lasts for 12 frames, while another proprietary Panasonic technology
- namely Light Speed AF - means that the Panasonic Lumix FZ200 should
be no slouch in this department either.
As well as offering full
manual control over shooting settings, thus catering for the advanced
shooter, the Panasonic Lumix FZ200 also features Panasonic's iAuto
capture mode. A variety of scene modes are also present, while a
selection of 'Creative Control' filters offer something for those
wanting to add a different look to their pictures in camera rather than
in post production.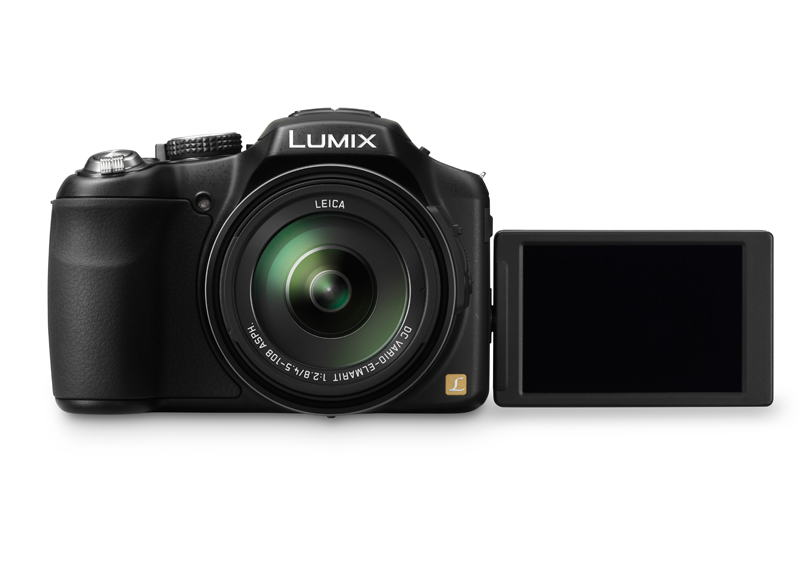 The
rear of the Panasonic Lumix FZ200 houses the two image composition and
review options. A 3in LCD screen with a resolution of 460k-dots and
vari-angle technology is present - the good news is that the vari-angle
technology is of the side-hinge variety and as a result the screen can
be rotated about 270 degrees on a horizontal pivot. The screen features a
16:9 aspect ratio - although this is great for HD video capture,
unfortunately if you're looking to capture still at the full resolution
of the camera's sensor you'll be faced with black tramlines down the
sides of the screen.
Above the Panasonic Lumix FZ200's vari-angle
LCD screen sits a viewfinder - a feature which is welcome when
considering the large focal length on offer and the advanced nature of
the camera. The viewfinder measures in at approximately 0.21in, features
a resolution of 1.3m dots and offers a 100% field of view, while a
dioptre adjustment offers extra adjustability. One small gripe over the
viewfinder is that it doesn't feature an eye sensor, meaning that to
switch between the viewfinder and the LCD screen you have to press a
button, rather than the process being automated.
Alongside Raw
capture and full PASM shooting control, the Panasonic Lumix FZ200 also
caters for the advanced photographer through the inclusion of a hot-shoe
on the model's top plate that offers support for Panasonic's range of
flash guns.