Canon EOS M review
Design
Canon EOS M review - Design
The EOS M appears to have borrowed some of the design DNA from Canon's PowerShot and IXUS range of compact cameras, with a clean, unfussy design that plays it safe. Soft, curved edges round the body are only interrupted by the EOS M's main design cue, the sculptured indent round the shutter button. This has allowed Canon to angle the shutter button by a few degrees to produce a slightly more comfortable position when firing the shutter.

At just under 109cm in length and only 32cm in width, Canon have kept things compact with the EOS M, with similar dimensions to Nikon's J1/J2. The obvious difference being that the EOS M houses a much larger APS-C sized sensor compared to the J1/J2's 1in sensor. With a flange distance of only 18mm between the rear of the lens and sensor (compared to 44mm on an EOS DSLR), the chip does appear to be worryingly exposed to dust when changing lenses. This is not necessarily a unique problem to the EOS M as other CSCs also suffer from this also and Canon provides an integrated cleaning system to combat this.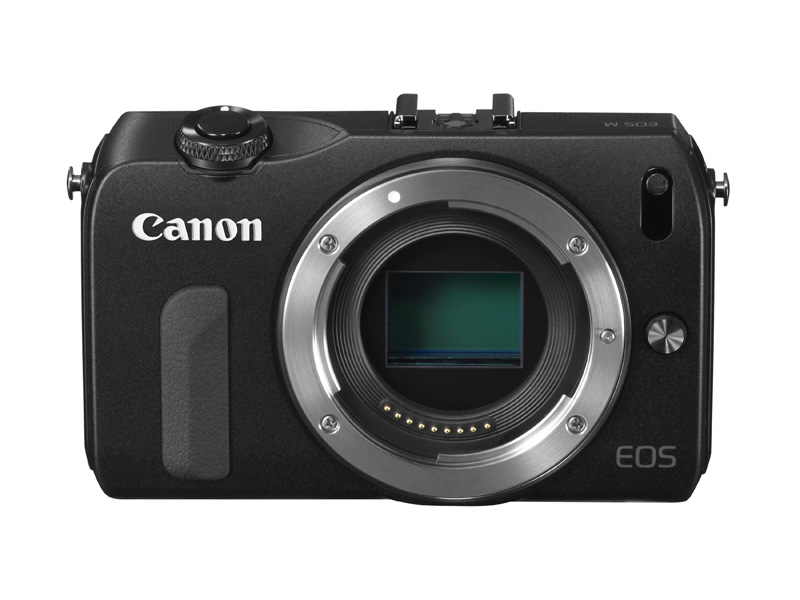 There's no handgrip as such, but the EOS M sports a small, rubberised grip at the front and a curved thumb rest at the rear to provide a pretty positive hold. Thanks to the body panels being constructed from magnesium alloy, the EOS M is a pleasing weight and has a quality feel for a camera of this class. It's worth noting though that the different colours available have slightly different finishes - we've had both the chance to handle both the white and black models and we have to say we prefer the matt, ever-so slightly textured black model in the hand rather than the ultra-smooth and shiny white equivalent.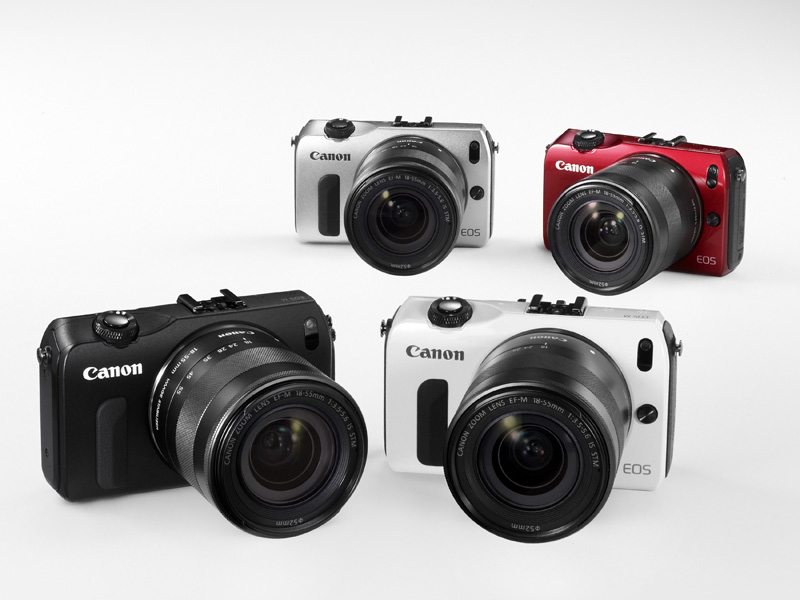 Exterior controls are kept to a minimum on the EOS M, with the main interface and adjustment of settings the rear touchscreen instead. Round the collar of the shutter button is the EOS M's mode switch, with the choice of Scene Intelligent Auto, Still Mode (this provides access to M, A, S, P controls as well as Scene modes) and Video.

At the rear and things look very non-threatening for the first-time user. Towards the top is a single movie record button and as you move downwards, you'll find Menu, Playback and Info buttons also. There's a 4-way control button offering one-tap controls for exposure compensation, drive mode and auto exposure lock, while the delete button acts as a quick way of returning the AF point to the centre of the frame while shooting. If you wish, it can be customised to control other settings via the menu.