Olympus TG-3 Review
Review Date : Tue, 15 Jul 2014
Author : Cliff Smith
Olympus TG-3 Review: The Olympus TG-3 is the manufacturer's latest high-end lifeproof compact, aimed at resisting all you can throw at it. Find out if it succeeds in the WDC review...
| | |
| --- | --- |
| Pros: | Performance; Creative features; Build quality; Menu interfact; Continuous shooting at up to 5fps; Fast start-up time; Battery life |
| Cons: | Price; Expensive add-on lenses; Some controls can be fiddly in difficult conditions |
Olympus was one of the first manufacturers to introduce waterproof compact cameras aimed at the consumer, launching its mju SW range in 2006, and has launched more cameras of this type than any other brand.
The SW series has become the Stylus Tough range, and today we're looking at the new flagship of Olympus adventure cameras, the Stylus Tough TG-3.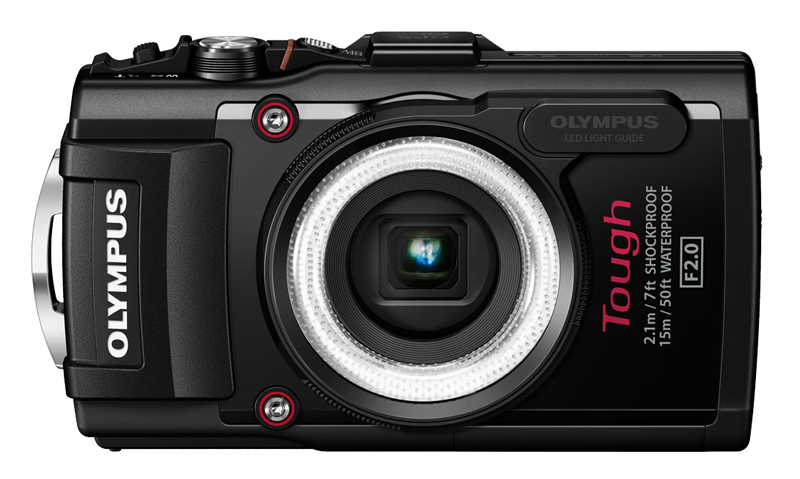 Olympus TG-3 Review - Features
Most of the current crop of waterproof, shockproof, freeze-proof adventure cameras are, once you strip away the O-ring seals and armour plating, fairly simple compact cameras at heart, and have a strictly limited set of features.
With the TG-3 Olympus has attempted to buck this trend, and has equipped its flagship waterproof compact with some features designed to appeal to the more ambitious photographer.
The TG-3 has a 4x optical zoom lens equivalent to 25-100mm. Like all waterproof compacts the lens is non-protruding, instead extending inwards when zoomed. Unusually it has a maximum aperture of a relatively fast f/2.0, and the camera also has an aperture priority mode to take advantage of this, although like many such options on compacts it only offers a choice of three settings; minimum, maximum or medium.
Olympus claims exceptional low-light capability as well, but in fact low-light focusing is no better than average, and the maximum sensitivity of 6400 ISO is only a little better than most of its competitors.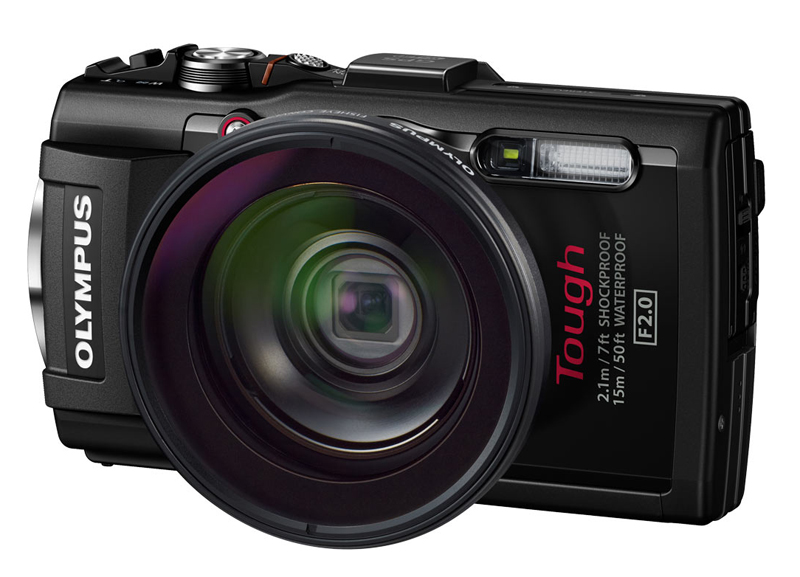 Additional lens functionality

One unusual feature is the lens bezel, which can be removed with a twist to reveal a bayonet mount for a couple of optional accessories, including a 6.8x teleconverter, a fisheye converter and a macro ring-flash adaptor.
The TG-3's tough credentials are fairly impressive. It is submersible to a depth of 15m and can withstand falls of 2.1m (7ft) onto hard surfaces. It can also withstand crushing pressures of 100kgs and temperatures down to minus 10 centigrade, although most other adventure cameras boast similar capabilities.
The TG-3 does have some interesting close-up features, including a 1cm macro "microscope" function, focus stacking and focus bracketing. While these are undoubtedly useful features, they're nothing new.
Other features include the now-obligatory Wi-Fi connectivity, built-in GPS for location tagging, and 1080p video recording with stereo audio, instant start and optical zoom.