Fujifilm X-A1 Review
Review Date : Tue, 29 Oct 2013
Author : Cliff Smith
Fujifilm X-A1 Review – The Fujifilm X-A1 is the manufacturer's latest entry-level CSC, continuing the retro-theme for which the X series is famed. Find out how it shapes up in the What Digital Camera Fujifilm X-A1 review...
| | |
| --- | --- |
| Pros: | Style; Performance: Image quality; Features |
| Cons: | Shiny monitor screen; Expensive system lenses |
The Fujifilm X-A1 is the latest model in Fujifilm's growing - and increasingly successful - X series camera range.
When Fujifilm announced the first of its X-series cameras in 2010 it caused a sensation. The fixed-lens X100 combined cutting-edge digital technology with retro rangefinder style, and speculation quickly mounted that it would soon be followed by an interchangeable-lens model. In fact it was nearly two years before Fujifilm announced its first compact system camera, but the X-Pro1 was worth the wait.
It had the same classic style and innovative hybrid viewfinder as the X100, but featured a brand new sensor and a new lens mount system. More importantly it offered a way for enthusiast photographers to enjoy digital rangefinder photography for less than a quarter of the price of a Leica M9.
The X-Pro1 has been a big hit for Fuji, but at around £950 body-only it's still an expensive camera, so what the X-series clearly needs is an entry-level model.
Step forward the new X-A1, which offers a way in to the X-series for £499 including a lens.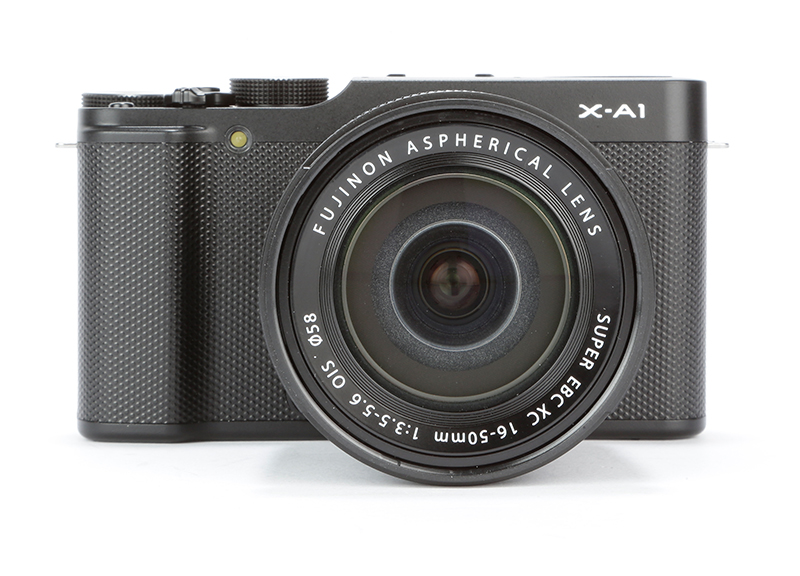 Fujifilm X-A1 Review - Features
The Fujifilm X-A1 shares a strong family resemblance to the X-Pro1, with retro styling that matches the classic rangefinder look, but unlike its big brother it isn't actually a rangefinder camera, since it has no viewfinder, instead relying on a tilting monitor screen.
However while the X-A1 is priced as an entry-level model for the X-series, this is by no means a camera for beginners. It is packed with advanced features aimed at expert photographers, and has more customisation available than some high-end DSLRs.
Like the other models in the X-series CSC range the X-A1 has a 16-megapixel APS-C sensor, but unlike the X-Pro1 and the other recent launch the X-M1, which feature Fuji's advanced X-Trans CMOS sensor, this one is a conventional Bayer-filter CMOS chip, presumably saving a bit of money without sacrificing too much image quality.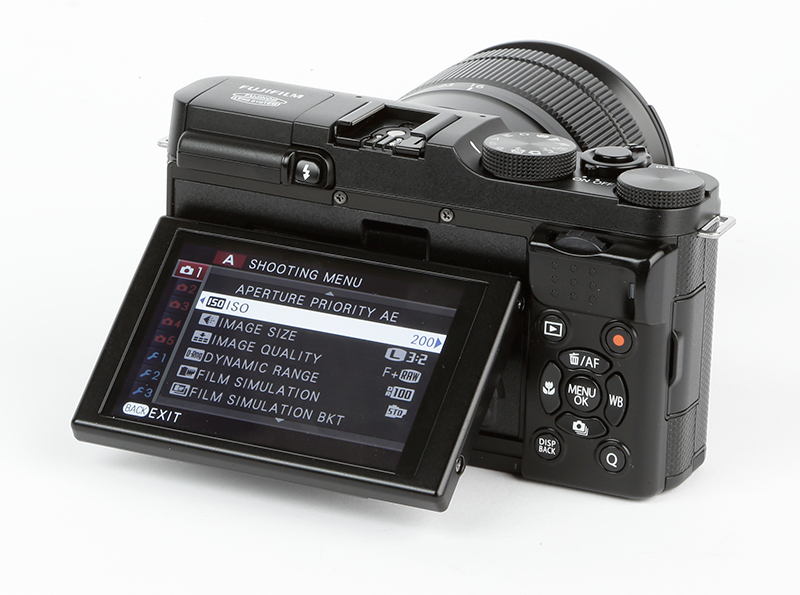 LCD screen
The Fujifilm X-A1's monitor is good but also fairly conventional, with a 3in screen and a resolution of 920k dots. It tilts up to 90 degrees up or down, so it can work for waist-level and overhead shots. It's nice and sharp, and has an angle of view approaching 180 degrees, but it is very reflective making it hard to use in bright daylight, and the frame rate could be a bit faster; it has a distinct lag as you pan the camera.
The monitor information overlay is fully customisable, with a comprehensive array of data available, including a histogram, composition grid, focus range (auto and manual), exposure settings, EV compensation and more. However one useful feature notable by its absence is a tilt level indicator.
Main exposure mode selection is via a well-populated dial on the top plate. It has the usual PASM exposure modes of course; shutter speeds of 30 seconds to 1/4000th of a second are available in all modes, and both shutter and aperture values are adjusted in 1/3EV increments. As well as this the X-A1 also features a wide and varied selection of custom modes.
On the top plate dial there is the usual selection of portrait, landscape and sports modes, a skin-smoothing special portrait mode as well as the SP+ automatic scene selection mode. More interesting is the Advanced mode, which adds the option for multiple exposure or a number of digital filters, including the inevitable "toy camera" and miniature effects, plus some more original ones such as "pop colour".
Of more interest to serious photographers are the options available in the main menu, particularly Fuji's unique Film Simulation settings, which accurately mimic the classic tones of Fuji's Provia, Velvia and Astia colour films, as well as black and white film. The camera also offers a much-prized feature; in-camera raw conversion, allowing post-shot exposure adjustment without losing the benefit of the camera's noise reduction. Dynamic range compensation is also available.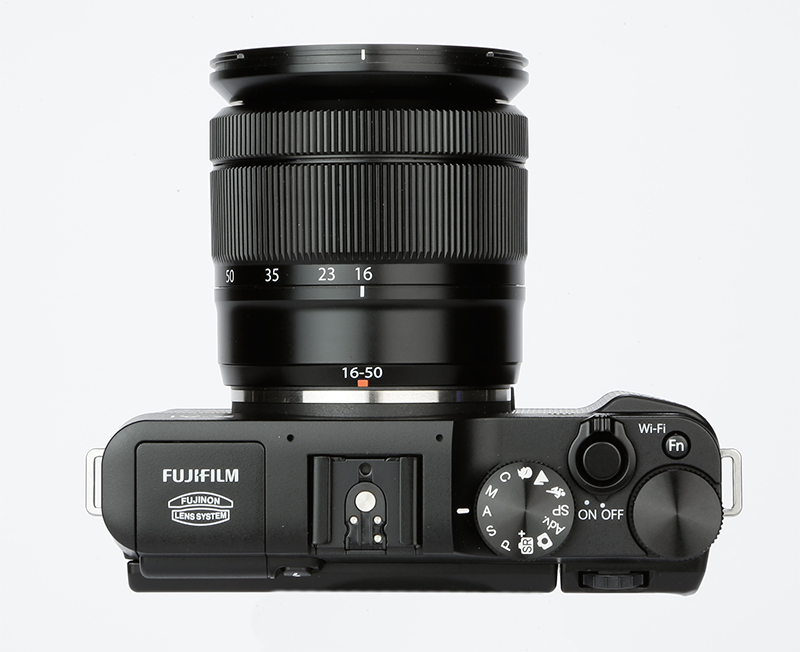 Image Stabilisation
Like most of the smaller CSCs the X-A1 has no internal image stabilisation, however all five currently available or recently announced X-mount zoom lenses have built-in optical stabilisation. There are also five high-quality prime lenses plus a recently-announced 56mm short telephoto, which may also feature OIS.
In common with an increasing number of modern cameras the X-A1 features Wi-Fi connectivity, with a free smartphone app available for Android and iOS. Unlike some of its rivals the app doesn't let you control the camera remotely, but it does let you copy and share pictures online or add geotagging data.
The X-A1 has a video recording mode, but compared to the extensive list of photographic options it feels like it was tossed in as an afterthought. It can shoot in 1920x1080 full HD at 30fps, recording in .MOV with H.264 compression and linear PCM stereo audio, although like a lot of smaller cameras wind noise is a major problem when shooting outdoors.