Fujifilm XQ1 Review
Review Date : Tue, 22 Apr 2014
Author : Cliff Smith
Fujifilm XQ1 Review – The Fujifilm XQ1 is a stylish premium X-series compact which shares the same sensor as the impressive X20. Does it deliver similar performance?
| | |
| --- | --- |
| Pros: | Design; Build quality; Performance; Features |
| Cons: | High ISO noise; Image quality |
There's currently a small but thriving and highly competitive market for pocket-sized advanced compact cameras.
Aimed at enthusiast photographers who want superior image quality and performance in a highly portable format, these miniature marvels combine the photographic prowess of complex advanced compacts with the sleek lines of a fashionable pocket snapshot camera.
The latest example to tempt us is the Fujifilm XQ1. It sports a number of welcome features, such as a large sensor, a strong all-metal body and advanced manual controls, and comes at a lower price than most of its competitors. Can it really be as good as it looks?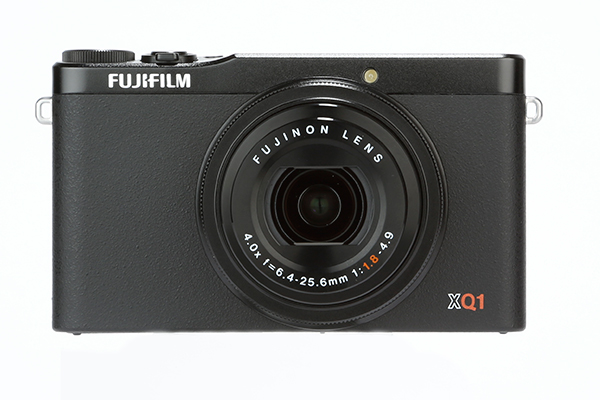 Fujifilm XQ1 Review - Features
Fujifilm's X-series cameras are built around Fuji's proprietary X-Trans sensor technology. The X-Trans sensor is intended to mimic some of the characteristics of traditional film, by replacing the usual regular Bayer-pattern colour mask filter with a new filter in which the colour filters are laid out in a more random pattern. This eliminates the Moire patterns associated with the regular Bayer filter, and thus also eliminates the need for an anti-aliasing filter.
In theory this means that X-Trans equipped cameras should be inherently capable of producing sharper pictures than their Bayer-mask rivals. The XQ1 has an X-Trans CMOS II sensor, and quite a large one compared to most other compact cameras.
Most advanced compacts have 1/1.7-in sensors, measuring approximately 7.6 x 5.7 mm, a surface area of 43.3 square millimetres. The XQ1 has a 2/3-in sensor, which measures 8.8 x 6.6 mm, giving it a surface area of 58.1 square millimetres, roughly 34% larger.
With an effective resolution of 12.0 megapixels this should - again in theory - give the XQ1 an advantage in low light performance, dynamic rage and high-ISO image noise.
The X-Trans sensor also incorporates special phase detection sensors, giving the XQ1 Fuji's unique hybrid phase/contrast detection autofocus system, previously seen on other X-series cameras. It promises faster and more reliable focusing, especially in low light.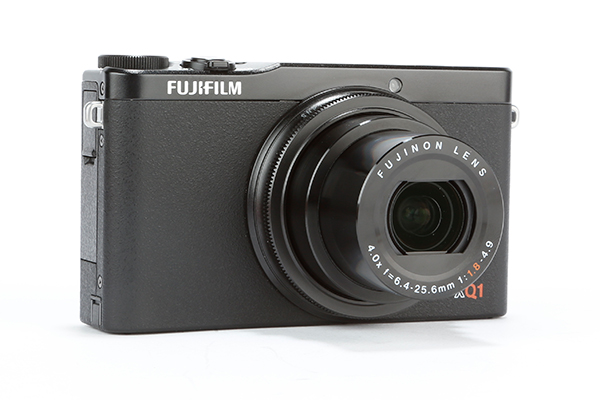 Exposure modes

The XQ1 has a typical range of exposure modes, selected via the dial on the top panel. As well as the usual program auto, aperture and shutter priority, and full manual exposure, it offers auto, advanced scene recognition auto, a fairly typical range of scene modes and an interesting selection of digital filters, as well as a panorama stitching mode.
While the selection may not be too inspiring the degree of control is above average, with aperture, shutter speed and ISO all adjustable in 1/3EV increments.
There are several other features that will be of interest to experienced photographers, such as in-camera Raw conversion, focus-peaking, and of course Fuji's film-simulation modes, in which the camera seeks to duplicate the tone of Velvia, Provia
Like most other advanced compacts the XQ1 has a high performance lens, with 4x optical zoom, equivalent to 25-100mm, a maximum aperture of f/1.8 - f/4.9 and a minimum aperture of f/11. It's a powered zoom with an automatic lens cover, controlled by a rotary bezel around the shutter button.
The monitor is very good, but like the other features it is fairly run-of-the-mill by current advanced compact standards. It has a 7.5cm (3.0in) TFT screen with 920k dot resolution, a very good wide viewing angle and an effective anti-glare coating.
Wi-Fi connectivity is a must-have feature these days, so naturally the XQ1 can connect to your home network for wireless downloading, but unlike some recent cameras it lacks the latest smartphone connectivity and app controls.