Olympus OM-D E-M1 Review
Review Date : Thu, 10 Oct 2013
Author : Phil Hall
Olympus OM-D E-M1 Review – The Olympus OM-D E-M1 is the second model in the retro-styled OM-D series, sitting above the E-M5 at the top of the range. It looks to combine the best of a DSLR and system camera in a single package, so read our Olympus OM-D E-M1 review to find out if it succeeds
| | |
| --- | --- |
| Pros: | Build quality; Electronic viewfinder is excellent; Fast and responsive AF; Image quality |
| Cons: | JPEG files a little over-processed at higher sensitivities |
The arrival of the original Olympus OM-D EM-1's predecessor - the OM-D E-M5 - at the beginning of 2012 really caught the imagination of a lot of photographers thanks to its small size, strong image quality, quick handling and spot-on retro styling that harked back to Olympus' much-loved 35mm OM SLR range.
The EM-1 arrives just less than 18 months on, extending the OM-D range further and sitting above the original E-M5. Not only that, but thanks to some new developments that we'll go into more depth in a moment, the E-M1 is also the natural successor to the E-5, Olympus' last pro-spec Four Thirds DSLR that was launched back at the end of 2010.

Does the E-M1 combine the best of a DSLR and system camera or is it a compromise that'll satisfy neither?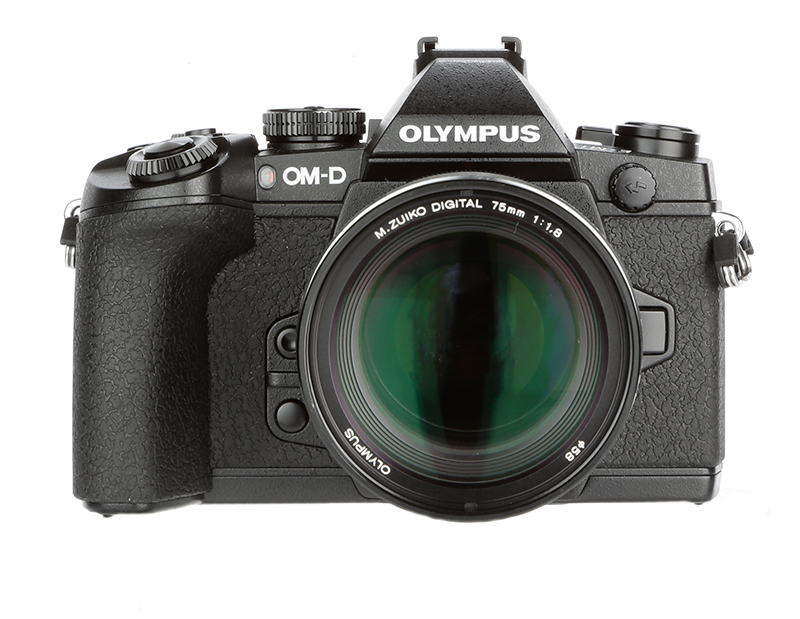 Olympus OM-D E-M1 review - Features
The Olympus OM-D E-M1's 16.3MP sensor differs over the one found in the E-M5 in two key areas - the absence of a low pass filter and the inclusion of an on-sensor phase-detect AF system. The removal of the low pass filter is a growing trend in sensor technology - both the Nikon D800E and D7100 both go without, and so does the Pentax K-5 IIs. Its absence should result in sharper images compared to the E-M5, but it does increase the risk of aliasing and moiré issues that can be rendered when shooting very fine, uniformed fine detail.
To reduce this risk, Olympus has fitted the E-M1 with a new TruePic VII image processor that features Fine Detail Technology II that works to reduce aliasing an moiré patterning, as well as correcting for chromatic aberration and optimizing sharpness too.

The bigger change though and the exciting news for Four Thirds shooters is the addition on-sensor phase-detect AF system, allowing the E-M1 to boast a dual AF system, or as Olympus has coined it, DUAL FAST AF. While Four Thirds users have been able to mount their existing optics on a Micro Four Third camera via an adapter is nothing new, in the past it hasn't been a totally satisfying experience. Continuous AF or tracking wasn't possible, while AF performance was quite pedestrian due to the lenses being designed for phase-detection AF DSLRs and not contrast-detect AF system cameras.
Olympus has remedied this by placing offset strips of left and right-looking half-photosites (pixels) on the chip with no colour filter to provide a 37-point phase-detect AF system in a diamond formation. As an aside, it's worth noting that while these half-photosites don't contribute to the make-up of the final image, information is taken from surrounding pixels is then used to interpolate a value for the missing pixels.

The result is that when a Four Thirds lens is attached via the MMF-3 adapter, users should experience an AF performance to match that of the E-5, while the E-M1 will automatically detect what type of lens is attached and for a Micro Four Thirds lens will switch to contrast-detect AF with a larger 81-area contrast-detect AF coverage in Single AF. However, when shooting with Micro Four Thirds lenses in Continuous AF, the E-M1 will combine this with information garnered from the phase-detect pixels.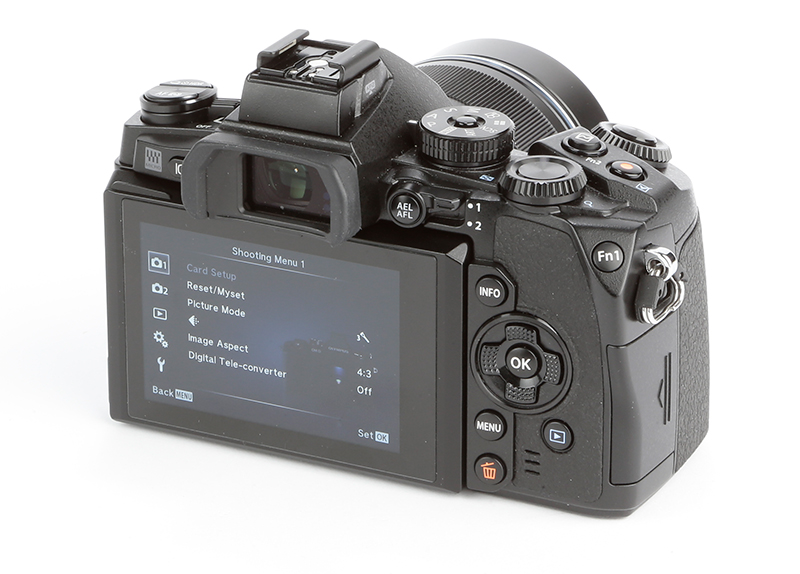 EVF and LCD
The Olympus OM-D E-M1 improves on the electronic viewfinder (EVF) found in the E-M5, with the resolution jumping from 1.44m-dots to a significantly higher 2.36m-dots that's identical to that of the recently launched VF-4 EVF for Olympus' PEN system cameras. Not only that, but it also carries over the impressive 1.48x (0.74x in 35mm-equivalent terms) magnifications that's only a little behind some full frame DSLRs.
As you'd expect, coverage is 100% and there's a diopter correction function that ranges from -4 to +2 diopters. There's also a built-in eye sensor, allowing the feed to flip between the EVF and the 3in rear screen, which has also been up-rated, now with a 1.04m-dot resolution LCD display, while it's also capacitive so it can be used as a touch-sensitive input device. The screen can also be tilted upwards by 80 degrees for waist-level shooting, and downwards by 50 degrees should you want to shoot with the camera raised aloft.

The E-M5 broke new ground with a built-in 5-axis sensor-shift anti-shake system that corrects for yaw, pitch, vertical motion, horizontal motion and roll, and the system has been carried over to the E-M1, though Olympus' engineers have tinkered with it to improve its effectiveness at slower shutter speeds and overall offers a 4 stop level of correction.
As we saw with the E-P5 and E-PL5, you can select whether you want to use give priority to whether you use the lens or the camera's IS system - a useful feature for those using Panasonic's image stabilised lenses and may have a preference which system they prefer to use.

While AF and exposure must be locked from the first frame, the E-M1 is capable of shooting at 10fps, while a still strong 6.5fps is achievable with AF enabled. A monopod may be necessary in some instances as the camera's IS is disengaged at these fast rates, with it dropping to a fairly moderate 3.5fps if you want to take advantage of the E-M1's 5-axis IS.

As with the E-M5, the E-M1 doesn't feature a built-in flash. Instead, a small detachable flash is bundled with the E-M1, slotting onto the hotshoe if required, while there's now a dedicated flash-sync socket on the front of the camera.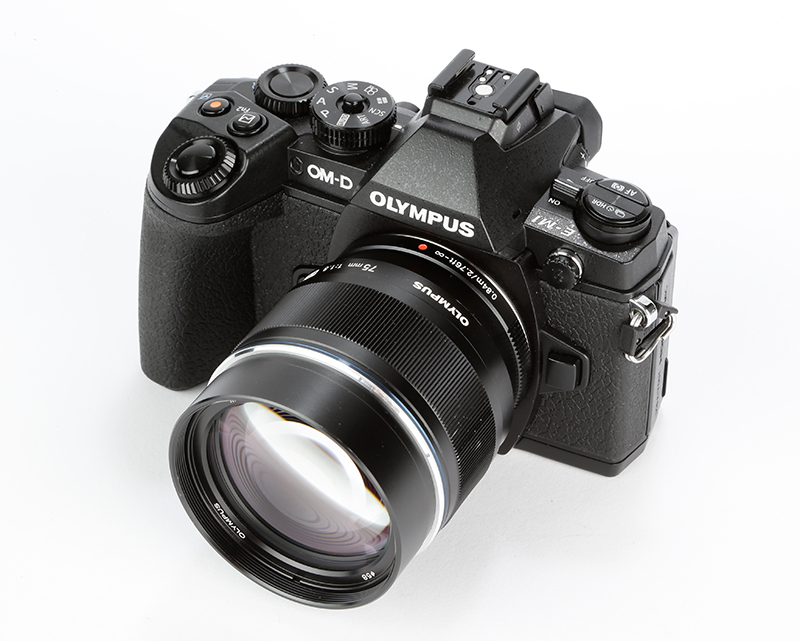 Extended functionality

Art Filters like Dramatic Tone have become synonymous with Olympus cameras, so its no surprise to see 12 filter effects available on the Olympus E-M1. While this may seem a little rudimentary on a camera aimed at high-end enthusiasts and pros, don't disregard them as there are some really nice effects, while its possible to simultaneously shoot in Raw should you prefer a different effect or treatment post-capture.

The OM-D E-M1 incorporates wireless connectivity, just as we've seen on the E-P5, so images can be transmitted to your smartphone or tablet in the field to be instantly shared via a free Olympus app, as well as being able to transmit the feed from your E-M1 to your device to shoot remotely should you wish.

Based around the Micro Four Thirds standard, the E-M1 has access to an impressive range of optics from both Olympus and Panasonic, and easily has the largest lens range out of all system cameras on the market. That's not forgetting that with the MMF-3 adapter, Four Thirds lenses are now a much more realistic reality, with some cracking lenses getting a new lease of life with the E-M1.
As well as that, the E-M1 will also be available with a new 12-40mm f/2.8 lens. Quite a different beast from the 12-50mm f/3.5-6.3 EZ that's bundled with the E-M5, the 12-40mm is a high-quality fast aperture standard zoom that's both dust and splashproof. Together with the new 40-150mm f/2.8 that's scheduled for release in 2014, it will form a new Pro category of Olympus M.Zuiko lenses.