Canon PowerShot SX280HS Review
Review Date : Tue, 16 Jul 2013
Author : Doug Harman
The Canon PowerShot SX280HS is a long-zoom travel compact featuring a 20x optical zoom, GPS technology and the addition of Wi-fi connectivity. Read on to find out how it does in the What Digital Camera Canon PowerShot SX280HS review.
| | |
| --- | --- |
| Pros: | Low image noise; Wi-fi Transfer features; Image quality and colour; Compact design; High Speed 14fps continuous shooting; Build quality |
| Cons: | 14fps is only achievable when in special High Speed mode; Auto pop up flash positioning; Disappointing battery life |
The Canon PowerShot SX280HS is the manufacturer's latest travel zoom compact; it updates the Canon SX260HS and is just the most recent in a long line of travel compacts from the company. The 280HS features an F3.5-F5.6 20x optical zoom, some clever high speed shooting capability, built in GPS and WiFi connectivity features that allow sharing from (almost) anywhere.
Canon PowerShot SX280HS Review - Features and Handling

The Canon SX280HS feels sturdy and while it is indeed compact it still manages to pack in a wide-angle 20x zoom lens with the 35mm equivalent of a 25mm to 500mm optical zoom. Importantly for a camera offering that kind of focal length range the 280 features optical image stabilisation.
The camera's 12.1-megapixel backlit CMOS sensor helps give the PowerShot SX280HS its high speed capabilities which include Full HD video, shooting at up to at 60fps which in layman's terms, simply means you get very smooth videos, and the impressive-looking 14fps continuous shooting mode.

Throw in Canon's new DIGIC 6 image processing, which combines the latest image processing algorithms and general imaging wizardry to help process all that data the camera can generate when snapping at 14fps or capturing video at 60fps.

Livery choices include black (as tested here), blue and grey and, just like the SX260HS, the PowerShot SX280HS has GPS and Wi-Fi built into the camera. Interestingly, if all that extra battery draining sharing kit is of no interest, (and as we'll see, looking at what it does to the battery performance, it's entirely possible you may not want it), there's an otherwise identical GPS and WiFi free version of the 280 called the SX270HS.

The camera's back plate has a nice "PureColor II G" 3-inch display with a resolution of 461k dots, which is about average for cameras at this level.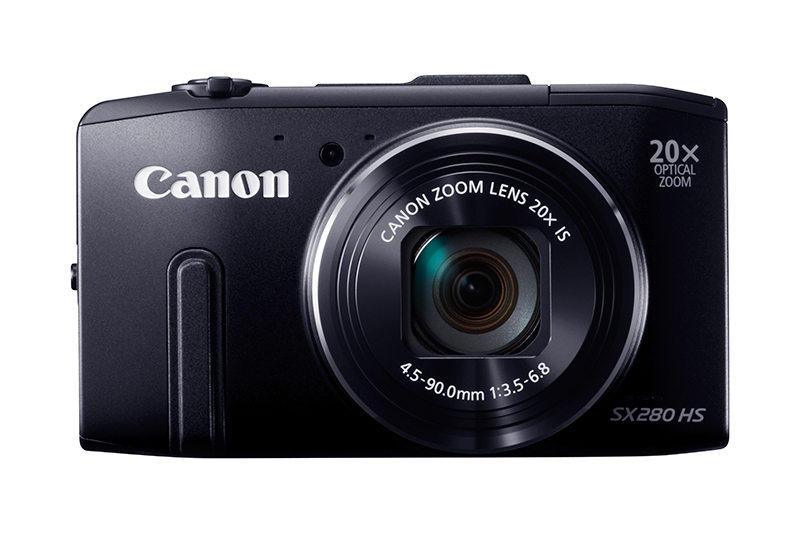 Build
The Canon PowerShot SX280HS has a blunt-looking suitably sturdy metal body with (as it turns out) a vital-for-the-handling raised plastic baton on the front, which is great for getting a hold and gripping the camera and keeping things relatively stable at longer focal lengths.

Atop of the SX280HS, hidden from sight until needed, is a small, electronic automatic pop-up flash; it appears as if by magic when "called for" by the camera and slots back into the camera's carapace once it's done its illuminating. But the problem here is the flash position, it's right under your left index finger, which all to often stops it from popping up and then you need to restart the camera and hence, you loose the moment you wanted to capture.

The shutter release and surrounding lens zoom lever are joined by the neatly recessed on/off button on the top plate, while the camera's back plate houses the aforementioned 3in display, the mode dial – for changing the various camera shooting modes – and below, a cluster of further controls.

These include the direct video capture, playback, display toggle and menu activation buttons, which surround the four-way jog/scroll dial and its central function and set button. These combine to access the flash and focus settings, the exposure compensation and self-timer. These last two also double as the Wi-fi mode activation and direct delete buttons when in playback; they're colour coded in line with the playback button in blue.


Menu system

The SX280HS's menu system has a nice in-built hints and tips function; it appears at the bottom of the display when a menu option is chosen and make the camera easier to use for those new to it or the function on offer if, say, they've upgraded from a lesser equipped camera.

The model's built in Wi-fi and GPS modes mean you can connect the camera to an existing Wi-fi network, or create an ad-hoc network. The menu options for these, use great and simple to understand icons and you can connect to a PC and suitable smartphones or devices.

To do the latter, you need to install Canon's Camera Window app (available for both on iOS and Android devices) and once you're connected, the app allows for the transfer and browsing of images or image sharing. You'll also be able to use the smartphone as a GPS logger, which comes in useful for those cameras that don't have a built in GPS system.

It's when we get to powering all this clever camera kit it starts to reveal its main drawback. The Canon PowerShot SX280HS's battery life is rated at 210 shots (according to Canon and CIPA's test rating) but use the built in GPS and Wi-fi for any length of time and the battery life drops. I got about 100-shots and about 15-minutes of video with some flash use and a fair bit of reviewing on the display I'd certainly recommend an additional battery if you have plans on traveling and power may be at a premium.