Fujifilm X-M1 Review
Review Date : Wed, 7 Aug 2013
Author : Phil Hall
The Fujifilm X-M1 is the manufacturer's smallest and lightest CSC yet and is aimed at a wider audience then previous models. Does it succeed? Read the full What Digital Camera Fujifilm X-M1 review to find out
| | |
| --- | --- |
| Pros: | Excellent results from the X-Trans sensor; Styling; Build-quality |
| Cons: | No touchscreen; Price; No connection for an optional viewfinder |
The Fujifilm X-M1 is aimed at broadening the appeal of Fujifilm's X-series range of Compact System Cameras (CSCs) to a wider, mass-market audience.
While the Fujifilm X-Pro1 and Fujifilm X-E1 CSCs are aimed professionals and enthusiasts, the X-M1 is smaller and with controls more in-tune with first-time users, as well as doing away with any form of viewfinder. But how does it get on?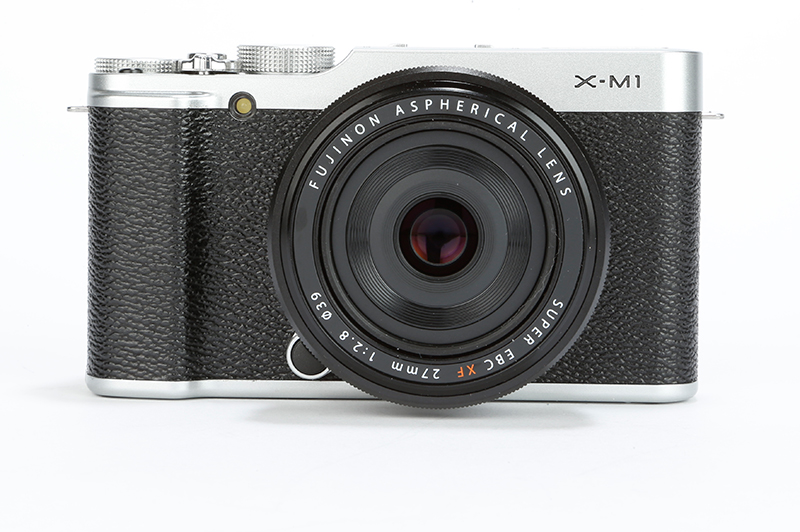 Fujifilm X-M1 Review - Features
Rather than being tempted to use an off-the-shelf APS-C sensor, the Fujifilm X-M1 is equipped with the manufacturer's own, lower volume (read premium) 16.3MP APS-C X-Trans CMOS sensor. Featured in both the X-Pro1 and X-E1, as well as Fujifilm's X100S high-end compact, the X-Trans CMOS sensor features a unique sensor array.
If you haven't come across it before, as opposed to most cameras that use a standard Bayer filter array to decipher colour information, the Fujifilm X-M1's chip features an array of red, green and blue pixels that aren't arranged in such a repetitive order. With a structure more akin to film, the sensor can effectively minimize moiré and false colour, eliminating the need for an anti-aliasing filter, which should in turn deliver far sharper results than more conventional sensors.

The X-M1 also features Fujifilm's latest EXR Processor II and supports an ISO range from 200-6400, which can expanded further to an ISO equivalent of 100-25,600, though you'll find this is JPEG only.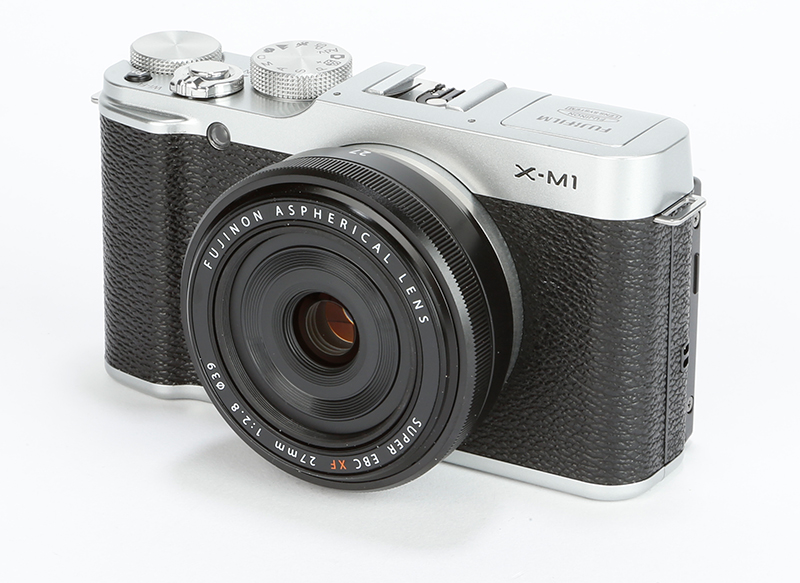 Viewfinder absence

After the clever Hybrid viewfinder of the Fujifilm X-Pro1 and the electronic viewfinder (EVF) of the X-E1, the X-M1 does away with a viewfinder all together, instead relying on the 3in, 3:2 aspect ratio 920k dot vari-angle screen at the rear. While it's becoming the norm on a host of competitors, there's no touchscreen functionality on the X-M1, while you'll have to rely solely on the rear screen as there isn't an option to plug in an external EVF that some rivals support.

The X-M1 sports a 49-point AF system, just as we've seen on other X-series cameras, while manual focusing offers Focus Peaking and works by highlighting the area in focus with a high contrast outline for precise fine tuning during focusing.

With connectivity becoming an ever more important consideration, the X-M1 is the first X-series camera to sport Wi-fi functionality and combined with the free downloadable Fujifilm Camera App allows you to connect to your smartphone or tablet.
Unlike some other Wi-fi enabled CSCs we've seen recently, it's not possible to remotely control the X-M1 from your device, but you can receive images (and naturally share them how you wish), Geo-tag them, browse your shots on the camera, automatically save images to your computer and with the aid of the Photo Receiver App, it's also possible to transmit images directly to friends, too.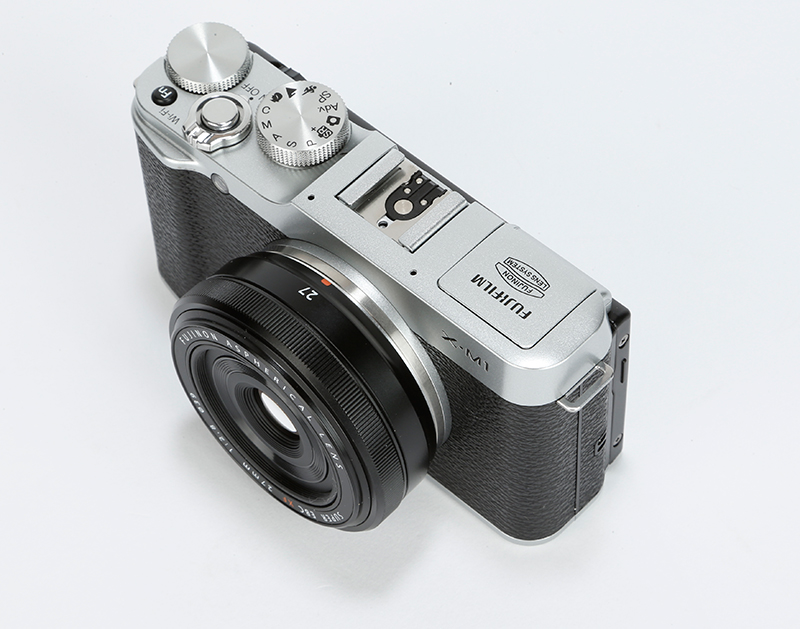 Shooting controls
Whereas both the Fujifilm X-Pro1 and X-E1 have kept shooting controls to the bare minimum, offering just manual, program, shutter and aperture priority, the new X-M1 includes a host of auto shooting modes, though its disappointing to see that the panoramic mode hasn't made the transition across from the X-E1 as it's these kind of modes that new users will no doubt enjoy using.
There are a slightly reduced amount of Film Simulations modes from what we've seen on other X-series cameras, but you still get Provia, Astia, Velvia, Sepia and Black & White, while there are a host of filter effects as well, including Dynamic Tone, Low Key and Soft Focus.

To accompany the Fujifilm X-M1 is a new lens. The XC 16-50mm f/3.5-5.6 OIS produces a 35mm focal length equivalent to 24-75mm, which compared to other kit lenses offers a slightly wider field-of-view than similar bundled optics and also features Fujifilm's anti-shake system.
It's also the first Fujinon CSC lens to be designated XC rather than XF. This sees the absence of an aperture/control ring that features on the majority of XF lenses, while the build is predominantly plastic (this includes the lens mount) which is no doubt to make it a more affordable bundle proposition when brought with the X-M1.
While we're on the subject of lenses, the X-series is a relatively new system and there are currently just 8 lenses available (including the 16-50mm mentioned), with another 4 optics on the way. Quality not quantity is definitely the case here, with some lovely primes in the line-up, but for novice users they may feel a little restricted.