Panasonic LUMIX LF1 Review
First Look
The Panasonic LUMIX DMC-LF1 is the latest addition in the company's high-end compact range. Designed for enthusiasts looking for a smaller camera boasting an impressive specification, the Panasonic LUMIX DMC-LF1 features a 12.1MP MOS sensor and delivers a 80-12,800 ISO range.
The all-new LEICA DC VARIO-SUMMICRON lens features a 7.1x optical zoom and a f/2-5.9 variable aperture across its zoom range. Equivalent to 28-200mm, the camera's Venus Engine has also been developed to further enhance performance and image quality by working in tandem with Panasonic's latest noise reduction and edge smoothing technology.
Despite its compact size, the LUMIX DMC-LF1 is also capable of recording HD video (1920x1080) at 50i in both the AVCHD progressive and MP4 outputs. Possibly the most interesting talking point is the LF1's 0.2-inch electronic viewfinder, which gives users the option to use a shooting display that suits their style rather than being reliant on using the 3in LCD screen at the rear.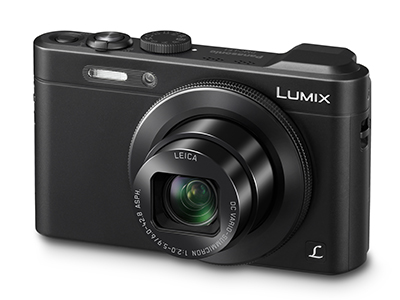 Other noteworthy features on the Panasonic Lumix DMC- LF1 include a high speed burst mode that gives users the option to shoot a continuous burst at up to 10fps. Quick start-up and a responsive autofocus performance are promised, while Panasonic's O.I.S stabilisation system is used to reduce the risk of blur that's often caused by handshake.
Just like the recently announced Panasonic Lumix GF6, the Panasonic Lumix DMC-LF1 features both Wifi and NFC connectivity options. After initial setup, NFC lets you turn on Wifi with a simple tap of a smartphone or tablet with the camera - preventing troublesome menus and setup procedures. The camera can also be controlled remotely when partnered with the Panasonic Image App - available from iTunes and Google Play for iOS and Android mobile devices.
Commenting on the creation of the new Panasonic Lumix DMC-LF1, Sebastian Drawert, Manager of LUMIX G and DSC at Panasonic Consumer Marketing Europe said: 'We believe that the LUMIX DMC-LF1 delivers a new level of performance and functionality for compact camera enthusiasts. We have managed to incorporate a host of features and functions, including a high-performance LEICA lens, into a beautifully designed and incredibly mobile camera. With the LUMIX DMC-LF1, photographers will be in complete control of their images and video, both when composing, shooting and editing. Even better is the fact that you can instantly share that creativity with the world, thanks to the LUMIX DMC-LF1's amazing connectivity capabilities.'
The Panasonic LUMIX DMC-LF1 will be available from mid-June and is expected to cost £379.