Fujifilm X100S review
Review Date : Wed, 27 Mar 2013
Author : Phil Hall
The Fujifilm X100S looks to build on the success of the Fujifilm X100 – a camera that was an instant hit with photographers. How does it fare? We find out in the What Digital Camera Fujifilm X100S review
| | |
| --- | --- |
| Pros: | Superb lens and sensor combination; Hybrid viewfinder; Handling characteristics; Premium feel |
| Cons: | 35mm lens might be a bit restrictive for some; Pricey option when CSCs are considered; While improved, AF still not quick in all situations |
The Fujifilm X100S looks to pick up from where its predecessor – the Fujifilm X100 – left off. The Fujifilm X100 really set the photographic world alight when it was launched just under two years ago. With its timeless retro design, high quality APS-C sized sensor and clever hybrid viewfinder, it caught the imagination of both professionals and enthusiasts alike who wanted a high-quality camera to complement their DSLR kit.


Not only that, but it re-established Fujifilm in the eyes of the photographer as a serious camera brand that had been eroded since the launch of their last DSLR back in 2006, the Fujifilm FinePix S5 Pro. The Fujifilm X100 also heralded a new line of professional cameras for the company, with the company building on the success of the Fujifilm X100 with the Fujifilm X-Pro1 and Fujifilm X-E1 Compact System Cameras.
Now we have the Fujifilm X100S, and while it may look like very little has changed from the model it replaces, Fujifilm promise over 70 improvements over the Fujifilm X100. Let's see if they have another classic on their hands...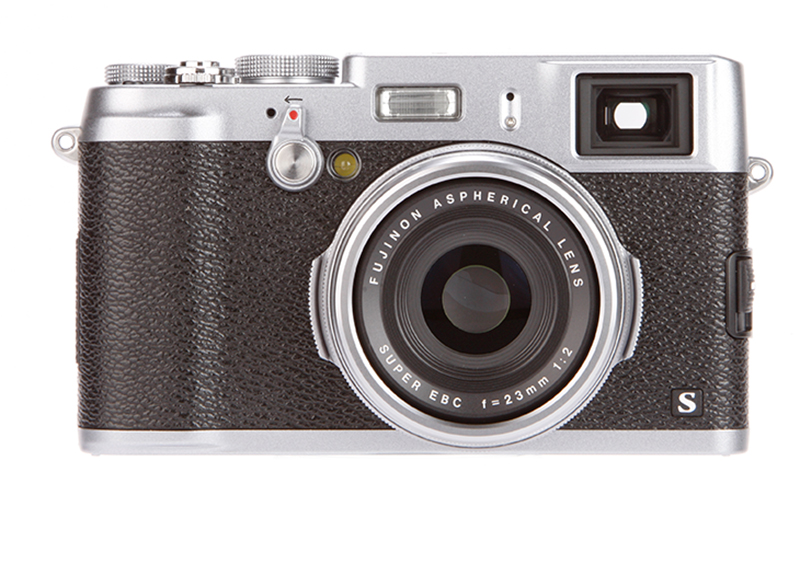 Fujifilm X100S review – Features
While the 12.3MP sensor used in the Fujifilm X100 didn't disappoint, it soon looked like the poor relation when compared to the clever 16MP X-Trans CMOS sensor used in both the Fujifilm X-Pro1 and Fujifilm X-E1, so it's no surprise to see a new X-Trans CMOS II chip appear in the Fujifilm X100S. If you haven't come across Fujifilm's X-Trans CMOS sensor before, it does things a little differently to a normal CMOS sensor design that makes it rather special.
This sensor in the Fujifilm X100S is unique. Most digital cameras feature a traditional Bayer filter array to decipher colour information, but this results in aliasing effects such as moiré patterning. An anti-aliasing filter in front of the sensor is then required to eliminate such artefacts, but works by ever so slightly blurring the image and results in a very minor loss in critical sharpness. The X-Trans CMOS II sensor inside the Fujifilm X100S however uses an array of red, green and blue pixels that aren't arranged in such a repetitive order. With a structure more akin to film, the sensor can effectively minimize moiré and false colour, eliminating the need for an anti-aliasing filter, which should in turn deliver far sharper results than more conventional sensors.
The Mark II version of this chip differs slightly from what's found in the Fujifilm X-Pro1 and Fujifilm X-E1 in that it features built-in phase-detect AF pixels, but more on that in a moment. On top of this, X100S utilises Fujifilm's EXR Processor II on board to reduce the effects of image noise over the 12.3MP chip used in the Fujifilm X100 by 30%. Speaking of which, the Fujifilm X100S features a standard ISO range of 200-6400, this can be extended to an ISO equivalent of 100-25,600, though that's JPEG only.
Lens and viewfinder

The Fujifilm X100S sticks with with the fixed Fujinon 23mm f/2 prime lens that offers a focal length equivalent of 35mm in traditional terms, along with a moderate wide-angle coverage with a 9 blade lens diaphragm for nicely rounded Bokeh. The Fujifilm X100S also takes advantage of the EXR Processor II image engine with a Lens Modulation Optimiser to reduce optical effects such as lens diffraction, while there's also a built-in 3-stop Neutral Density filter should you wish to length the exposure or work with wider apertures in bright light. If you want to shoot a little wider, then a 28mm equivalent conversion lens is available for around £250.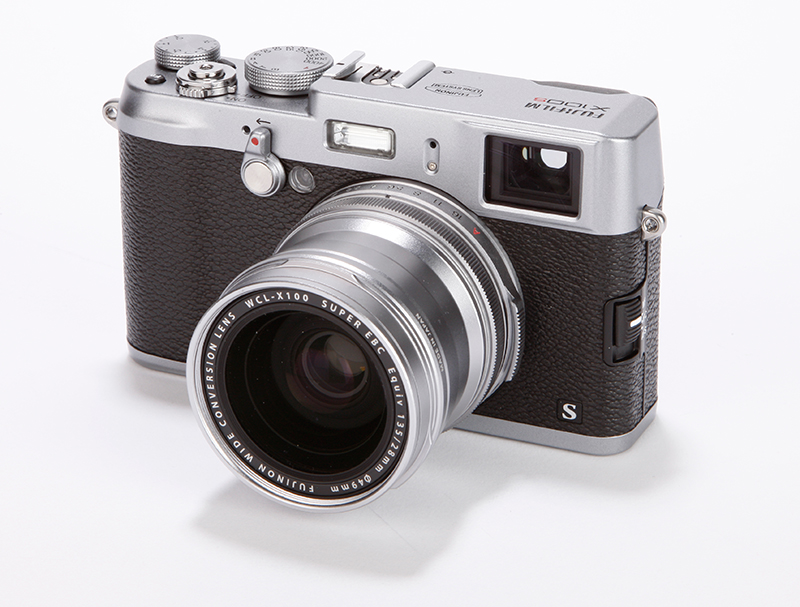 One of the main attractions of the Fujifilm X100 was its clever hybrid viewfinder, with the photographer benefiting from the option of either shooting with an optical or electronic viewfinder, and this has been improved on the Fujifilm X100S with a boost in resolution of the electronic viewfinder, increasing from the Fujifilm X100's 1.44m-dot to 2.36m-dots. One bugbear with the Optical viewfinder on the Fujifilm X100 was how easy it was to get the front coated in fingerprints, but the Fujifilm X100S features a new proprietary coating that resists fingerprints and can be easily wiped clean. Though the EVF has seen a bump-up in resolution, the rear display remains the same, with a 2.8in, 460k-dot screen on offer.
Focusing

The Fujifilm X100S's focusing system has seen a number of improvements over the Fujifilm X100, with the X-Trans CMOS II sensor now featuring built-in phase-detect AF pixels to provide the Fujifilm X100S with an Intelligent Hybrid AF system. This sees the X100S ultilise both phase-detection and contrast-detect AF, switching between the two for optimal focusing speed that Fujifilm claim can be as quick as 0.08secs. Just like the Fujifilm X100, there are 49 selectable AF areas to choose from, while the AF area size can also be changed for pin-point focusing.
Manual focusing has also seen a number of improvements also. The manual focus ring itself has been tinkered with to provide a more responsive and precise user experience for greater control when manually focusing. There's also Digital Split Image Focusing that works in a similar way to manual focus film cameras, with the split image in the EVF or rear display coming into focus as you align it, while there's also Focus Peak Highlight that emphasises the outline of the subject for smoother and more accurate manual focusing.
Just like the Fujifilm X100, the Fujifilm X100S features a leaf-type shutter that allows you to sync the flash at any shutter speed you wish, compared to focal-plane shutters on DSLRs which are restricted to a maximum sync speed of between 1/180 and 1/250th sec depending on the model, making the Fujifilm X100S mach more versatile when it comes to fill-in flash and creative lighting - as well as the built-in flash, the X100S also features a hotshoe to accommodate a host of compatible flashguns.
While the Fujifilm X100S may not be a natural choice for videographers, its capable of shooting at 1080p 60fps Full HD video footage, improving on the 720p resolution offered by the Fujifilm X100.